C – Tacos!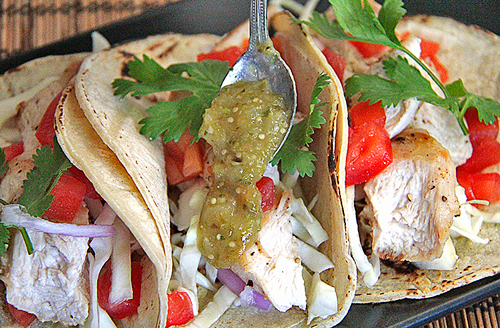 I love tacos. I don't know why, but I get really excited when I make tacos. I am not sure if it's because they taste good. Or, that they're really easy to make. Or, that I can load them up with whatever I want.
It's probably all of the above.

Tacos are such a simple thing to make.

All you really need is four ingredients for a good tasting taco. A good tortilla shell, some sort of protein that is seasoned well, some kind of fresh vegetable that has a good crunch to it and a good salsa. Of course, cheese can be added too if you want.
The most important part about a good taco is you can taste every ingredient. That's my opinion anyway.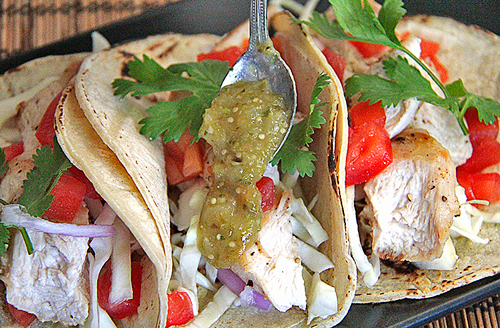 | | | |
| --- | --- | --- |
| Taco Week: Grilled Chicken Tacos | | |
Prep time: 10 mins
Cook time: 6 mins
Total time: 16 mins
Ingredients
4 to 6 tortillas
2 chicken breasts, boneless and skinless
Salt and pepper to taste
Shredded cabbage
A few slices of red onions
¼ to ½ tomato, chopped
Cilantro leaves
Salsa verde (recipe link below)
Instructions
Salt and pepper chicken.
Heat grill on high and add oil to grease grill.
Add chicken and cook for 5 to 6 minutes until the meat is cooked.
Let rest and slice thinly on a bias.
Heat tortilla over an open flame for a few seconds.
Top the tortilla with a few pieces of cabbage and onion.
Top with grilled chicken pieces, grilled vegetables, cilantro and salsa verde.
Repeat to make more.
Serve immediately.
Enjoy!
Salsa Verde recipe
These chicken tacos were plain and simple, but really great. I used to load up my tacos, thinking they would taste better that way. But, only having a few ingredients can be really delicious, too.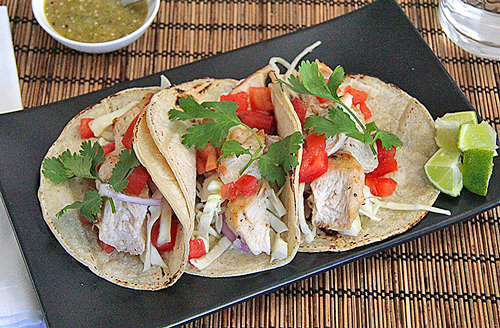 I guess simple is better for tacos. Sometimes.