C – Carne Asada from scratch!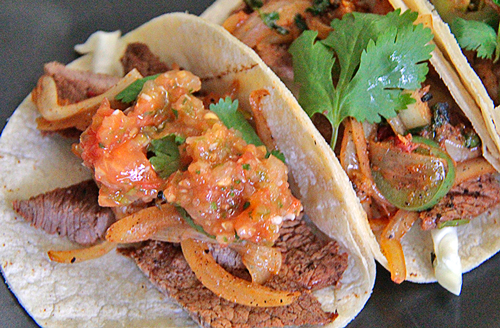 I am so excited. This is one of my favorite reasons I like working with Luke. I love working from scratch, instead of buying the already mixed products. It's healthier, cheaper and usually tastes a lot better.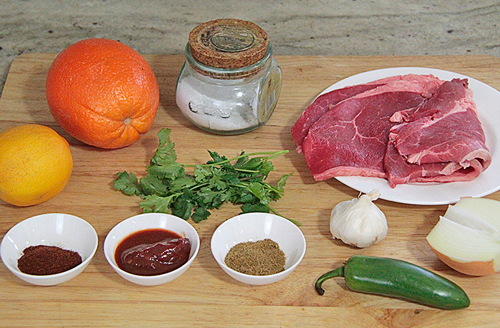 We went to a Mexican grocery store and the butcher asked if we wanted to buy the already seasoned carne asada.

There was a smirk on my face and a little giggle. "Heck no, we are making it ourselves!" I love these moments. I couldn't wait.
This is the recipe I have been waiting for. I can't wait to make this for my friends.

Every time there is a large celebration, someone brings carne asada. It is always the pre-seasoned kind from the grocery store. It tastes good, but not the greatest. I always wish I can make it and give them a flavor explosion. This is it!

Yup. Flavor explosion. Fresh and, surprisingly, really simple to make. Fresh citrus, peppers, garlic, spices and beef. The mix smelled amazing. I couldn't wait to grill it up and serve it. I was so happy with these.
I loved eating the grilled vegetables that were marinaded along with the steaks. It's pretty rare to get that in the grocery store's prepared version.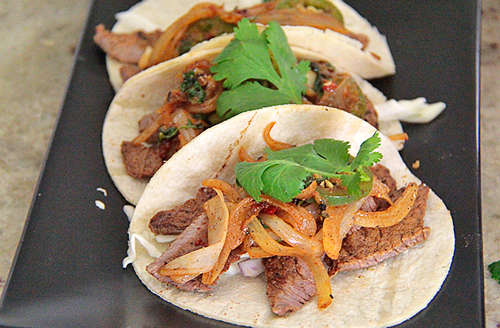 We cut our carne asada into small pieces and made street tacos, which are smaller than normal tacos. I thought they were cute and a really fun twist on regular tacos.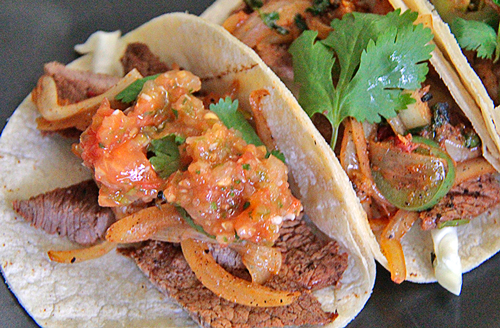 | | | |
| --- | --- | --- |
| Taco Week: Carne Asada Street Tacos | | |
Prep time: 40 mins
Cook time: 5 mins
Total time: 45 mins
Ingredients
1 pound beef chuck, thinly sliced
1 orange, juiced
1 lemon, juiced
1 Tbsp ancho chili powder
1 Tbsp cumin
1 jalapeno, sliced
3 garlic cloves, sliced
1 chipotle pepper with a Tbsp of adobo sauce
Salt to taste
6 three-inch tortillas (I used a cookie cutter to cut them small)
Shredded cabbage
A few slices of red onions
Grilled carne asada, cut into small pieces
Carne asada grilled vegetables (jalapenos and onion)
Cilantro
Roasted Tomato Salsa (recipe link below)
Instructions
Mix all ingredients except the beef in a bowl. Taste and adjust seasonings.
Add beef and let marinate for at least 30 minute. Much better overnight.
Heat grill on high and add oil to grease grill.
Add beef and cook for 2 to 3 minutes until the meat is cooked.
Grill vegetables until tender. About 1 minute. Be careful if grilling indoors, peppers will be smoky.
Let rest and slice thinly.
Serve as is or with tortillas or in tacos.
Heat tortilla over an open flame for a few seconds.
Top the tortilla with a few pieces of cabbage and onion.
Top with carne asada pieces, grilled vegetables, cilantro and salsa.
Repeat to make more.
Serve immediately.
Enjoy!
Roasted Tomato Salsa recipe
I really can't wait for the next party or get-together with my friends.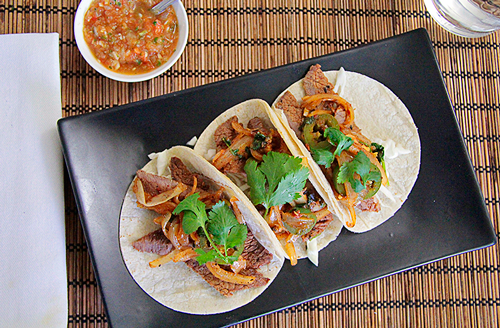 They are going to be shocked at how good these tacos taste, compared to what they are used to.