J – My big mouth can get me into trouble …
or, at least, it gets me extra work to do. In this case, I just couldn't stop raving about the pureed corn soup I had one Saturday night at my favorite restaurant, The Waterboy. It was the essence of sweet Summer corn, with a surprising chorizo and shrimp relish in the center.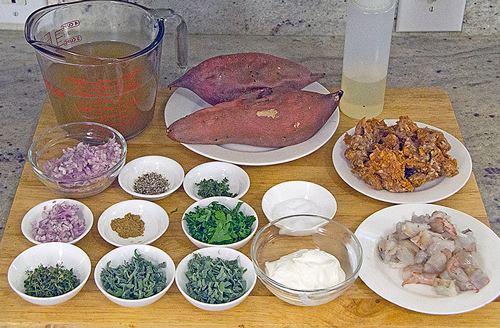 I knew I wasn't going to get the recipe from the chef … so, I worked on convincing Christina that we should do a version for Be Mindful. Be Human.

She agreed under two conditions: 1) We don't use corn, and 2) I had to write the story.

Tough negotiator. But, sweet potatoes seemed like a good fit and I did have a story to tell.

Now, I just had to create more time in the day. There is a mindfulness lesson in here, I know.

The real point is: This is an amazingly delicious dish that wouldn't have happened without curiosity and a willingness to experiment.
Interpretation was straightforward. Make a Fall-seasoned, blended sweet potato soup. Get good shrimp and chorizo and season the relish to balance it with the Fall flavor profile. Plate to showcase the combination.
| | | |
| --- | --- | --- |
| Sweet Potato Week 2016: Sweet Potato Soup With Chorizo Shrimp Relish | | |
Prep time: 20 mins
Cook time: 2 hours
Total time: 2 hours 20 mins
Ingredients
1 pound sweet potatoes, roasted for 1 hour or until fork tender.
2 large shallots, minced
2 Tbsp canola or grapeseed oil, separated
1 Tbsp fresh thyme leaves
1 Tbsp fresh sage leaves, chiffonade
¼ tsp ground cumin
¼ tsp red chili flakes
3 cups chicken or vegetable stock
2 cups of water
Salt and pepper to taste
½ pound uncooked chorizo, without the casing
½ pound uncooked shrimp, peeled and deveined, diced into ¼ inch pieces
1 small shallot, minced
1 Tbsp fresh thyme leaves
1 Tbsp fresh parsley, chiffonade
1 Tbsp fresh sage leaves, chiffonade
Sour cream for garnish
Instructions
After the sweet potatoes are roasted, let cool. Peel the skin and discard it. Rough dice and set aside.
In a medium soup pot, add a tablespoon of oil, heat to medium high and add the 2 large minced shallots. Cook until translucent. About 2 minutes.
Add a tablespoon each of thyme leaves, sage leaves, ground cumin, red chili flakes, a pinch of salt and pepper. Stir well.
Add the diced sweet potatoes and a few pinches of salt and pepper. Mix well.
Add the stock. Mix well. Bring to a boil then reduce to a simmer. Cook until the sweet potatoes are tender. About 30 to 45 minutes.
Blend the soup with an immersion blender until pureed. If the soup is too thick, add some water. We had to add two cups of water to finally get the consistency we liked.
Adjust for seasoning. Add more salt and pepper, if needed.
Meanwhile, in a small saute pan place a ½ tablespoon of oil into the pan. Add shrimp and cook until pink. Immediately remove from pan and place into a small mixing bowl.
Add ½ tablespoon of oil into the same small saute pan. Add the small minced shallot. Cook until translucent.
Add a tablespoon each of thyme, parsley and sage. Add the chorizo. Break the chorizo into small pieces. Cook until the chorizo is fully cooked.
Remove from pan and place into the mixing bowl with the shrimp. Mix well. Set aside.
Place some of the chorizo and shrimp relish into a serving bowl. Ladle the soup into the bowl, trying not to completely cover the relish. Leave some of it showing.
Add a few dollops of sour cream. Garnish with a little more parsley.
Serve.
Enjoy!
Taste test. Wonderful. The only thing we will do next time is add even more liquid for smoothness.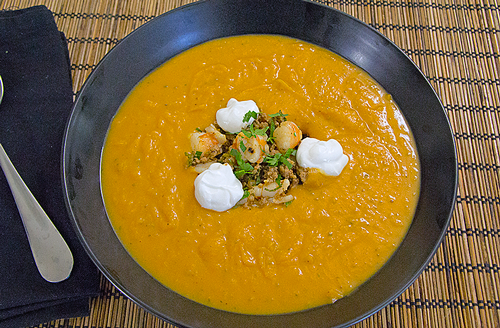 This is easy and really worth it. And, both the soup and the relish will hold, seperately, in the fridge for a few days.