C — One of my favorite times of the week is going to an Asian grocery store in Sacramento.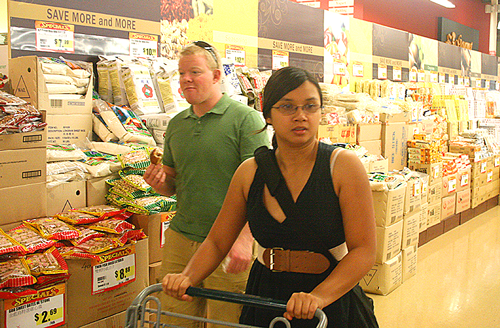 Sacramento has a lot of them: Vietnamese, Chinese, Korean, Japanese and more. I have been to many and will probably try to find them all. For years, I have been waiting for one from the Bay Area to open in Sacramento. It finally opened two years ago.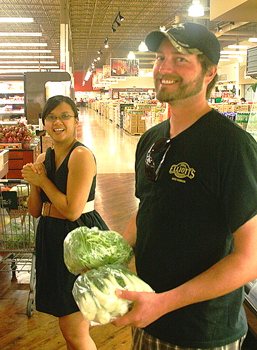 99 Ranch Market is a Chinese grocery store that is very popular in the Bay Area, and now there is one on Florin Road off of HWY 99. They are far from the beaten path of the normal Asian grocery stores on Florin Road. I like that. They aren't as congested or busy like the ones in Little Saigon. It is is usually busiest after work and on weekends. But, this week I was able to go early with Chefs Luke and Chris — and of course Jim — to show off my knowledge of Asian markets.
One reason I like 99 Ranch Market better than other Asian markets in Sacramento is that it's really close to the freeway. I also like that its new and still has a clean and fresh feel to it. Another thing I love is their dim sum bar. You can pick what you want without the hassle of cart pushers at a dim sum restaurant. The dim sum is nice and fresh too.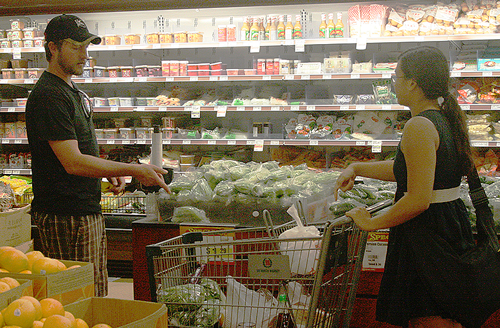 Luke, Chris, Jim and I all ventured out trying to figure out what to cook for lunch. I had a $50 budget and hoped we wouldn't go over. I, of course, wanted to buy more than just stuff for lunch. I had run out of a lot of Asian items in the Be Mindful. Be Human. kitchen and needed to restock. I was hoping this shopping adventure wouldn't go too crazy. But, I kept my mouth shut about my budget and let three boys go a little wild.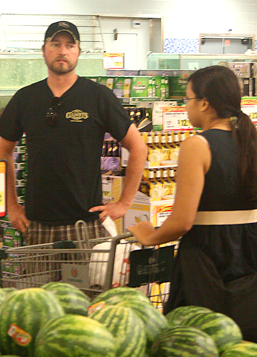 Luke and Chris started looking around the seafood section. Luke was eying the display of whole sole fish and I was getting scared that my money wasn't going to go far. He suggested we come back after checking out the produce department, before we decided on what to make.
I think this is where my mind started to explode. Vegetables were thrown into the basket left and right. It was amazing that I kept track of it all. As I added everything up, it still didn't seem to go over $15 for all the items they grabbed. Diakon, garlic, ginger, mushrooms, corn, Vietnamese spinach, bok choy and so much more were placed into the cart. Then, it was time for the seafood. My nail biting began. Luke and Chris started checking out octopus, seaweed salad, scallops, and little smelt fish. But, when they figured out that Jim and I had a bit of a time constraint, the whole sole plan was dropped. Phew!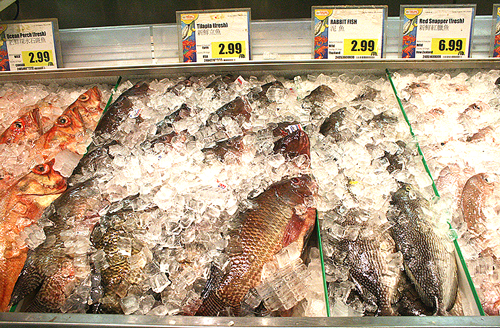 After a few more items were added to the cart, we were off to checkout. The lines were clear and a happy cashier was ready to serve us. Jim and Luke loaded the checkout belt, while I watched as the prices added up on the screen. It was close. I spent $47.39. Right under budget! Those who know me well, know how relieved I was. I even told everyone about my budget.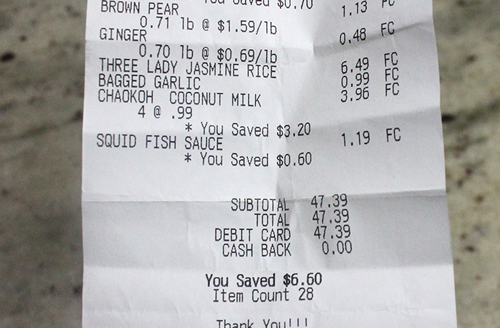 My advice on going to shop with two incredible chefs is don't get in their way. Just let the magic happen. Especially, in a Asian grocery store. They were curious to try new things like the Vietnamese spinach. I let their creativity go because most things at an Asian store are different. It was so worth it.

As we arrived home with shopping bags loaded with Asian food, Luke and Chris were ready to cook. I watched and photographed Chris, while Jim photographed Luke (you'll see what Luke cooked tomorrow). I was excited. Chris brought out seasoned baby octopus, seaweed salad, mushrooms, ginger, diakon, some pea sprouts and a red bell pepper. It was the makings of a great dish. Chop, chop, chop.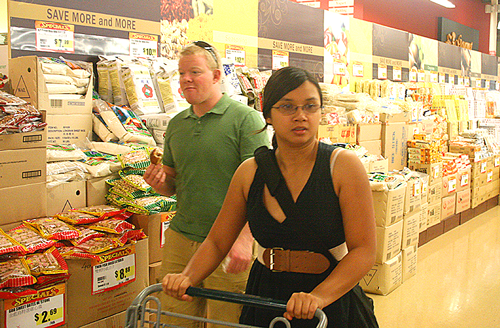 | | | |
| --- | --- | --- |
| Surviving An Asian Grocery Store with Two Sacramento Chefs | | |
Prep time: 30 mins
Cook time: 15 mins
Total time: 45 mins
Ingredients
¼ apple pear, sliced thinly
½ diakon, julienned
¼ red bell pepper, julienned
½ cup pea sprouts
1 Tbsp ginger, minced finely
20 Bunashimeji mushrooms
12 marinaded octopus
1 cup (chuka) seaweed salad
1 Tbsp grapeseed oil
2 Tbsp oyster sauce
1 Tbsp soy sauce
1 Tbsp sesame seed oil
Fried Smelt Appetizers with Aioli
20 smelt, headed and cleaned
½ cup of all purpose flour
1 cup grapeseed oil
1 egg yolk
3 Tbsp olive oil
Salt and pepper to taste
Instructions
Combine apple pear, diakon, red bell pepper, pea sprouts and ginger. Mix to combine.
In a small pan, add oil and saute mushrooms for 2 minutes. Add salt and pepper to taste
Add mushrooms into the salad mixture.
Drizzle two Tbsp of sauce and mix well. Add more if preferred.
Arrange 3 Tbsp of the seaweed salad on a plate.
Top seaweed salad with marinated octopus.
Place salad mixture on the side of the plate.
Serve.
Enjoy!
Fried Smelt Appetizers with Aioli
In a medium frying pan, place one cup of oil into pan and heat on medium.
Dredge smelt with a light coating of flour.
Place smelt into pan and fry until golden brown, about 6 minutes.
Add egg yolk into a clean bowl.
Whisk yolk until it turns into a light yellow, adding oil about a tablespoon at a time.
Whisk until mixture is emulsified.
Add salt and pepper to taste.
Place sauce onto a dipping saucer and serve with fried smelt
Enjoy!
A simple sesame oil, soy and oyster sauce mix and toss with the vegetables. He arranged the seaweed salad topped with octopus, and placed vegetables nicely on the side. One dish down.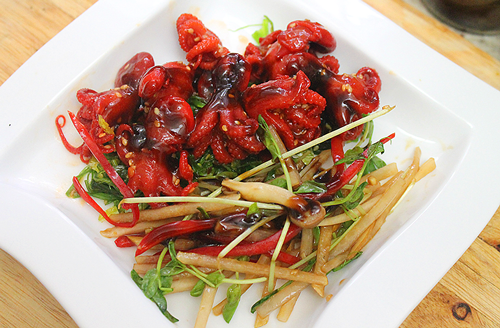 Then, Luke cleaned the smelt fish and fried some up for us. Chris made a simple aioli with an egg, some grapeseed oil, salt and pepper. Appetizers are done. They tasted great. The fried smelt reminded me of going back home and my mom making them. But, they were just a little different because of the creamy aioli.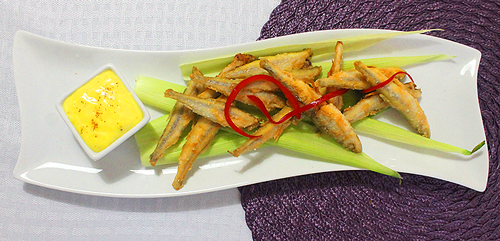 Thanks Chris for giving us your version of Asian cuisine. It was good.