C – There's nothing more manly than a meatloaf.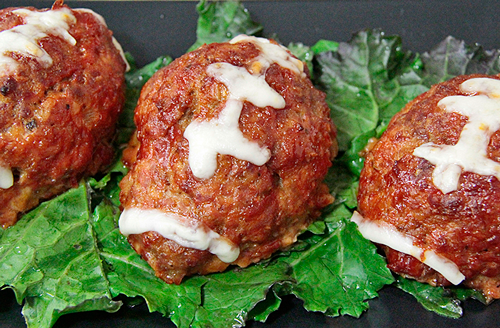 Especially, when it's football-shaped and decorated with string cheese. I think I have too much time on my hands for this Super Football Event. Come on, decorated meatloaves in the shape of footballs?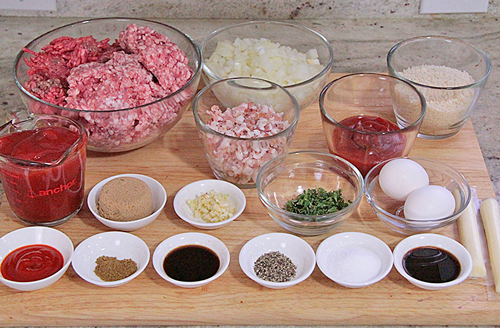 Really! It didn't take long at all to shape them. Topping them off with cheese "strings" was fun.

I always wonder what people think when I bring things like this to a party.

Will they think I am trying to show off? I have too much time on my hands? Well I am not trying to show off. I want people to have fun and enjoy the food I bring.
I don't like bringing messy things to a party. These are the perfect serving size for people to grab-n-go. I love that it's part of a theme. It really didn't take a long time to decorate them, either.

The kids or your guests could even help you decorate them.

Of course, the most important part is the taste. These meatloaves are infused with bacon. I think the guys are always impressed with bacon infused into anything.
This might be the dish I take over there. It's a moist and flavorful bacon-filled meatloaf. The sauce helps really make it flavorful. The string cheese is a nice added finishing touch. Chewy cheese makes it an extra special treat.

But, let's wait and see what else we can come up with for the Super football party.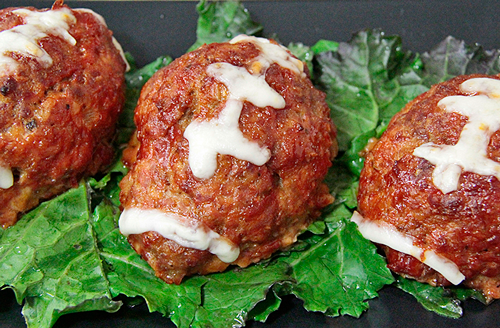 | | | |
| --- | --- | --- |
| Super Football Party Week: Mini Football Meatloaves | | |
Prep time: 25 mins
Cook time: 1 hour
Total time: 1 hour 25 mins
Serves:
10 mini footballs
Ingredients
1 cup ketchup
1 tsp ground cumin
1 tsp Worcestershire sauce
1 Tbsp hot sauce (more or less depending on your preference)
¼ cup brown sugar
2 Tbsp oil
1 medium yellow onion, finely chopped
2 garlic cloves, minced
½ cup ketchup
1 Tbsp Worcestershire sauce
Salt and pepper to taste
1½ pounds ground beef
1½ pounds ground pork
2 eggs
1½ tsp fresh thyme leaves, chopped
4 strips of bacon, chopped finely
1 cup panko breadcrumbs
2 sticks of string cheese
Instructions
Place everything into a sauce pan and heat on medium high until simmer.
Brush over meatloaves and bake.
Use the remaining sauce for serving and dipping.
Preheat oven 350 degrees.
In a medium saute pan on medium heat, heat oil and cook onions and garlic until soft. 5 to 7 minutes.
Stir in ketchup and Worcestershire sauce.
Add salt and pepper and simmer for 5 minutes.
In a large bowl, combine beef, pork, bacon, onion/ketchup mixture, eggs, thyme and panko bread. Mix well.
Divide the mix into 10 balls and form them into footballs.
Brush the sauce over each footballs.
Place in oven and bake for 40 minutes. Meatloaves will be done when the internal temperature is 160 degrees.
While meatloaves are cooking, cut the string cheese into small strips and pieces.
Once the meatloaves are done. Decorate meatloaves to make them look like footballs.
Place them under a low broiler until cheese is slightly melted.
Serve with the remaining sauce.
Enjoy!
Maybe something else would be better.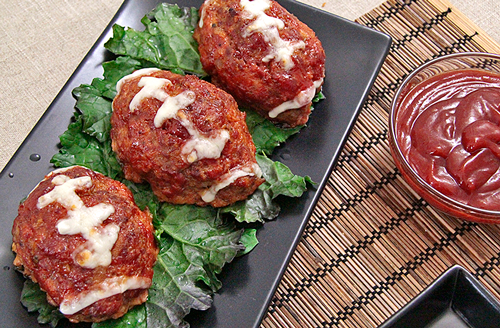 Besides, the guys have already tried this meatloaf recipe and liked it.