C – I set the football food bar pretty high last year.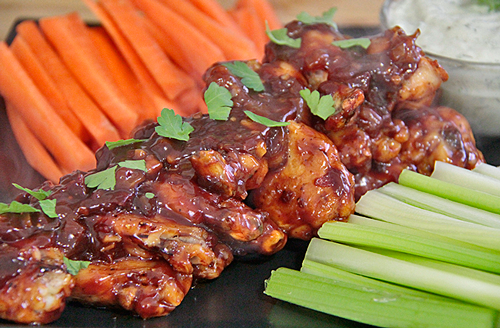 Last year, was my first year hanging out with my boyfriend's friends. I wanted to show off, since he told them I was a good cook. I didn't want to let him down. So, of course, I planned and planned and planned. I really wanted to make good manly football food.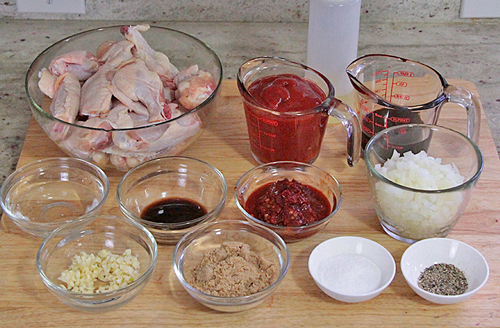 Hot wings was one of the dishes. Everyone was really impressed that everything was made from scratch. Some of them had never eaten anything like it. I was happy.

Now for the challenge … year two. I am not sure what to make for this years big game. Maybe I can test a few recipes at Be Mindful. Be Human. to see what I should make. Easy, meaty, delicious and manly are my goals. I think this week I can get a few ideas … with some help from Luke.

To start with, another chicken wing recipe. I noticed that some people couldn't eat my chicken wings last year, since I made them so spicy. This year, I wanted to try making my own BBQ sauce. Give it a nice kick, without being too spicy.

I haven't found a good bottle of BBQ sauce. Making my own is pretty easy. Just an onion and some garlic, ketchup, brown sugar, molasses, chili peppers and vinegar. Simmer for a few minutes. Simple and it tastes so good. It's great because you know what's in it and you can adjust to your liking.

The chicken wings are easy to make, too. Just salt and pepper and bake until crispy. No need to fry them. These guys won't know the difference. Besides, there's already going to be a lot of greasy fried foods. One baked one won't hurt them.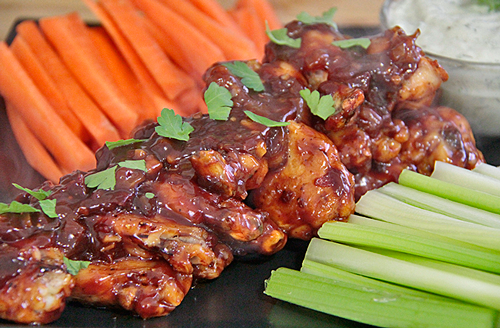 | | | |
| --- | --- | --- |
| Super Football Party Week: Chipotle BBQ Chicken Wings | | |
Prep time: 10 mins
Cook time: 1 hour
Total time: 1 hour 10 mins
Ingredients
2 pounds chicken wings, split and tips discarded
Salt and pepper to taste
1 Tbsp grape seed oil
2 cloves garlic, minced
½ yellow onion, diced
1 cup ketchup
⅓ cup molasses
⅓ cup brown sugar
4 Tbsp minced chipotle peppers in adobo sauce (more or less, depending on how much heat you want)
4 Tbsp distilled vinegar
1 Tbsp Worcestershire sauce
Dash salt
Instructions
Preheat oven to 400 degrees.
Place wings, salt and pepper to taste in a bowl and mix well.
Place wings on a baking tray with aluminum foil.
Place in oven and bake until cooked through. They should no longer be pink inside, and the skin is golden brown and crispy. About 45 to 60 minutes.
In a small saucepan over medium high heat, add oil, garlic and onions. Cook for 5 minutes, constantly stirring.
Reduce heat to low. Add ketchup, molasses, brown sugar, chipotle peppers, vinegar, Worcestershire sauce, and salt. Mix well.
Let simmer for 20 minutes. Taste after simmering. Adjust seasoning to taste.
Once wings are cooked, drizzle a few tablespoons of the chipotle BBQ sauce over top and toss.
Serve. Have extra sauce on the side, just in case.
Enjoy!
The taste was great. I loved the chunky BBQ sauce. It really made it feel homemade. The flavors were great. The chipotle was nice, smoky and not too spicy. There was a great sweet and savory taste.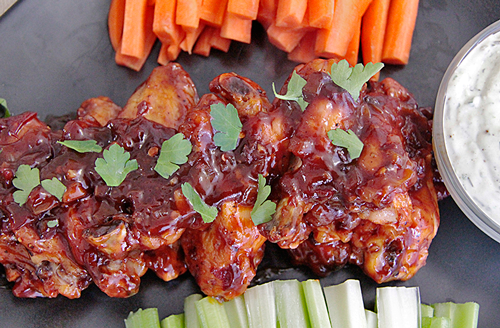 I think the guys will love this. But, I am still not sure if this is a recipe I want to bring. I have already proven my skills at making chicken wings. Let's try out a few more things this week and see if something else is more exciting.
Adapted from: http://www.foodnetwork.com/recipes/ree-drummond/homemade-bbq-sauce-recipe/index.html