C – How do you like your nachos?
I honestly hate nachos done in the traditional way. I am not a fan of a pile of tortilla chips with mounds of stuff piled on top. Trying to get all the ingredients in one chip is impossible. Probably missing a few ingredients in each bite. Eating too much of one item in the beginning, and not getting enough in the end. Not getting enough cheese or way too much sour cream … and it tasting too much like sour cream.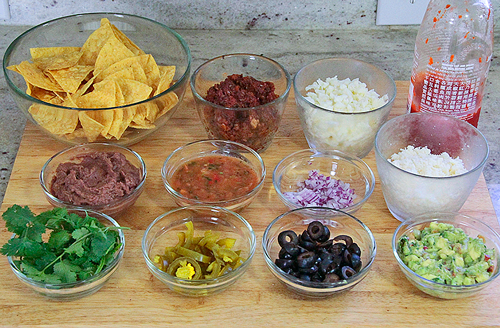 Of course, in the last few bites you don't have any more cheese. Or, it's just a soggy jumbled mess. Or, there are just a few lonely, empty chips. Nachos this way are just not for me. I will eat them, but I won't be happy and satisfied.

My ideal nachos are pretty OCD. Jim really didn't know what was going to happen when I started to make them. I guess he thought it was still going to be a pile of chips … and I would make sure to get every ingredient on as many chips as I could.

I don't think he thought I was going to make sure that EVERY chip was going to have every topping. Not one chip left behind. It's quite tedious and you might get a few cold nachos if you work too slowly, or make too many at a time. BUT every single chip will have every topping. It's my OCD way. It's the perfect way to make nachos.
It sure is satisfying to have every topping on every chip. My favorite part about these nachos is that the last bite is as good as the first. You really can't get that with regular nachos. Jim mentioned that you really can taste everything with each bite.
| | | |
| --- | --- | --- |
| Super Bowl Week 2016: Perfect Nacho Appetizer | | |
Prep time: 30 mins
Cook time: 5 mins
Total time: 35 mins
Ingredients
Thick, restaurant-style tortilla chips
1 cup Oaxaca melting cheese, crumbled
1 cup cooked chorizo, casing removed
½ cup refried black beans
½ cup Queso Fresco, crumbed
½ cup red onions, chopped
½ cup pickled jalapeno peppers, sliced
½ cup black olives, sliced
½ cup salsa
½ cup guacamole
Cilantro leaves for topping
Hot sauce for topping
Instructions
Preheat oven to 350 degrees.
Place a single layer of tortilla chips on a parchment lined baking sheet.
Top each chip with melting cheese.
Add a little dollop of beans and sprinkle some crumbled queso fresco.
Place into oven until the melting cheese has melted. About 3 to 5 minutes.
Remove from oven and top each chip with remaining ingredients.
Serve.
Enjoy!
It's also easy to pick up and great for parties. I used a great Mexican melting cheese. It really melts fast, so the chips stay crispy. Quickly top with all your favorite ingredients on each chip. It's a big crowd pleaser. The other benefit is that people won't have their hands all over the nacho bowl, picking and choosing toppings.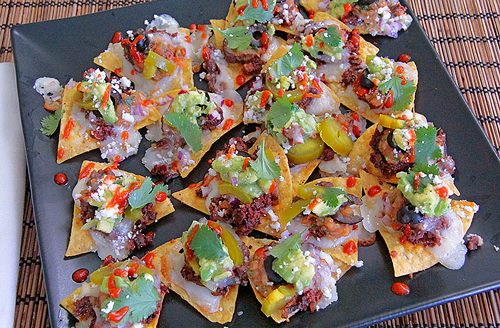 These nachos are great for a party and your OCD friends. Bring them and be the hit of the party.