Update and Redux: C – This chili is still one of our favorites on the blog. I love the flavors. It great to take to a party. Bring some cornbread, tortilla chips or bacon-wrapped hot dogs. Let everyone use this chili as a topping or just eat it by itself. It's delicious and amazing.
C – My boyfriend has been asking me to make chili for a while.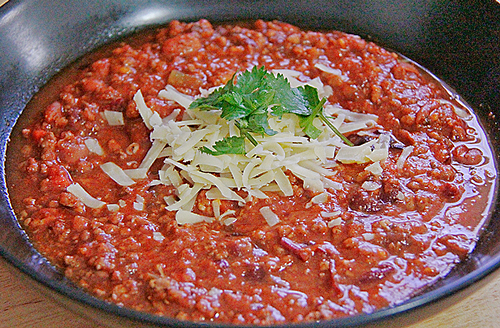 Sadly, I have never made chili. There aren't too many chili recipes on the internet that have impressed me. So, I needed to call-in back up for this recipe.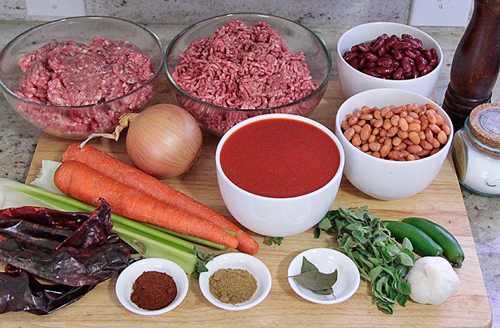 Luke to the rescue!

Well, it was easier than I thought. It was almost like throwing everything into a pot and letting the magic happen. I really liked the chili. I am usually not a big fan. My usual chili comes out of a can, extra salty, with a lot of beans, fat and questionable meat.

I am so glad I got Luke to show me how to make this chili. It's awesome.

It's not super salty and it's really flavorful. Surprisingly, it doesn't have a lot of fat in it. We poured most of it out before simmering. I loved that you could see some carrots and other vegetables throughout the chili. I loved that there was more meat and the meat wasn't overcooked.

I loved that there weren't a lot of beans in the chili either. They were just around to help with the texture. You were not taken over by beans. It's a great chili. We could have made it spicier. But, people can add hot sauce if needed.

This will be great for my big football celebration. I think I can make it a few days in advance, so the flavors can mingle well together. It gets better after a few days.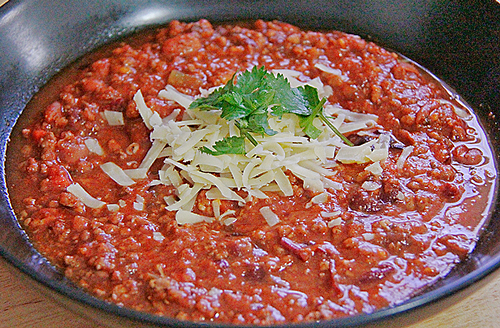 | | | |
| --- | --- | --- |
| Super Football Party Week: Homemade Chili From Scratch | | |
Prep time: 30 mins
Cook time: 6 hours
Total time: 6 hours 30 mins
Ingredients
3 dried Guajillo peppers
3 dried California peppers
1 Tbsp grapeseed oil
2 15oz cans pinto beans
2 15oz cans kidney beans
2 pounds ground beef
2 pounds ground pork
1 onion, diced
3 stalks celery, diced
2 Tbsp fresh oregano or 1 tablespoon dried oregano
2 Tbsp paprika
½ head of garlic, peeled and minced
4 15oz cans tomato sauce
2 bay leaves
3 Tbsp cumin
2 carrots diced
Salt and pepper to taste
2 fresh Serrano chilies, chopped
1 cup beer (optional)
Instructions
Toast dried chilies at 400 degrees for 5 minutes. Be careful not to burn the chilies. It will make the chili bitter. Once done, remove the tops and seeds from the chilies.
Add the oil into a large pot. Add ground beef and pork into pot. Cook on high heat until brown. Add salt and pepper.
Once browned, remove meat from pot and strain fat.
Add vegetables and herbs into pot and let soften. About 5 minutes.
Add beer (optional). Let liquid almost evaporate. About 1 minute.
Add spices.
Return the meat to the pot.
Add the fresh and roasted chilies.
Throw in the beans.
Pour in tomato sauce and equal parts water. Add more water if needed.
Let chili come to a simmer and let cook on low, uncovered for 4 to 5 hours until desired thickness. We reduced it about ¼ of the way down.
Make sure to stir the pot every 30 minutes to make sure the chili doesn't burn or stick to the bottom.
Once thick enough, add more seasoning if needed. Remove the dried chilies and bay leaves.
Refrigerate overnight. Chili is better the next day, so make it in advance.
Serve hot.
Enjoy!
This chili would be great with cornbread or on top of a chili dog. All things that my boyfriend's friends really like.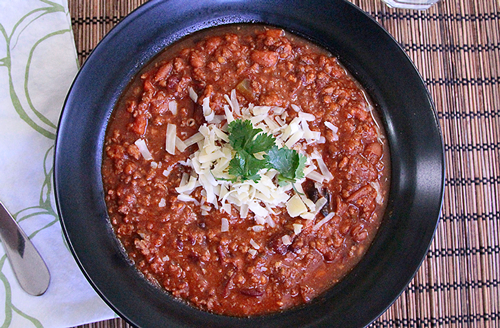 This is the recipe I will take to the party. It's easy and I can keep it warm all day in a slow cooker, if I have to. Perfect.