J – No, you can't order one of everything!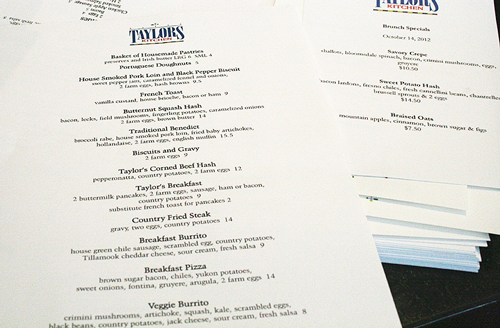 I keep thinking this each week. That's how good the Sunday brunch is at Taylor's Kitchen. Ever since Luke opened the brunch service there (2924 Freeport Blvd.), I've been treating myself and friends, sometimes, to Sunday brunch. How could you resist this menu? Traditional breakfast items, an inventive Benedict, three different seasonal hashes, braised oats [fancy oatmeal with apples], braised pork belly on a pepper biscuit with sweet pepper jelly, breakfast pizza, chicken fried steak, daily pastries. There are always new items on the menu. I never get bored with it.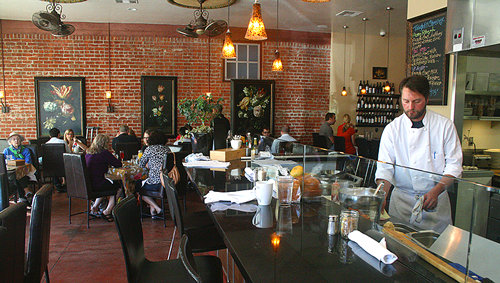 Taylor's Kitchen is an inviting, sunny place for brunch. While the tables are quite comfortable, the counter is where the action is.
You can see all the dishes are they are being prepared and banter with Luke and his team … if you can get their attention. Not easy, though. This kitchen is well choreographed and everyone moves with a purpose.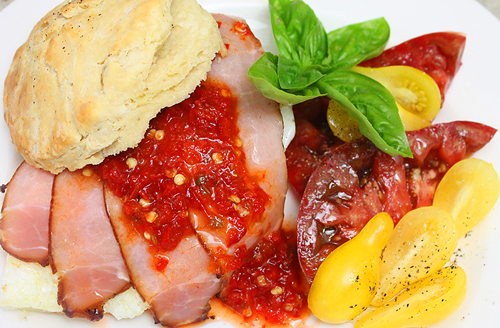 Alas, even with all my talking, Christina has yet to experience this culinary adventure. So, what better way to introduce her than have Luke and Chris come over and cook a couple of items from the menu.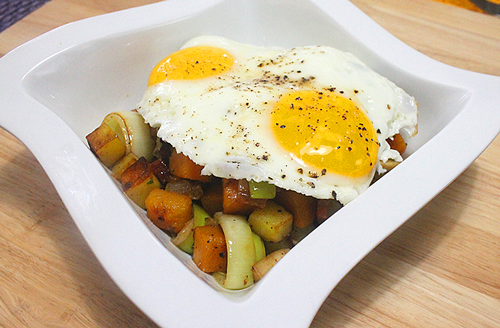 We settle on a variation of pork on a pepper biscuit, using smoked pork loin, and the butternut squash hash. Two popular items and a good representation of Luke's style.

Luke and Chris arrive and, bang, the Be Mindful Be Human kitchen is full of activity. Chris starts the pepper biscuits, which are pretty simple but need some time to bake.

Luke preps the hash and takes over every saute pan and the whole stove which, unfortunately, isn't saying much. It's fun to watch. And, Christina has also gotten much better at anticipating Luke's quick moves while she is shooting. No more "What are you doing!!?" from him.
Then, they're done and plated.
In the usual one-hour plus a few minutes, we have two amazing dishes.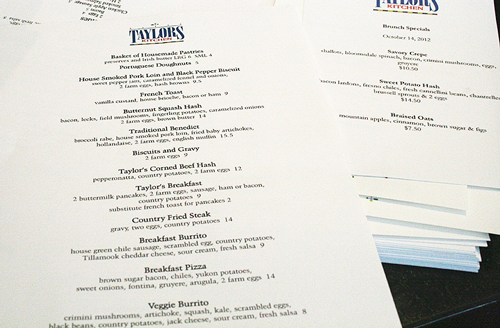 | | | |
| --- | --- | --- |
| Sunday Brunch At Taylor's Kitchen | | |
Prep time: 20 mins
Cook time: 40 mins
Total time: 1 hour
Ingredients
Smoked Pork and Eggs on a Pepper Biscuit with Sweet Pepper Sauce
16 thin slices of smoked pork loin
8 eggs
4 Pepper Biscuits
½ cup Sweet Chili Pepper Sauce
4 slices ripe heirloom tomato
3 cups all purpose flour
1½ cups whole milk
3 Tbsp. baking power
¼ pound unsalted butter
1 tsp Kosher salt
1 tsp. cracked black pepper
8 eggs
2 leeks, use white and light green parts, sliced into ¾ inch rounds
2 cups butternut squash, peeled and medium diced
2 Yukon Gold potatoes, peeled and medium diced
4 pieces of ½ inch-thick lardon-cut bacon slices, cubed
4 cremini mushrooms, cut in eighths
½ yellow onion, medium diced
4 Tbsp. grapeseed oil, divided
3 Tbsp. unsalted butter
2 tsp. whole thyme leaves
Instructions
Preheat oven to 375 degrees
Combine flour, salt, pepper and baking powder in a medium bowl.
Cut in cold butter.
Add milk and stir to combine.
Remove from bowl onto floured workspace; i.e. stone counter, large cutting board, etc.
Flatten the dough to about 1-inch thick. Fold dough in half. Flatten to 1-inch again. Repeat once more.
Cut rounds with 3-inch biscuit cutter. Go straight down. DO NOT twist or the dough will not rise during baking.
Place on a buttered sheet pan.
Bake at 375 degrees for 15- to 20-minutes. They are light golden when done.
Set aside for service.
Cut biscuits in half horizontally and place bottom piece on plate, spread a small amount of sauce.
Cook 2 eggs per person, any style. Place cooked eggs on biscuit.
Place 4 slices of pork loin, each, on top of the eggs.
Spoon sweet pepper sauce over pork. Top with other half of biscuit.
Serve tomato slices on the side.
Enjoy!
Soak sliced leek rounds to remove sediment, LIFT from water and pat dry
Saute butternut squash, Yukon Gold potatoes, cremini mushrooms and yellow onions separately in 1 Tbsp. oil each until beginning to be soft.
Saute lardon cubes until cooked.
Saute leek rounds in 1 Tbsp. oil until beginning to be soft, add ¼ cup water and 1 Tbsp. unsalted butter, cook until soft.
Combine all ingredients in a saute pan with 2 Tbsp. unsalted butter and whole thyme leaves. Reheat.
Cook 2 eggs per person, any style.
Divide hash between 4 bowls and top with cooked eggs.
Salt and pepper to taste.
Enjoy!
Sweet Chili Pepper Sauce recipe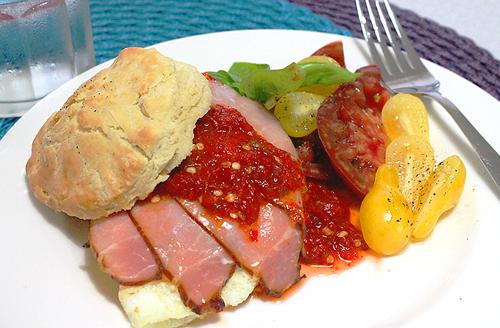 Thanks Luke and Chris for introducing Christina to Taylor's Kitchen in such a great way.