C – Summers in San Francisco aren't quite the Summers I'm used to.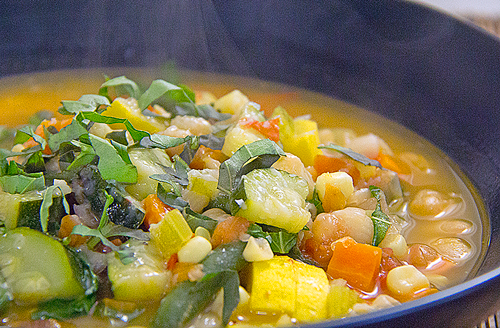 Summer is cold here. Even though just a few miles away from the Bay, it's 100 degrees. We here in San Francisco get fog, slight chance of rain and 65 degree weather. It's so strange and foreign to me.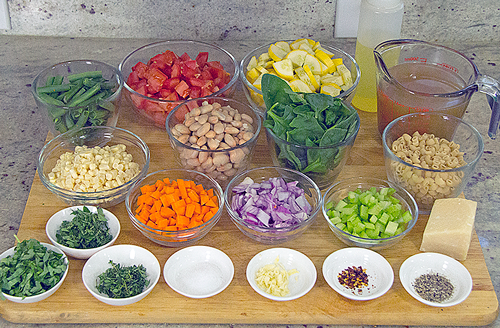 It's sort of feels like Winter some days. I actually got sick one day because I wasn't prepared for the cold windy weather and walked outside with a light sweater on.

One of the saving graces of this weather is that I can make a Summer minestrone soup and not feel weird about it.

Eating a hot soup in 105-degree Sacramento weather is pretty awful, unless the air conditioner is on.

Here in San Francisco there's an abundance of produce. Taking advantage of it can be a little daunting if you don't know what to do with it. I honestly want to get everything at the Farmer's Market. There's so much good stuff.

Last week I actually couldn't close my refrigerator because I had so much stuff in it. I had to take an entire day to cook, so I could make room for it all.

This soup is a great way to use up vegetables. It has Summer squash, tomatoes, corn, green beans, lots of herbs and anything you have in the refrigerator that you want to throw in.

It's so warm and comforting. I love all the wonderful textures. It's also not as heavy as a Winter minestrone.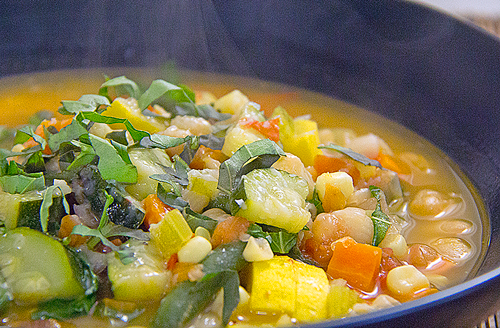 | | | |
| --- | --- | --- |
| Summer Vegetables Week 2016: Summer Minestrone | | |
Prep time: 20 mins
Cook time: 45 mins
Total time: 1 hour 5 mins
Ingredients
1 Tbsp canola or grapeseed oil
2 carrots, chopped
1 red onion, chopped
2 stalks celery, chopped
1 garlic clove, minced
1 Tbsp fresh thyme, chopped
4 Roma tomatoes, chopped
4 cups chicken or vegetable stock
1 zucchini, quartered and sliced
1 yellow squash, quartered and sliced
1 cup green beans, cut into 2 inch pieces
½ cup uncooked elbow macaroni
1 Tbsp fresh basil, chiffionade, plus more for topping
1 Tbsp fresh oregano, chiffionade
¼ cup of grated Parmesan, plus more for topping
Salt and pepper to taste
Instructions
Cook elbow macaroni until al dente according to package directions. Drain, mix in a little oil so it doesn't stick and set aside until ready to use.
In an 8 quart pot, add a tablespoon of oil and heat on medium high. Add carrots, onions, celery and a pinch of salt and pepper into pot. Cook until slightly caramelized and softened. About 5 minutes.
Add garlic and thyme and cook for a minute.
Add the tomatoes and a pinch of salt and pepper. Mix well.
Add the stock and bring to a simmer. Let simmer for about 10 minutes so the tomatoes break down a little.
Add the zucchini, yellow squash and green beans. Let simmer for about 5 minutes.
Add the cooked macaroni, ¼ cup of Parmesan cheese. Let simmer for another 5 minutes.
Add fresh basil and oregano. Taste and add more salt and pepper if desired.
Serve with more grated Parmesan and fresh basil.
Enjoy!
If you ARE in hot climate, this soup is still good. I would suggest not eating it quite as hot as I would in San Francisco to warm up. It's a great soup that's super healthy and delicious.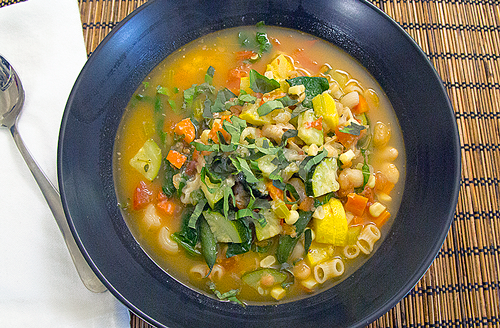 Take advantage of Summer … no matter where you live … and make this soup.