Update and Redux: J – Regardless of the crumble vs. pie discussion, this dish is so delicious you will want to make extra. One is never enough. Good news. It's super easy and shows very well. Plop a scoop of homemade ice cream on top and you have a perfect dessert!
C – Is a crumble better than a pie?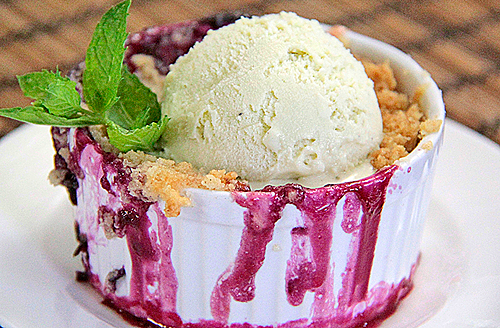 For me, yes. I still get frustrated with pies. It takes too long to make the crust. Blend in a food processor and wait for an hour before rolling it out. Crimping the crust and hoping it doesn't rip.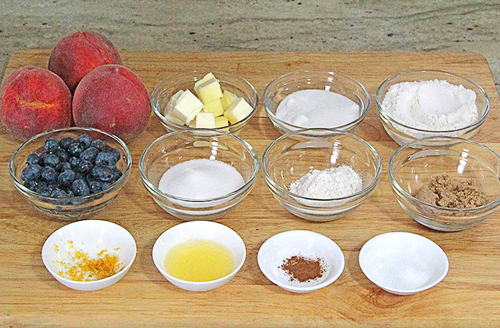 Just lots of trouble just for one dessert that I will devour in about 18 seconds.

Crumbles are so much better. Mix everything and top it with a crumbly crust.

The more imperfect the better. It's considered rustic that way.
I just can't wait to eat. It's usually eaten while it's still bubbly and boiling hot. With ice cream of course.

Yup, devoured in 18 seconds.

I love that I get a crispy crust on top of the crumble. It's sweet and so messy. With the ice cream topped on it, all melty and gooey.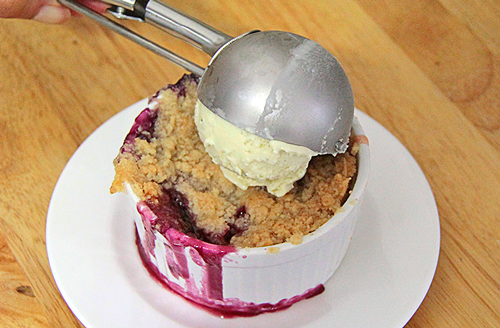 A pie's got nothing on this crumble. Serve cold and it's just like a pie. Super delicious crust that's not only crispy, but tender.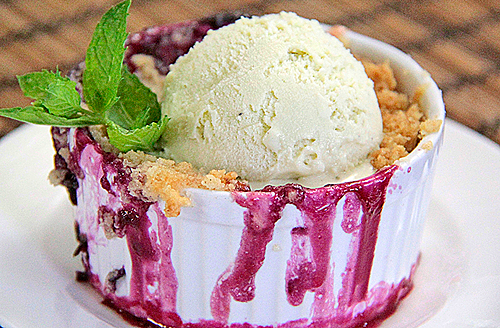 | | | |
| --- | --- | --- |
| Peach Week: Peach Blueberry Crumble | | |
Prep time: 15 mins
Cook time: 50 mins
Total time: 1 hour 5 mins
Ingredients
3 peaches firm but ripe
1 tsp lemon zest
1 Tbsp lemon juice
¼ cup granulated sugar
⅛ cup all purpose flour
½ cup blueberries
½ cup all purpose flour
⅓ cup granulated sugar
⅛ cup brown sugar, lightly packed
¼ tsp salt
Pinch of cinnamon
4 Tbsp butter, chilled and cut into cubes
Instructions
Preheat the oven to 350 degrees.
Immerse the peaches in boiling water for 30 seconds to 1 minute, until their skins peel off easily. Place them immediately in cold water.
Peel the peaches, slice them into thick wedges, and place them in a large bowl.
Add the lemon zest, lemon juice, granulated sugar and flour. Toss well.
Gently mix in the blueberries. Allow the mixture to sit for 5 minutes.
Spoon the mixture into ramekins or custard cups.
For the topping, combine the flour, granulated sugar, brown sugar, salt, cinnamon and the butter in the bowl of a stand mixer fitted with a paddle attachment.
Mix on low speed until the butter is the size of peas.
Rub the mixture with your fingertips until it's in big crumbles, then sprinkle evenly over the fruit.
Place the ramekins on a sheet pan lined with parchment paper. Bake for 40 to 45 minutes, until the tops are browned and crisp and the juices are bubbly.
Note: If you want to make these early, store the unbaked crumbles in the refrigerator and bake before dinner.
Serve warm, at room temperature or chilled.
Enjoy!
Perfect with the thick peach and blueberry filling. So delicious.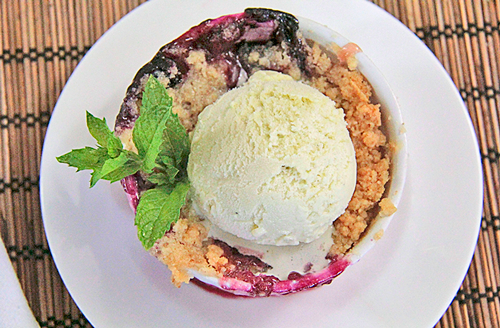 Crumble it the way to go with peaches and blueberries.
Adapted from: http://www.foodnetwork.com/recipes/ina-garten/peach-and-blueberry-crumbles-recipe.html