C – Caesar salad throw-down!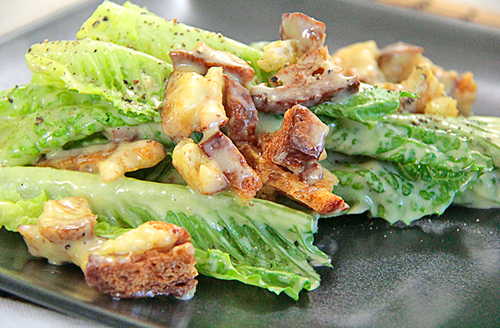 (In your best WWF announcer voice). Who will win? Luke versus Jim. Just kidding. I always like to see how different people make things.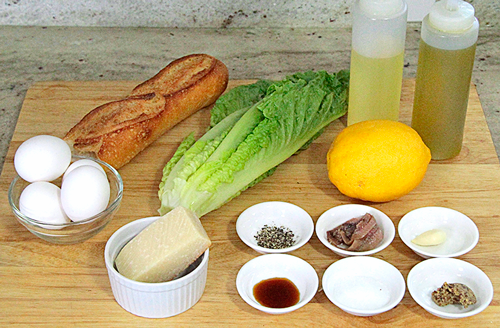 Jim's been perfecting his Caesar salad recipe for years. Luke has been making Caesar salads for years as a chef in restaurants. I really wanted to see if there was a lot of difference. There was.
Luke's way of making Caesar salad begins with making an aioli. Then, adding in things like anchovy filets, garlic, lemon, Dijon and Worcestershire sauce.

There were a few differences in Luke's and Jim's recipe. Luke used egg yolks and a whole egg to make his, while Jim used an egg white. For me, Luke's way is a bit simpler and there is less room for error.

Jim's recipe (add hyperlink) is a bit more detailed. I haven't gotten the hang of Jim's yet. But, I have made aioli from scratch. It seems like I could do Luke's.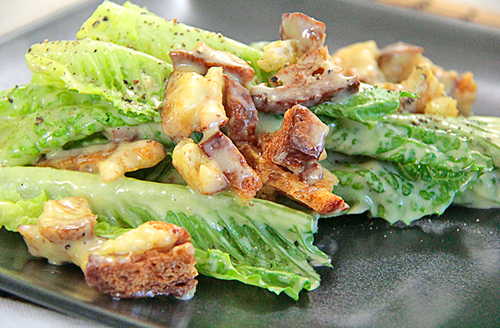 | | | |
| --- | --- | --- |
| Summer Bistro Menu Week: Whole-Leaf Caesar Salad | | |
Prep time: 20 mins
Total time: 20 mins
Ingredients
3 egg yolks (freshest, best eggs you can find)
1 whole egg
½ cup Parmesan Cheese, finely grated
Salt and pepper
½ cup olive oil
½ cup canola oil
½ lemon, juiced, more to taste if needed
1 tsp Dijon mustard
3 anchovy filets, minced
1 tsp Worcestershire sauce
1 garlic clove, minced
1 Romaine heart
3 crostini broken up into small pieces
Instructions
Place egg and egg yolks into a large bowl. Whisk until light yellow.
While whisking slowly add the oils into the eggs. Whisk until emulsified.
Add garlic, anchovies, mustard, Worcestershire sauce, salt and pepper to taste. Mix well.
Add 1 tablespoon of lemon and ¼ cup of Parmesan. Mix well.
Cut the tops and the ends off of the leaves of the Romaine hearts.
Place croutons on the bottom of the bowl.
Add about ¼ cup dressing into bowl.
Add lettuce leaves. Toss well.
Place on plate and sprinkle more Parmesan over top.
Serve.
Enjoy!
Both recipes taste great. I can't complain. A crispy salad with creamy dressing and crunchy croutons is a great salad.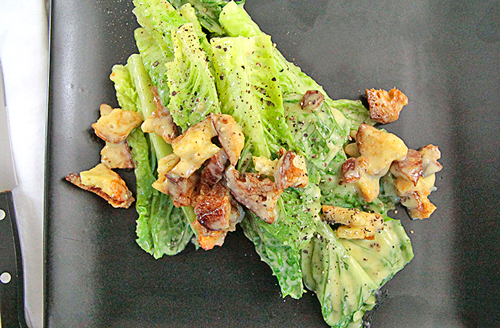 All winners here. Especially, if I don't have to cook it.