J – I'm a little stone fruit crazy …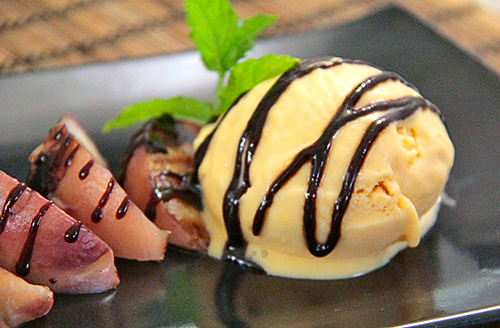 like a fox. Stone fruit is so versatile, especially when sweet and savory mix. You can play with people's taste buds in a fun way. For example, this dessert takes a delicious white peach and pairs it with an intense apricot ice cream, topped off with sweet/savory balsamic red wine reduction.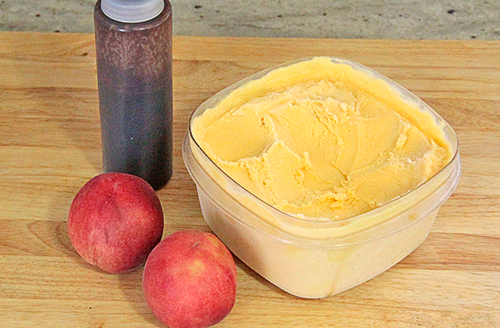 My mouth doesn't know where go first when I taste it?
Summer Bistro Menu Week would not be complete without a sweet/savory dessert. We also have Peach Week in the near future with some more nice flavor surprises.

We like using dessert plates slightly cooled for this. But, flat bowls will work also.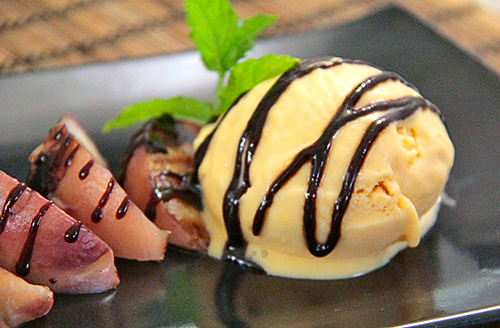 | | | |
| --- | --- | --- |
| Summer Bistro Menu Week: Grilled White Peaches with Apricot Ice Cream and Balsamic Reduction | | |
Prep time: 5 mins
Cook time: 3 mins
Total time: 8 mins
Ingredients
2 firm but ripe white peaches, cut in halves
Canola for coating peaches
½ cup apricot ice cream (see recipe link below)
Balsamic red wine reduction for topping off (see recipe link below)
Instructions
Heat grill on high.
Coat peaches with oil so they won't stick on the grill.
Place on grill for 2 to 3 minutes on each side to get good char marks.
Remove from grill.
Slice the peach halves into quarters.
Arrange on plate.
Place ice cream on top.
Drizzle balsamic reduction overtop.
Serve immediately.
Enjoy!
Apricot Ice Cream recipe
Balsamic Red Wine Reduction recipe
Assemble as soon as the peaches are off the grill.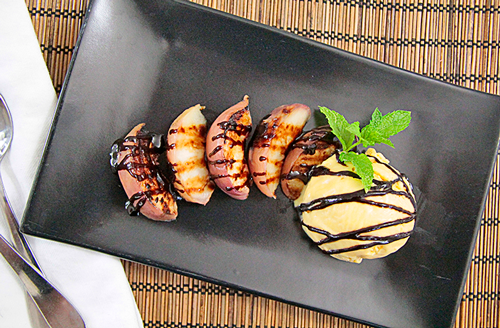 Enjoy!