C – We just had to be a part of @driscollsberry #StrawShortcake competition.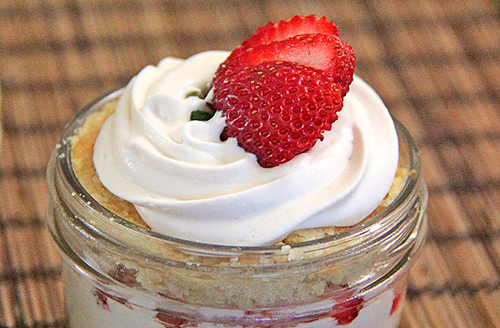 Of course, I had to work my new addiction into the competition. I am addicted to collecting Mason jars and using them. You should see the Be Mindful. Be Human. kitchen. We have so many kinds. As well as so many uses.
From drinking glasses to soup mugs to salad storage and food storage.

I am loving it. I feel so organized. I still need more!
Of course, when I came to making these strawberry shortcakes, I had to put them in Mason jars. These are such cute jars. They would be perfect for cute one-serving strawberry shortcakes. The problem with putting them in jars is that I might be limiting myself.

I have to make sure to not overload my strawberry shortcakes. They might not close or look right. Unfortunately, I love overloading my strawberry shortcakes.

There might be a problem here. I really need to make sure I get all the good stuff in, without making it too impossible to eat. Can I do it?

I am not sure if I did. Jim didn't seem too satisfied about my first attempt.

He wanted more whipped crème fraiche. I did my best and put in as much as I could.

Did I put in enough? There was a bit more cake then I wanted. But, it was really flavorful. The strawberries were nice and sweet. They shined right through the shortcake. I loved the crème fraiche.

It was almost like a liquid cheesecake in tartness and blended well with the strawberries. The cake was super moist right out of the oven. I learned not to refrigerate it, since it can get hard and dry out. It's a shortcake and not a normal cake.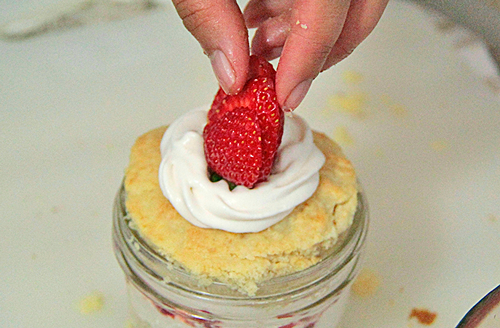 One of my favorite parts about putting my shortcakes into a Mason jar is portion control.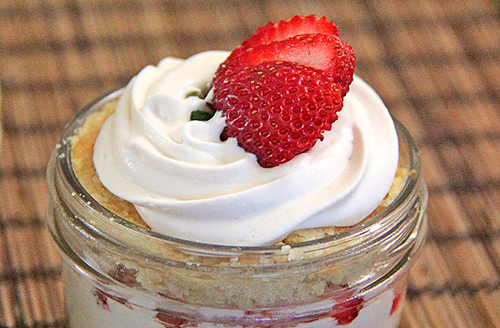 | | | |
| --- | --- | --- |
| Strawberry Shortcake In a Jar with Whipped Creme Fraiche | | |
Prep time: 20 mins
Cook time: 20 mins
Total time: 40 mins
Ingredients
2 cups all purpose flour
1½ tsp baking powder
¼ tsp baking soda
5 Tbsp sugar
¾ tsp salt
1½ cups heavy cream
1 egg
1 tsp vanilla extract
2 pounds strawberries, stemmed and sliced
3 Tbsp granulated sugar
1½ cups crème fraiche
3 Tbsp granulated sugar
2 tsp vanilla extract
½ roasted hazelnuts, crushed
More fresh strawberries to top off
Mint sprigs for garnish
Instructions
Mix strawberries and 3 tablespoons sugar into a bowl. Mix well. Refrigerate for 30 minutes to let all the juices develop.
Preheat oven to 400 degrees.
Place flour, baking powder, baking soda, 5 tablespoons sugar and salt into a medium bowl.
Add egg and heavy cream. Mix until just combined.
Place mixture in an ungreased 8 inch square pan and bake until golden, 18 to 20 minutes.
Remove shortcake from pan and place on a rack to cool slightly.
Cut short cakes into the size of the mason jars.
Cut in half horizontally.
Mix crème fraiche, sugar and vanilla. Whip until hard peaks.
Place bottom shortcake slice on the bottom of the Mason jar.
Top with a layer of strawberries slices.
Top with a tablespoon of whipped crème fraiche.
Top with a second layer of strawberries slices, including some juice.
Top with the top half of the shortcake.
Top with another tablespoon of crème fraiche.
Top with more strawberries.
Serve.
Enjoy!
Each jar was a great serving size that can fill you up nicely.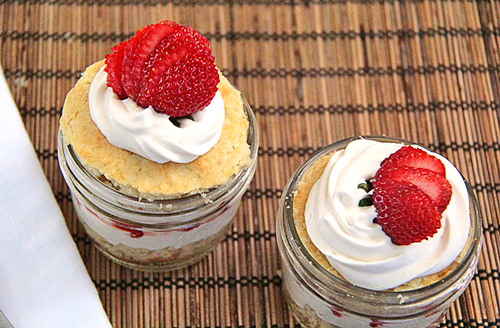 Delicious. Simple. It feels like Summer.