J – Going over-the-top is fun!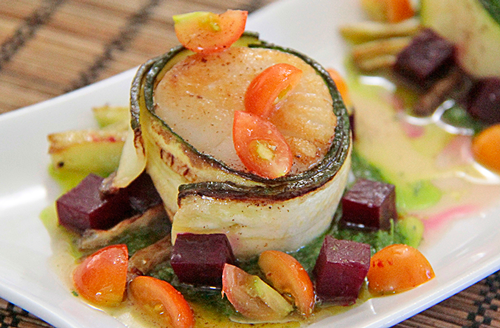 Luke and I were trying to figure out something different to do with zucchini. "This might be a little over-the-top" we mused. Good! Let's do it.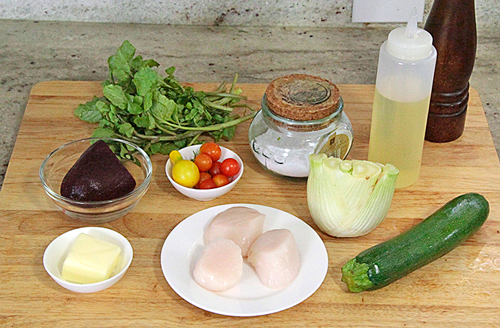 We have a grateful access to Azolla Farm and all the bounty Scrivner provides. Only problem is, we need to use it if we get it!

So, we had wonderful beets and zucchini … plus a little watercress and fennel from my favorite organic vendor at the Farmer's Market.

We all love scallops. Humm.

This dish was hatched right then.

The biggest deal here is be careful and treat the ingredients with care. Everything is fragile and can get beat up quickly. Careful cutting and the right amounts of heat will work best.

The most fun we had was making it up as we went.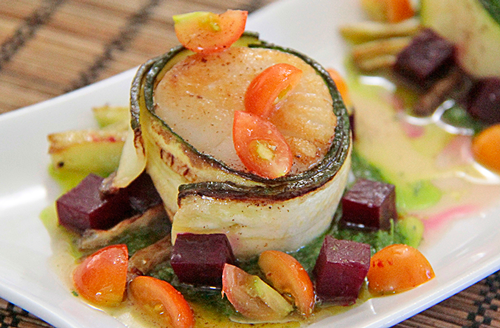 | | | |
| --- | --- | --- |
| Squash Week: Zucchini-Wrapped Scallops with Purple Beet Cubes, Fennel and Watercress Puree | | |
Recipe type:
Mains, Sides
Prep time: 20 mins
Cook time: 6 mins
Total time: 26 mins
Ingredients
2 Tbsp butter
1 bunch watercress
1 Tbsp canola oil
1 fennel bulb, cut into ¼ inch wedges
1 small zucchini, thinly sliced lengthwise with a mandolin
8 Sweet 100 tomatoes, cut into quarters
½ a cooked purple beet, cut into ¼ inch cubes
3 scallops
Salt and pepper to taste
4 thyme sprigs
Instructions
Melt butter until brown. Be careful not to burn the butter.
Place canola oil into a small saute pan, add fennel. Add thyme sprigs, salt and pepper. Cook until caramelized. About 5 minutes. Remove from heat and set aside.
Squeeze liquid out of watercress and place into food processor. Process until pureed. Salt and pepper to taste.
Cut down the zucchini width to fit the scallops.
Wrap slices of zucchini around scallops. Place a few toothpicks to secure the zucchini on the scallops.
Sprinkle salt over the scallops.
Place oil into saute pan heat on medium-high. Add scallops and cook gently until both sides are golden brown. About a minute on each side.
Place a spoonful of puree on to a long rectangular plate in three different locations. Swirl to make a approximately 2 inch circle.
Top each spot with a piece of caramelized fennel.
Add a few pieces of beets to each circle.
Top with each circle with zucchini wrapped scallop.
Top with each circle with Sweet 100 tomato quarters.
Drizzle brown butter over top.
Serve.
Enjoy!
It worked!!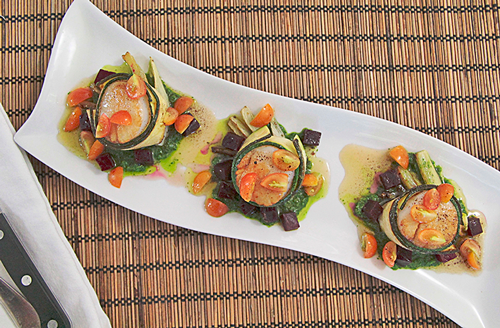 So pretty. So delicious. Try it!