Update and Redux: C – This is still one of my favorite type of pesto to make. Not a normal pesto with just basil, Parmesan, garlic, pine nuts and oil. It's more of a pesto with zucchini strands. It really makes it complex and gives your mouth more texture. It's also lighter than the normal, so you can eat more. A lot more. It's still the most memorable pesto I have made.
C — OK, finally! I am finished with that huge zucchini. Done. Gone.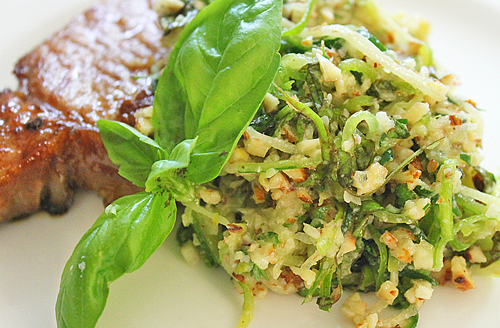 I don't think I will take another zucchini that size ever again. It fed us five times. Crazy!
Zucchini pizza
My attempt at zucchini fries
Jim stealing an inch off my zucchini
Zucchini stir fry
And last, but not least, Zucchini pesto (maybe the best out of all of them)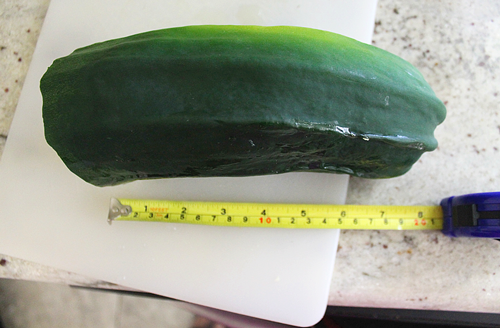 Three weeks and I can't believe this thing actually held up. As you can see it's really on its last leg. And now my fridge is finally cleared. YAY! Out of all the recipes I think this one came out the best. I should have made it first and used the whole zucchini. It's that good!
I scared myself a little with over salting it but, luckily, I kept on tasting and adjusting. Note to self and to you … maybe, always taste stuff that has salt in it before adding more salt. This recipe would have been ruined if I added the amount of salt it really called for.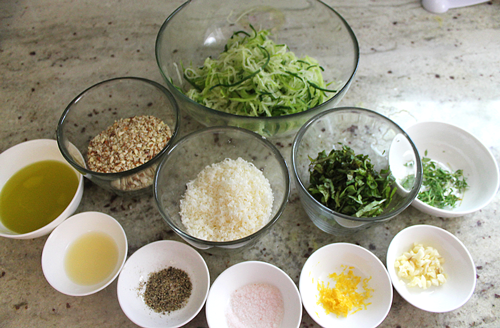 I can't believed it ended up tasting so good. Pesto has so many complexities in taste and texture, but this one was over the top. Since I shredded the zucchini to spaghetti sized strands, chopped the almonds a little more course than the usual pesto, and also shredded the basil, it became a different kind of pesto. A chunky pesto that's super addicting.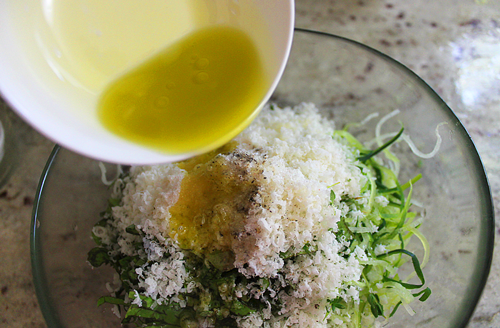 Well, I guess I have a lesson to learn from all of this. Just say NO to large vegetables, unless you really know what you are going to do with it. Otherwise, you'll be forced to use it and force your blog readers to endure the craziness of it all.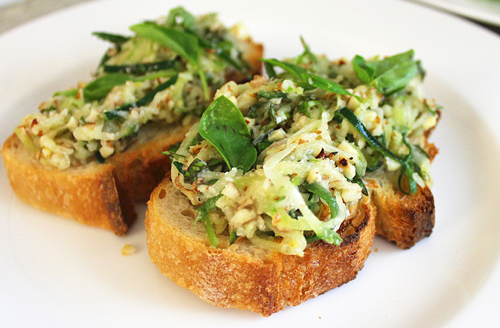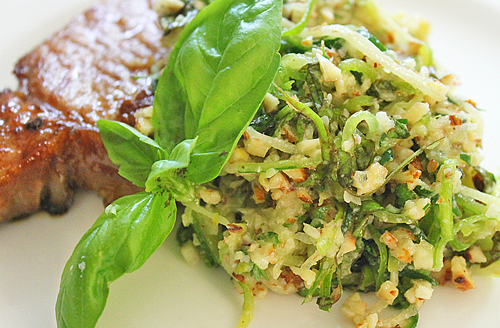 Prep time: 15 mins
Total time: 15 mins
Ingredients
3 medium zucchinis, grated or pulled with julienned peeler
1 tsp salt, plus more to taste
2 cloves of garlic, minced finely
¼ cup basil, shredded
½ cup almonds, toasted and chopped finely
1 tbsp thyme leaves, chopped
½ cup Parmigiano-Reggiano cheesse
1 tsp fresh lemon juice
½ tsp lemon zest
3 teaspoon olive oil
Black pepper to taste
Instructions
Place grated zucchini in the middle of a clean kitchen towel. Sprinkle salt and let sit for 5 minutes. Squeeze the towel and remove all liquid. Transfer to a bowl.
Add garlic, basil, almonds, thyme, Parmigiano-Reggiano, lemon juice, lemon zest, and 3 tbsp olive oil to zucchini. Toss to combine. Season to taste with salt and pepper and refrigerate for one hour.
Serve over grilled toast.
Enjoy!
Recipe adapted from http://www.tastingtable.com/lander/national/summercookbook2012