C – It's Spring! Finally.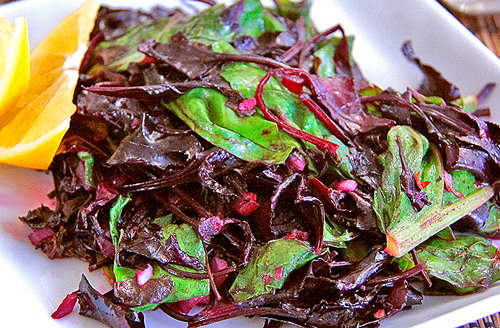 It's the start of my favorite time of the year. We went to Azolla Farm a few weeks ago and got a huge amount of produce. So much that we had to have another week of cooking with Azolla Farm produce. It's Spring Sides week.
We just had to showcase the amazing produce that we received … not just the lettuce from last week. There was a lot more.

I am so amazed that it's been three weeks and most of the stuff we got is still fresh and edible.

Jim has taught me how to keep fresh produce longer. His method of wrapping fresh produce in paper towels and placing them in resealable plastic bags has saved a lot of vegetables. I am so amazed how long some of these vegetables last. The red beet leaves we used for this saute lasted two weeks.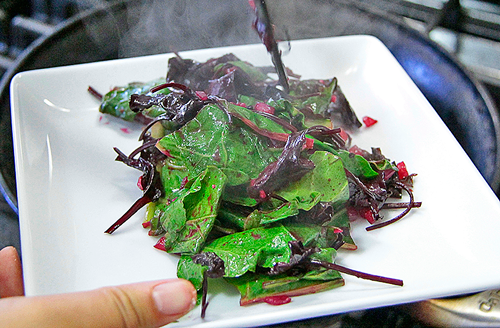 This simple saute was great. I have never seen red beet leaves in the store before. It was a great opportunity to try something new. Something simple when you don't know what to do with leafy, hearty vegetables like red beet leaves.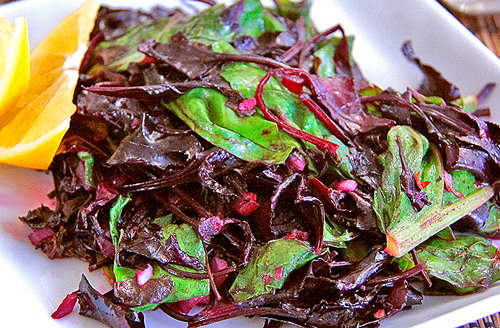 | | | |
| --- | --- | --- |
| Spring Sides Week: Sauteed Red Beet Leaves and Spinach Chard | | |
Prep time: 5 mins
Cook time: 5 mins
Total time: 10 mins
Ingredients
1 Tbsp grapeseed oil
1 garlic clove, minced finely
2 cups red beet leaves, washed
2 cups spinach chard, washed and cut into large pieces
A pinch red pepper flakes
Salt and pepper to taste (be careful not to add too much salt)
Lemon juice to taste
Instructions
Place oil into a large saute pan on medium high heat.
Add garlic and cook for 1 minute or until fragrant.
Add beet leaves and spinach chard. Cook until wilted, but still crisp. About 3 to 5 minutes.
Add salt and pepper and a pinch of red pepper flakes.
Add lemon juice.
Serve with more lemon if desired.
Enjoy!
Saute them with some garlic, red chili flakes, salt and pepper. Then. finish with a squeeze of lemon juice. I love this simple dish. You can taste the rich vegetable flavor. A balance of salty and spice, with a hint of tart.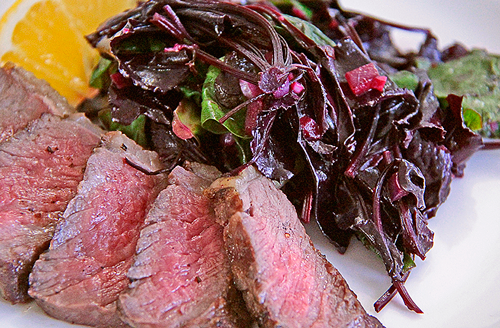 It's a great way to showcase an amazing vegetable that you might not know what to do with.