C – I have always loved hot cocoa.
I even loved it when I was growing up and my dad wanted to save money by watering down the cocoa mix. He added just ¼ of the cocoa mix package, some sugar and powdered cream so the cocoa mix would last longer. I drank it and loved it. I had it every weekend. I didn't know any better and it was a special treat for us.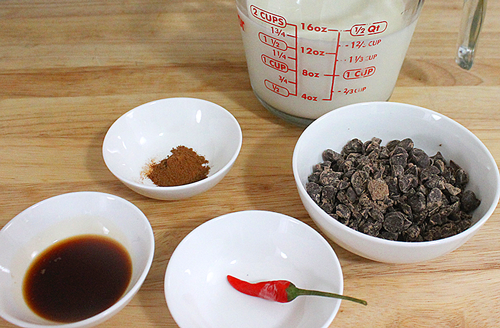 When I got older, I started to be a bit wiser to the sugar-and-powdered-cream concoction my dad made me. I started trying to find the good stuff. Using the whole package of hot cocoa powder mix was just the start. As I started to travel, I looked for hot chocolate and the perfect balance of sweet, chocolatey and creamy. I have found a few, but my ultimate goal was to make it myself.

I finally found it! But, with a little twist. Spicy. I never knew about Mexican hot chocolate until one of my friends in San Francisco introduced me to it. I didn't like the one I had back then. The chocolate was too dark and the heat was too much for me. I could only take two or three sips and had to throw it away. I think the problem was too much cayenne. The powder stuck in the back of my throat and would linger. So, when I made my own, I started to do some research and found that many people had the same experience as I had with cayenne. I needed to find an alternative. I found it: a hot chili pepper without the seeds. I found this great recipe from the "My French Kitchen" cookbook by Joanne Harris and Fran Warde. It's the recipe used in the movie "Chocolat." It was amazing.

This thick and creamy chocolate drink makes me the most annoying person when I drink it. I have to say Ummmmm with every sip. The balance of flavors plays in your mouth and lingers. Sweet from a good chocolate, spicy from the hot chili pepper (but not too hot that it hits the back of your throat and kills all your taste buds), creaminess of whole milk and just a pinch of cinnamon to enhance everything.
Prep time: 5 mins
Cook time: 15 mins
Total time: 20 mins
Ingredients
1⅔ cup milk
½ tsp vanilla extract
¼ tsp cinnamon
1 hot chili pepper, halved and seeded
⅓ cup bittersweet chocolate
Whipped cream and chocolate curls for serving
Instructions
Place vanilla, cinnamon, chili pepper and milk into a small sauce pan on medium-low heat. Whisk until cinnamon and vanilla are dissolved.
Gently simmer for 1 minute.
Remove from heat, add chocolate and whisk until mixed well.
Allow chocolate to infuse for 10 minutes.
Place back on heat and let simmer for 2 minutes.
Serve in small cups, topped with whipped cream and chocolate curls.
Enjoy!
It's really rich. I can only handle a small cup at a time. But, somehow, I always manage to have seconds and thirds.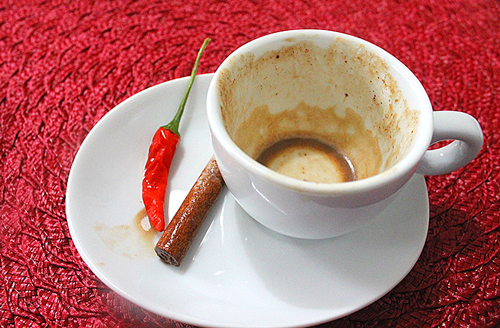 I love this drink. Not too spicy and not too sweet. It keeps me wanting more.
Adapted from My French Kitchen by Joanne Harris and Fran Warde