Update and Redux: C – Any soup that requires chips in it is a great soup. In this tortilla soup, chips are a must. If you don't have them in there you don't get the full experience. It's the perfect soup.
C — I hate when I don't have all the ingredients to make something.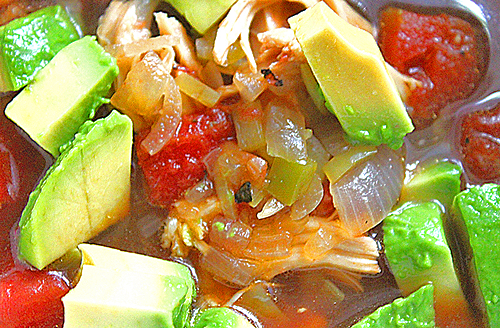 Today is one of those days. As you can see in the picture, I have all the ingredients. Or, do I? The chicken broth is almost empty.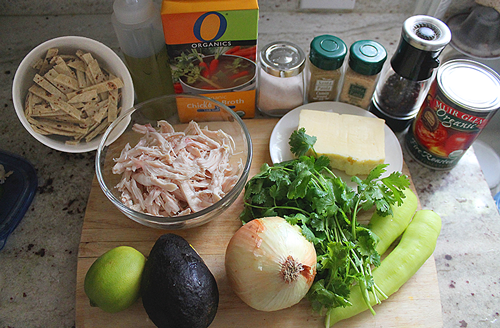 I figured I would shoot the picture, and then get an new one out of the pantry. Of course, I stock pile everything! Not knowing that I was on my last one. Boo. And looking at the pantry I see that there's a stock pile of beef stock. But, beef stock isn't the same.

I really don't want to go to the store. It takes too much time. 15 minutes could be life and death for a starving person. Jim is starving. More importantly, I am starving.

Beef stock it is. Sorry no pic of me using beef stock. And, I didn't tell Jim. I just served it. He doesn't like it when I go off of the recipe.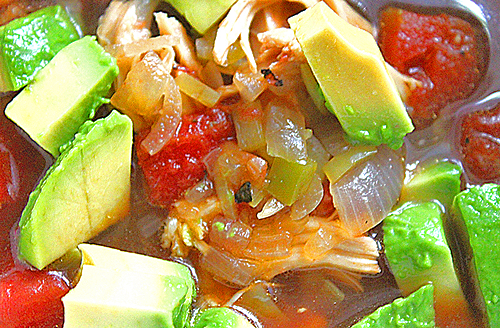 Prep time: 20 mins
Cook time: 60 mins
Total time: 1 hour 20 mins
Ingredients
6 (6-inch) corn tortillas, preferably a little old and dried out
¼ cup grapeseed oil, peanut oil, other high smoke-point oil
½ cup chopped onion
2 cloves garlic, minced
1 medium Anaheim, poblano or jalapeño chile, seeded, veins removed, chopped (Depending on the hotness and flavor desired. You can also mix chiles – 1 Anaheim and half a jalapeño.)
4 cups beef or chicken broth
1 can (14.5 oz) diced tomatoes, undrained (recommended Muir Glen fire-roasted)
½ teaspoon coarse salt (kosher or sea salt)
1½ cups shredded cooked chicken
1 ripe avocado, cubed
½ cup (2 oz) shredded Monterey Jack cheese (or mild cheddar)
Chopped fresh cilantro to taste
1 lime, cut into ⅛ wedges
Instructions
If you are starting with somewhat old, dried out tortillas, great. If not and you are starting with relatively fresh tortillas, put them on a baking sheet and put them in the oven at 200°F for 10-15 minutes to dry them out a bit. It is best to start with tortillas that don't have a lot of moisture in them.
Cut tortillas in half, and then cut the halves into ¼-inch wide strips. Heat oil over medium-high heat in a 3-quart pot. Working in three batches, fry the tortilla strips in the oil, until lightly browned and crisp.
Remove the tortilla strips from the pan and let drain on a paper-towel-lined plate.
In a medium sized pot add chopped onions, cook 2 minutes, stirring frequently. Add the chopped jalapeno and cook for 2-3 minutes more, until the onions and jalapeno have softened. Add the garlic and cook for 30 seconds more.
Add the broth, tomatoes, cumin and salt. Increase the heat to high, heat until the soup begins to boil, then reduce the heat to a low simmer, cover and simmer for 15 minutes.
Add the shredded chicken and cook until heated through.
Divide half of tortilla chips among 4 individual serving bowls; ladle in soup.
Top with avocado and cheese; garnish with remaining tortilla strips and cilantro. Serve with lime wedges.
Enjoy!
He liked it, of course. I think he likes everything I make. He actually commented about the broth being bolder than the tortilla soups he was use to having. I had to I grin and fess up. I used beef broth instead of chicken.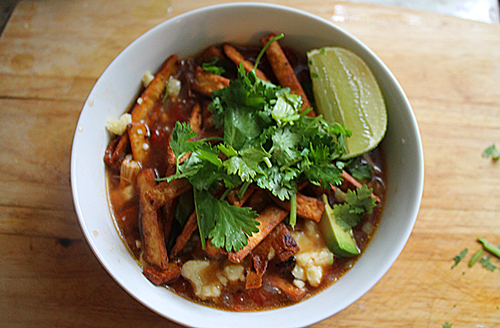 I was hoping it was OK. I'm so glad he liked it.