Update and Redux: C – Miso soup is one Japanese breakfast we love standing by. It's quick, easy and really healthy too. It's one breakfast soup we love so much.
C – Cooking can require a lot of technique.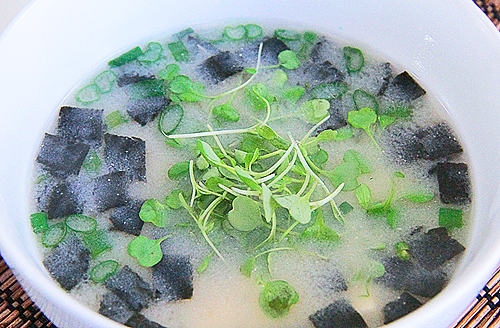 I didn't know about using techniques for cooking food until I worked with Luke and Jim on this blog. Good food requires a lot of technique. It's what turns a cook into a chef. You just can't throw everything into a pot and make it taste like a five-star dish.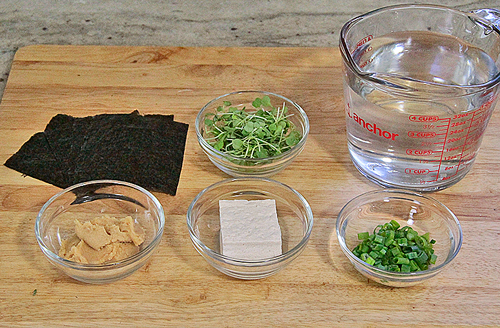 Great dishes require subtle techniques to make them excellent.

I didn't expect making miso soup would require technique to make it great. The first time I made miso soup, the miso didn't dissolve and turned into a clumpy mess with an uneven distribution. I guess the problem existed behind the spoon … the problem was me.

I just couldn't figure out what I did wrong. I assumed I was using the wrong type of miso paste and it wouldn't dissolve. I just couldn't understand what I was doing wrong. After researching, my "technique" was all wrong.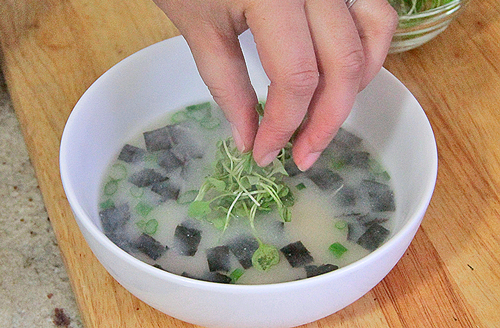 You can't just throw miso into a pot and call it soup. The correct technique is to place a strainer in the pot along with the miso. Ladle hot water through the strainer until the miso is disolved. Straining the miso allows the clumps to dissolve nicely. This results in a smooth, savory soup.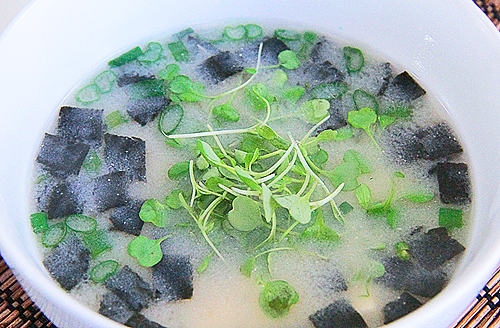 | | | |
| --- | --- | --- |
| Warm Winter Soups Week 2016: Miso Soup with Micro-Green Arugula | | |
Prep time: 5 mins
Cook time: 5 mins
Total time: 10 mins
Ingredients
4 cups water
4 Tbsp white miso paste
2 green onions. green part only, chopped thinly
½ cup extra firm tofu, cut into ¼ inch cubes
1 sheet of roasted seaweed, cut into ¼ inch squares
1 cup micro-green arugula
Instructions
Bring water to a boil in a small soup pot. Reduce to a simmer.
Place miso paste into a fine mesh strainer and place into simmering water. Ladle hot water and push miso through the strainer until all the miso has strained through. Remove strainer from pot.
Add green onions, tofu, and seaweed into soup. Heat until tofu is warmed through.
Place in serving bowls.
Top with micro-green arugula.
Serve.
Enjoy!
Now I make restaurant-worthy miso soup with just one simple technique. It's delicious.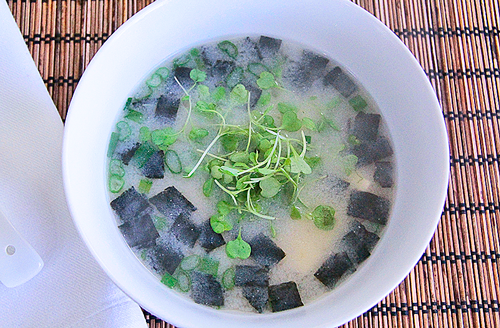 I love learning new techniques to make my cooking better everyday.