C – I didn't think I was going to like a minty pea soup.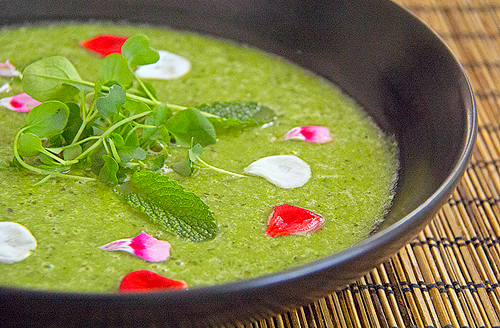 I didn't think they would go well together. I thought the mint would overpower the soup, and I would be slurping something that would taste like toothpaste.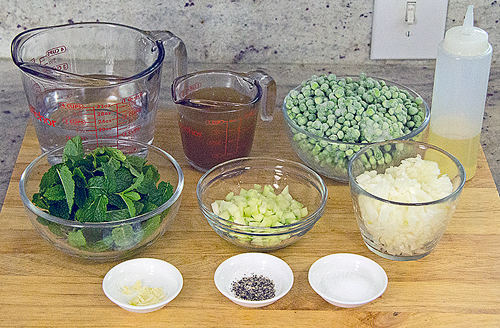 I was wrong! This soup was amazing. I slurped it up. Then, I bottled it up to take home before I even remembered to ask Jim if he wanted any of the leftovers. It's a good soup.

It's a perfect Spring soup full of peas. The soup tastes more like peas and onions, and not at all like mint.

The mint gives the soup a little refreshing finish, but you mostly taste sweet peas, spicy pepper, a little savory form the garlic and onions. Just a hint of mint.

I am really glad I tried it and like this. I was really reluctant in making this. I was afraid if I didn't like it I would have had to throw it all away.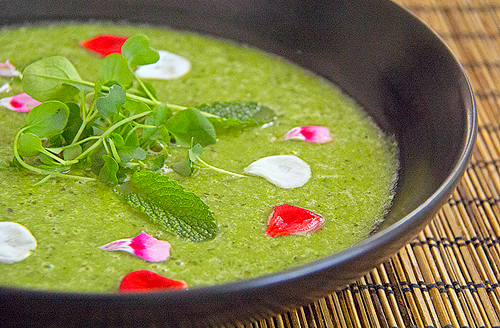 | | | |
| --- | --- | --- |
| Soup/Salad/Sauce Tuesday: Minty Pea Soup | | |
Prep time: 15 mins
Cook time: 15 mins
Total time: 30 mins
Ingredients
1 Tbsp grapeseed or canola oil
1 cup yellow onion, chopped
½ cup celery, chopped
1 clove garlic, minced
16 oz frozen peas, no need to thaw
1 cup vegetable or chicken stock
3 cups water
1 cup fresh mint leaves, loosely packed
Salt and pepper to taste
Instructions
In a medium sauce pan, add oil and onions along with some salt and pepper. Saute until translucent.
Add celery and saute until celery has softened. About 2 minutes.
Add garlic, saute for 1 minute or until fragrant.
Add peas, stock and water. Add another pinch of salt and pepper. Bring to a boil and reduce down to a simmer. Let simmer for 10 minutes.
Remove from heat and transfer to a blender. Blend in batches along with the mint.
Adjust seasonings to taste.
Serve immediately.
Enjoy!
This soup sounded like a weird combination, but it ended up hitting the spot on a Spring day.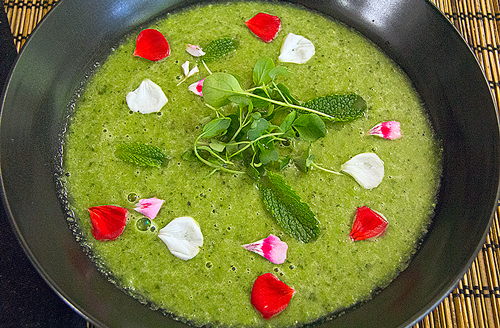 Lesson learned. You can't knock it until you try it.