Update and Redux: J – This dish is an unexpected flavor combination … Christina had to work up to it. She had sworn off radicchio after I grilled some. But, she's back and loving this salad.
C – This Meyer Lemon Week really has some interesting recipes.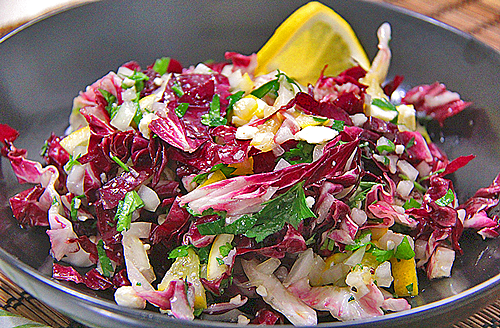 The only one that seemed simple to me was the shortbread cookie recipe I made on Monday. Yesterday's Meyer lemon salsa was crazy amazing. But, it will keep getting better. Promise.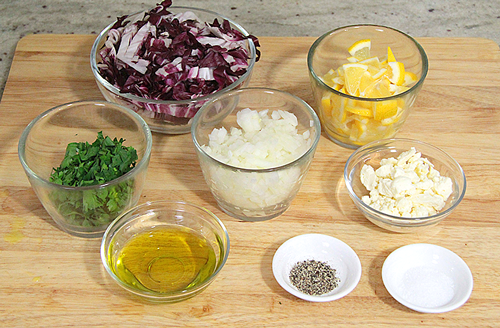 I am not a big fan of radicchio. Ever since Jim tried grilling it one time, I never wanted to eat it again. It was one of the most bitter things I have ever eaten. I swore off eating it.

I guess if I really want to be a good foodie, I have to try things a few times before I pass judgment. Besides, I don't think radicchio should be grilled. The fresh stuff actually tastes really good and not too bitter. When I found this recipe for Meyer Lemon Radicchio salad, I knew I wanted to try it. It would give me a chance to experiment with radicchio … the right way.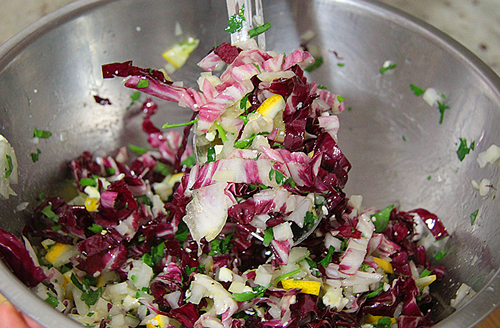 One thing I love about Meyer lemons is that you can eat the entire fruit, skin and all. That is what this recipe calls for. I never eaten the entire piece of citrus before until Luke made this for Thanksgiving I remember how much of a flavor explosion it was in my mouth. I knew I had to try them again in this salad.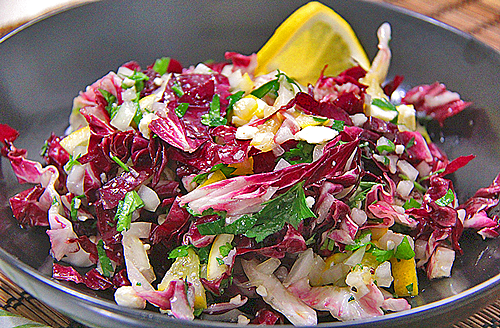 | | | |
| --- | --- | --- |
| Meyer Lemon Week: Meyer Lemon Radicchio Salad | | |
Prep time: 15 mins
Total time: 15 mins
Ingredients
1 Meyer lemon, chopped into ½ inch pieces and seeds removed
1 cup of sweet onion, diced
1 cup fresh parsley, chopped
1 cup radicchio, sliced
¼ cup crumbled feta cheese
2 Tbsp Meyer lemon juice
3 Tbsp extra virgin olive oil
1 to 2 Tbsp of sugar (depending on your desired taste)
Salt and pepper to taste
Instructions
In a medium bowl, place everything and toss until coated with dressing.
Serve immediately.
Enjoy!
I was surprised how good this salad was. It's slightly bitter from the radicchio. You really don't notice it much. It has a nice tart taste, but having the salty feta balances out really well. I enjoyed this salad. But, make sure to eat it immediately. The bitterness of the radicchio continues to grow as it marinates with the Meyer lemon vinaigrette.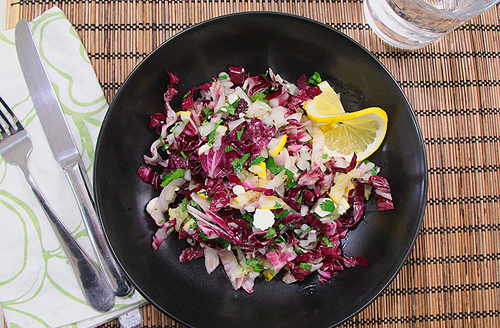 I am so glad I tried this recipe. I was a bit reluctant, but it turned out great.
Adapted from: http://www.wholeliving.com/131600/meyer-lemon-radicchio-salad?czone=eat-well/seasonal-foods/year-round&backto=true&backtourl=/photogallery/meyer-lemon-recipes#slide_2