J – Black chanterelles …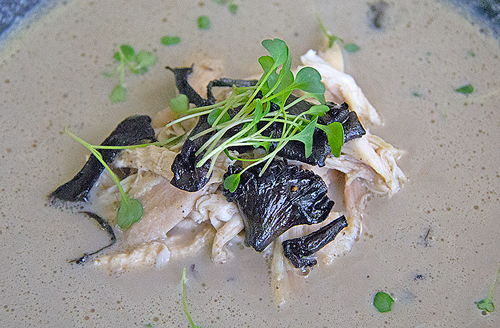 started arriving in the Farmer's Market last week. Mysterious. Intriguing. All kinds of lore.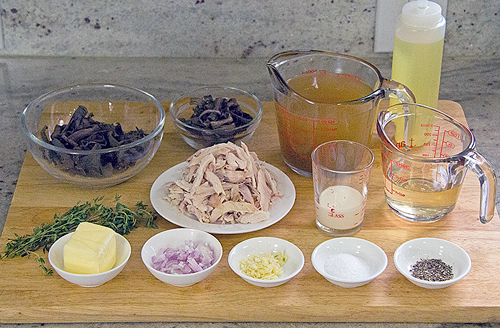 I liked the Wikipedia quote:
Craterellus cornucopioides, or horn of plenty, is an edible mushroom. It is also known as the black chanterelle, black trumpet, trompette de la mort (French), trombetta dei morti (Italian) or trumpet of the dead.

The Cornucopia, in Greek mythology, referred to the magnificent horn of the nymph Amalthea's goat (or of herself in goat form), that filled itself with whatever meat or drink its owner requested. It has become the symbol of plenty.

Fascinating. A horn of plenty would be cool.

But, can I make a delicious soup with these mushrooms?

We just had to try.

Once we decided on the style and the approach to the flavors, we realized there were going to be quite a few process steps … as you can see.

Good news is that nothing takes very long.

Advance preparation will cut the time in half. We also had an already roasted chicken, which helped.

As you get toward completion, you may worry that the "cream" soup is too thin. It's not.

This soup is super rich and subtle. The lemon juice added at serving time has a big impact.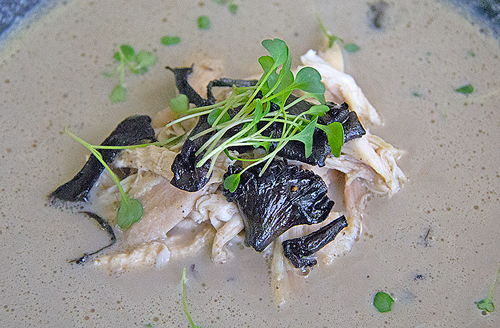 | | | |
| --- | --- | --- |
| Soup/Salad Tuesday: Black Chanterelle and Roasted Chicken Cream Soup | | |
Prep time: 40 mins
Cook time: 1 hour
Total time: 1 hour 40 mins
Ingredients
2 cups vegetable or chicken stock
4 cup water
¼ pound black Chanterelle mushrooms, tops and stems separated, rinsed and dried on paper towels just before using
2 Tbsp canola oil or a neutral flavored oil, divided
4 Tbsp butters, divided
1 Tbsp shallot, minced
2 cloves garlic, minced
1 Tbsp fresh thyme leaves
Pinch red pepper flakes
½ cup white wine
1 Tbsp all purpose flour
2 Tbsp heavy cream
Salt and pepper to taste
2 cup cooked roasted chicken
Parsley or arugula sprouts for garnish
Lemon juice to taste
Instructions
In a medium sauce pan place water, stock and mushroom stems. Bring to a boil and reduce to a simmer for 20 to 30 minutes.
In another sauce pan, add a tablespoon of butter and a tablespoon of oil and heat on medium until butter has melted. Add shallots and a pinch of salt and pepper. Saute for a few minutes until softened.
Add garlic, red chili flakes and thyme leaves. Saute for a minute.
Add the wine and let it reduce to ½.
Add the flour and cook for 2 minutes until the flour has dissolved and cooked through.
Add the stock with the mushrooms into the pot and let simmer for 20 minutes.
Once the 20 minutes are up, turn off the heat. Let cool for a few minutes. Place the soup into a blender and blend until the smooth. Make sure to keep the pour spout lid open just in case the pressure is too strong. The pressure can cause the soup to splatter all over the place.
Add two tablespoons of butter into the blender through the pour spout. Blend for about 1 minute until emulsified. Add cream and continue blending.
Place the soup back into the rinsed sauce pan. Season with more salt and pepper and keep warm until ready to serve.
In a saute pan, add a tablespoon of oil and a tablespoon of butter. Let butter melt on medium heat. Add the chanterelle tops and cook with a pinch of salt and pepper. Cook until the edges of the mushrooms are crispy. About 3 to 5 minutes. Remove from pan and drain on a paper towel.
There should be some oil remaining in the saute pan. If not, add another tablespoon of oil. Add the chicken and heat it through. About 1 to 2 minutes.
Place ½ cup of chicken into the middle of a serving bowl.
Ladle the soup around the chicken.
Top the soup and chicken with some of the sauteed mushroom tops.
Add a bit of lemon juice to taste.
Garnish with parsley or arugula sprouts.
Serve.
Enjoy!
Taste test … we loved it.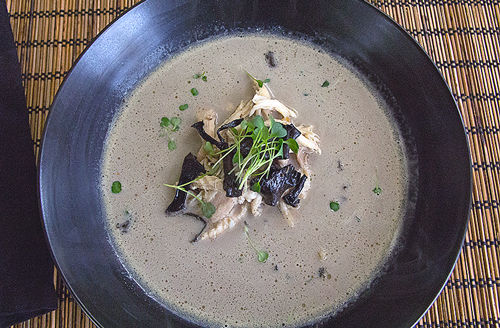 Definitely worth making to surprise your next dinner parth guests.