Update and Redux: C – Bahn Mi Salad is a deconstructed Bahn Mi Sandwich. All the great ingredients into a salad. My favorite things in life level up.
C – I just turned my favorite sandwich into a salad.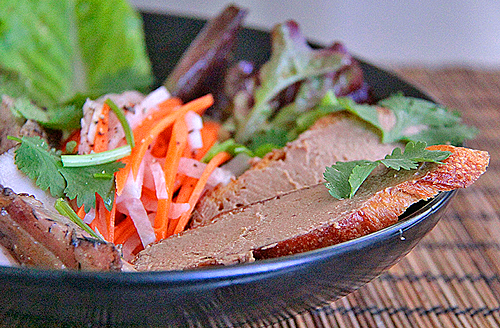 I think this has become my favorite salad, too. I love a good, French-style bread for my bahn mi. But, sometimes there's too much bread and not enough filling. I figured why not eliminate the bread and just go for the filling.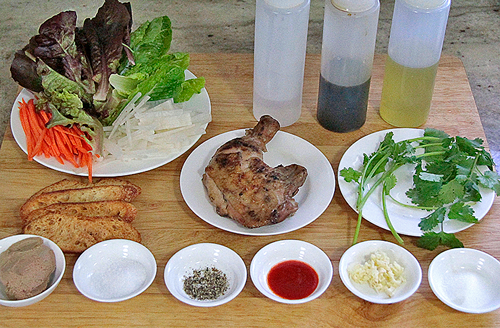 Then, I thought, How do I deal with the pate part?

Luke suggested putting a slather of pate on the bottom of the bowl or plate and deconstruct it that way.
That was a good idea. But, I started to miss the crispy bread at that point.

I thought of croutons and spreading small dabs of pate on them. I started to think that would get too messy when I started to eat.

Then, I thought why not make the croutons bigger and spread more pate on them. This will work. And it did.
This salad is like a bahn mi sandwich with a lot more filling. It's not as portable as a sandwich, but tastes just as good.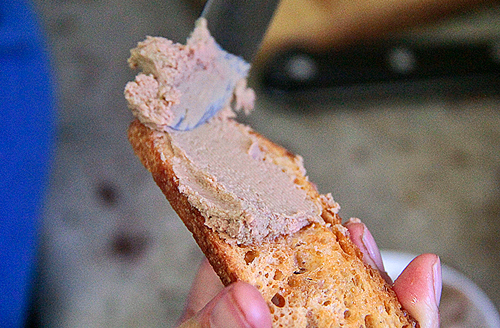 The crispy pate crostini might even make it better than the sandwich.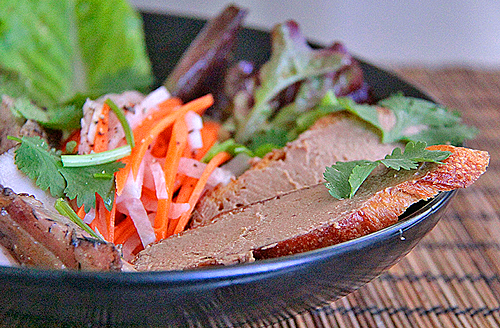 | | | |
| --- | --- | --- |
| Lettuce Week: Bahn Mi Salad | | |
Prep time: 15 mins
Total time: 15 mins
Ingredients
1 carrot, julienned
½ diakon, julienned
2 garlic cloves, minced, divided
salt to taste
1 tsp sugar
2 tsp white vinegar, separated
1 tsp soy sauce
1 tsp hot sauce
black pepper to taste
1 Tbsp grapeseed oil
10 small mixed lettuce leaves
3 sprigs cilantro, roughly chopped
1 grilled chicken leg-quarter, bones discarded and meat shredded
4 large crostini, toasted
1 Tbsp pate, See recipe link below.
Instructions
In a small mixing bowl, place carrots, diakon, 1 minced garlic clove, a pinch of salt and a teaspoon of white vinegar. Mix well and taste. Adjust to your liking. Set aside.
In another bowl, place soy sauce, a teaspoon of white vinegar, pinch of pepper, hot sauce and 1 clove of garlic. Mix well. Whisk in grapeseed oil. Mix well.
Place a few tablespoons of dressing in the bottom of a large mixing bowl.
Place lettuce in the bowl and toss.
Place dressed lettuce on a serving plate.
Top with grilled chicken.
Top with carrot and diakon mixture.
Top with cilantro.
Sprinkle more dressing, if needed.
Spread pate over crostinis.
Place crostinis on serving plate.
Serve.
Enjoy!
How to Make Pate recipe
It's a really easy salad. All the parts could be made a head of time and assembled right when you want to eat it.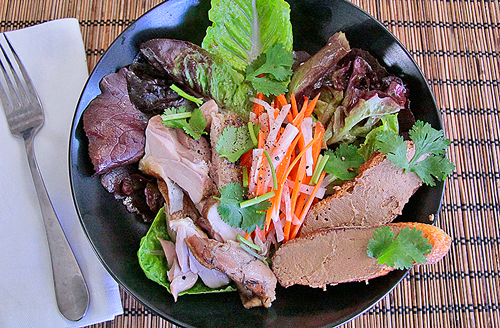 Just like a bahn mi sandwich.