C – Cherry season is almost over!!
Already?! It just got here. I love cherries. But, I think I missed the bandwagon this year. It's a shame. Now, I can only enjoy cherries when they are in season for one more week. So sad. Oh well, I guess I can freeze a few and eat them frozen.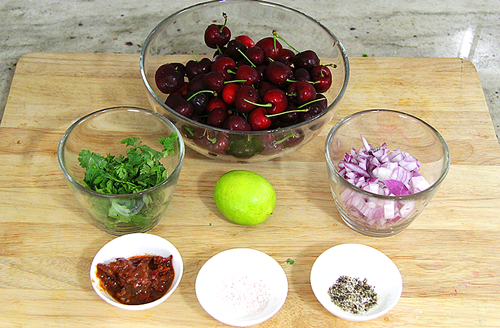 I also can enjoy the present moment. I know that I have a few more days of cherry season to enjoy. I think I will be alright.

This smokey chipotle cherry salsa is the perfect thing to celebrate the end of cherry season.

Ripe cherries, some fresh red onions, cilantro, lime juice and spicy chipotle mixed together to make a sauce. It's allowed me to save the last of the cherries for a few more days.
| | | |
| --- | --- | --- |
| Smokey Chipotle Cherry Salsa | | |
Prep time: 15 mins
Total time: 15 mins
Ingredients
2 cups fresh ripe cherries, pitted and chopped
1 cup red onion, chopped
1 cup cilantro, chopped
2 chipotle peppers in adobo sauce, chopped (more if you need more spice)
1 lime, juiced
Salt and pepper
Instructions
Place everything in a bowl. Mix well.
Set aside for at least 30 minutes to make sure flavors incorporate.
Serve with chips or eat it as a side with a grilled protein.
Enjoy!
This sauce gets better with time. All the seasoning mingles together to make a wonderful flavor profile. Sweet cherries, mixed with spicy chipotle peppers. Balanced with lime juice and a kick of red onions.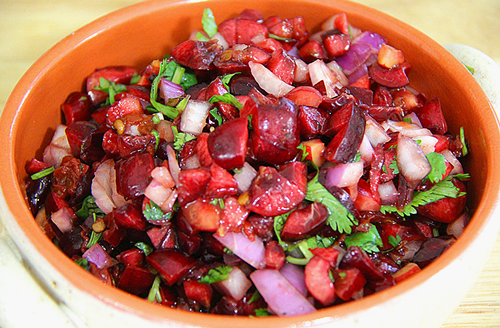 We really liked it with the brined pork we made. It was great.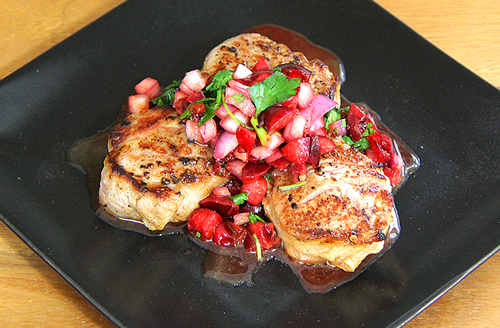 Hope you enjoy the last few days of cherry season. I know I will.