J – I just finished the last piece of smoked duck and cave-aged Gruyere pizza.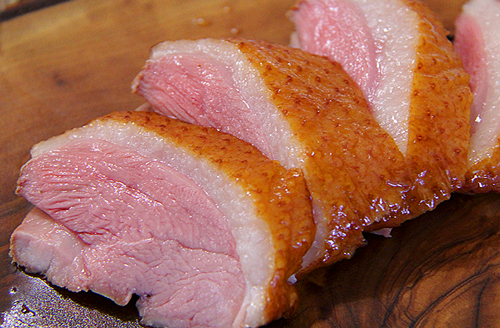 Delicious! Can't get that in any pizza shop. Actually, you can't get good smoked duck at very many places either. We did smoked duck breasts almost as an after-thought during duck week. It was a pretty successful after-thought.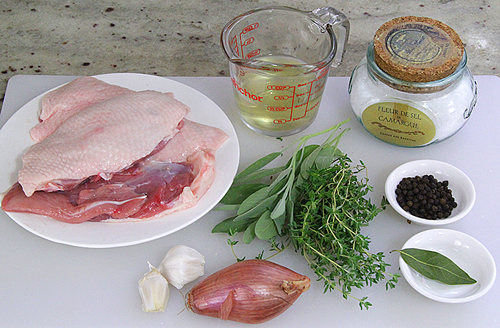 Done right, the flavor of smoked duck is sublime. The meat is silky and tender with a smokiness that doesn't overpower. The thin layer of duck fat just melts in your mouth, doing flavor magic as only duck fat can.

When we broke down the ducks for leg and wing confit, we had all these breasts left, along with the rest of the carcass. The carcass was easy. Duck jus, oh my! But, what to do with the breasts?

Luke wanted to experiment with making duck prosciutto. But, being an experiment didn't allow access to all the breasts. We did cook one up … just to be sure. We had done a bunch of smoked lamb and pork bacon recently. Smoked duck seemed an easy choice … especially because Christina had never had it before.

Smoking brined meat is super easy on a covered grill with a thermometer. Charcoal, wood chips, water and not much time is all you need. While we suggest "a pretty good amount of smoke," that doesn't mean all the smoke you can possibly create. Keeping a steady 200-degree temperature is also critical.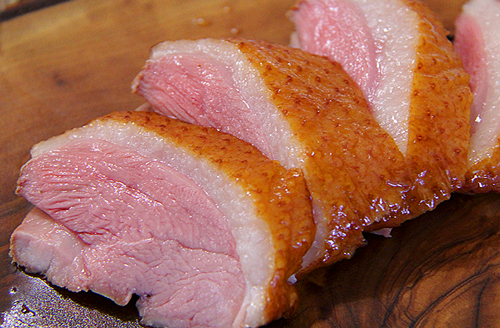 Prep time: 96 hours
Cook time: 45 mins
Total time: 96 hours 45 mins
Serves:
9 smoked duck breasts
Ingredients
9 boneless duck breasts with skin attached
½ bunch fresh thyme
2 sprigs sage
½ cup white wine
1 bay leaf
1 Tbsp black peppercorns
2 heads garlic, cut in half
½ cup salt
Instructions
Add thyme, sage, wine, bay leaf, peppercorns, garlic and salt into 1½ quarts of water and bring to a boil.
Let cool to room temperature.
Place duck breasts into a flat baking or hotel pan large enough to allow the breasts to lay flat. Pour brine over until they are covered.
Soak in brine for 4 days, covered, in the refrigerator.
Remove from pan and wiped dry with paper towel, removing any spice bits.
Prepare smoker or charcoal grill for indirect heat at 200 degrees. It will be covered.
Prepare a smoking chip box or pan with well-soaked wood chips of a desired flavor like hickory, cherry or apple wood. You will also want to place chips directly on the coals to achieve a good amount of smoke. We used cherry wood this time.
Lay the duck breasts on the grate skin-side-up to start. Cover. Control the temperature to a steady 200 degrees. There should be a pretty good amount of smoke.
Flip the breasts after about 15 minutes. After another 15 minutes, return them to skin-side-up. Check the internal temperature with an instant read thermometer. They are done at 150 degrees.
Remove and let cool completely on a rack. Store individually wrapped breasts in the freezer.
Slice and serve.
Enjoy!
We cut right into a piece just as soon as it cooled. It was delicious.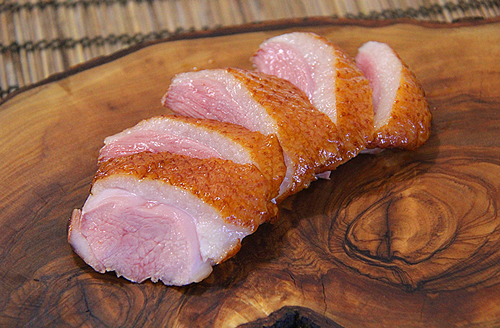 Thanks, Luke! Now, we just need to think of all the ways we can use smoked duck. Shouldn't be too hard.