J – Roasting a chicken should not be complicated!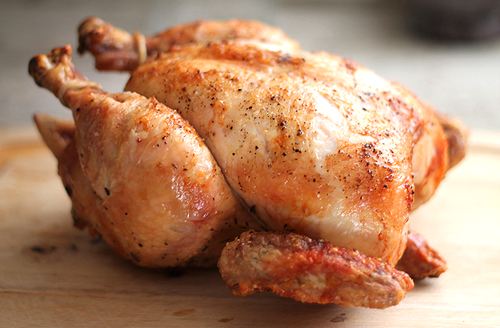 One would think. Not so with a large number of recipes I've run across. They try to do way too much: butter, herbs, chopstick insertion under the skin… cutting in half and crushing it over high heat under a foil-wrapped brick… stuffing its lower "opening" on top of a beer-filled can and placing in a pan on a covered grill… I'm not kidding with any of these. But, I'm equally guilty. I've tried them all and more.
Enter mindfulness. Why was I doing all this? In search of a better roast chicken? Or, was I trying something new… just because I can. Lack of balance, maybe? When I shared these thoughts, Christina was delighted. "This is why we're doing this blog," she shrieked. Yay!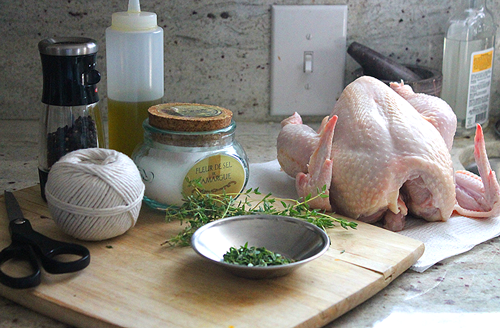 Awhile back, I saw an episode of Anthony Bourdain's No Reservations called Techniques. It was eye-opening. Not only was I trying way too hard to cook the simplest stuff, but I would probably get better-tasting food if I didn't. Thomas Keller's Simple Roasted Chicken segment of that show hit me like the brick I was using to crush my earlier chickens.
Just salt, pepper, oil [if you want] a bit of thyme and tie it up.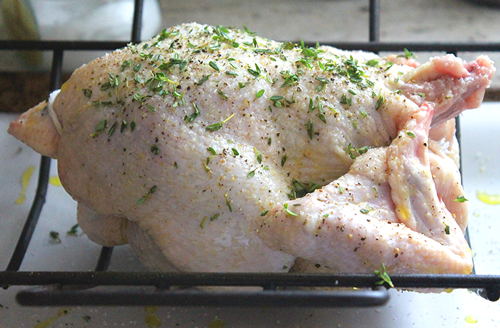 Then, into a 450-degree oven for about an hour. Done.
I tried it. It was the best, juiciest, most flavorful chicken I'd ever had. And, notwithstanding Christina's Chicken Breast Kabobs post, she loves it… except the breast.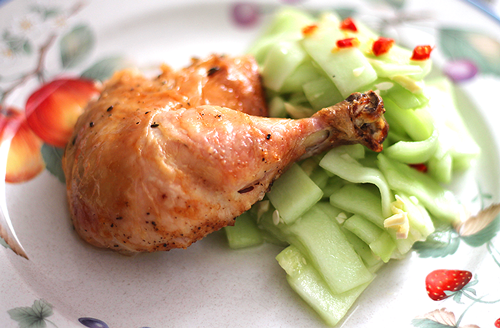 Here's how I do it.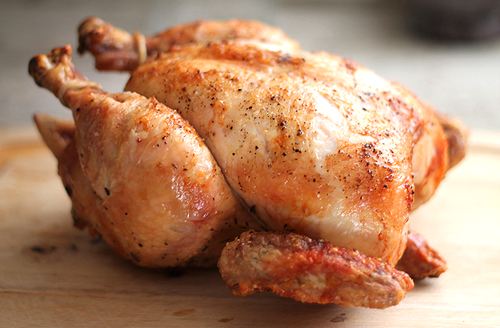 Prep time: 15 mins
Cook time: 60 mins
Total time: 1 hour 15 mins
Ingredients
One 2½ to 3½ lb.fresh chicken
Kosher salt and freshly ground black pepper
1 Tbsp olive oil (optional)
2 tsp minced thyme (optional)
Instructions
Preheat the oven to 450 degrees. Make sure the chicken is at room temperature.
Rinse the chicken, then dry it very well with paper towels, inside and out. Salt and pepper the cavity, then truss the bird.
Trussing is not difficult. When you truss a bird, the wings and legs are tied close to the body, and the ends of the drumsticks cover the top of the breast and keep it from drying out. Trussing helps the chicken cook evenly, and it also makes for a more beautiful roasted bird.
If you want an even crispier skin, lightly oil the skin all over (optional).
Next, salt the chicken with about 1 tbsp of salt, sprinkled from above the bird for evenness. When it's cooked, you should still be able to make out the salt baked onto the crisp skin.
Season to taste with pepper. Sprinkle a bit of thyme on the bird (optional).
Place the chicken on a small rack in a saute pan or roasting pan and, when the oven is up to temperature, put the chicken in the oven.
Leave it alone! Roast for about 45 to 50 minutes, until the juices run clear.
Remove it from the oven and let it rest for 15 minutes on a cutting board.
Remove the twine. Separate the middle wing joint and eat that immediately. A cook's reward. Remove the legs and thighs. Slice the breasts. Serve.
Enjoy.
Thomas Keller's Roast Chicken Recipe, (Adapted from Melanie Dunea's My Last Supper)