J – I wanted to do "shrimp on the barbi" …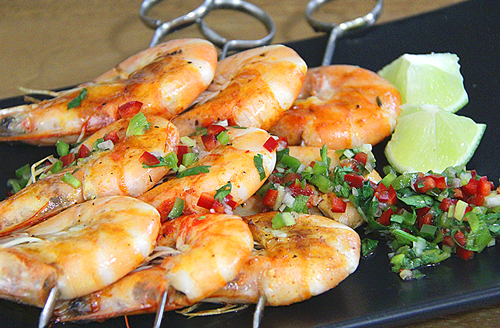 But, Luke reminded me that the shrimp we had today weren't big enough for what we had in mind. Yes, you could do them on the BBQ. Wait 'til we get Spotted Prawns. They're 7- to 8-inches long and are perfect butterflied and cooked over charcoal.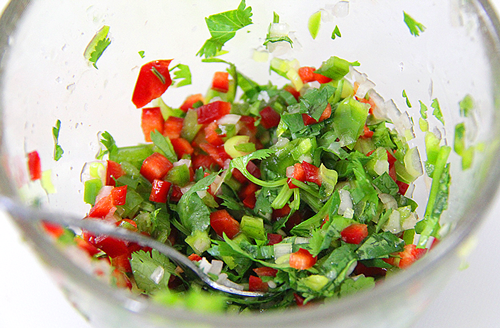 Each time we go to the Asian market, Luke heads right for the live fish tank. He's crazy for live fish. Unfortunately, we seem to have gone on the wrong day. Not much live inventory. So, we settled on some good looking, large tiger prawns. Half went into the Salt Baked Prawns we did on Monday. The rest went into this dish.

Today, we'll do them on skewers on the stove-top grill. Served with a shallot chili sauce, they will be delicious and super fast to make. We'll leave the heads on, too!

This is truly a last-minute dish … as long as you have the prawns. Chop and mix the salsa. Skewer the prawns. Oil and grill. Turn halfway. Plate and serve. Not much to it.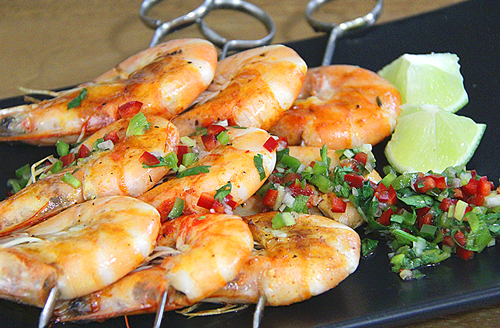 | | | |
| --- | --- | --- |
| Shrimp on the Grill with Shallot Chili Salsa | | |
Prep time: 20 mins
Cook time: 6 mins
Total time: 26 mins
Ingredients
1 pound prawns with head on
Canola oil
Salt and pepper to taste
½ lime, cut in quarters for garnish
1 shallot, minced
1 green onion, minced
1 red Fresno chili, minced
1 Tbsp cilantro, rough chopped
Juice of 1½ limes
Pinch of salt
Instructions
Place prawns on skewer. Three per skewer. Piercing twice through the prawn.
Salt and pepper on each side.
On a hot grill wipe with oil. Place prawn skewers on grill. Add more salt and pepper if needed. Drizzle more oil on top of the prawns if grill is not hot enough. Flip once color of the prawns have changed. After about 3-4 minutes.
Cook other side until pink.
Serve with shallot chili salsa.
Enjoy!
Add everything in a bowl. Mix well.
Serve on top of grilled prawns.
Enjoy!
They were great! Christina was first to grab a prawn and bite into the head.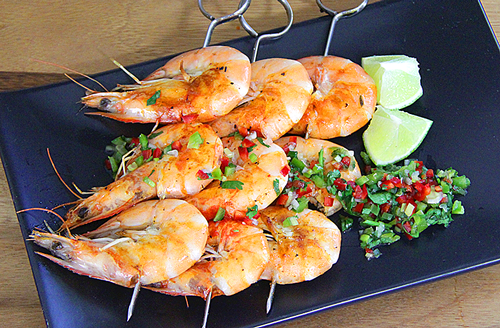 Thanks, Luke.