J — An Homage to Eric Ripert.
Any chef who can maintain three Michelin stars for many years in a New York restaurant serving almost entirely fish – and then decide to rethink everything, only to do better – is both very inspiring and very bold. This is Eric Ripert. He embodies the idea that having three Michelin stars should not be a license for old-school snobbery. Rather, it is a distinction honored only by delighting people every day with food that is beyond their wildest expectations. Ah, Le Bernadin, some day.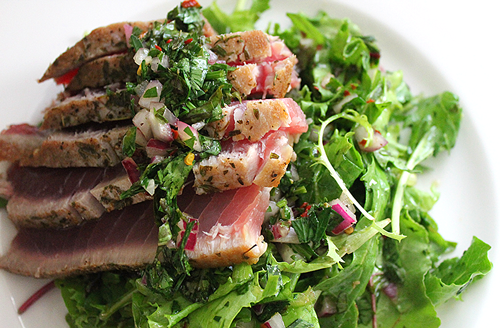 This recipe is the essence of simplicity and letting the food speak for itself. The less you do with fish, the better in my book. Simple, fast cooking with interesting and complementary saucing works really well.
Since we have been exploring that approach with other proteins, I thought I'd try a few recipes with fish on the grill. I am Grill Man, right? Additionally, I am taking advantage of a huge discovery: a local fish market all the chefs frequent, offering product priced about 25% below other high-end sources. How can I go wrong? Oops, Christina just said I jinxed it! Cross your fingers…
Searing Ahi
Speaking of simple, fast cooking. Here's a series shot while I was searing. 90-seconds, first side. 60-seconds, second side. Flat-top preheated on high. Cooked on medium-high.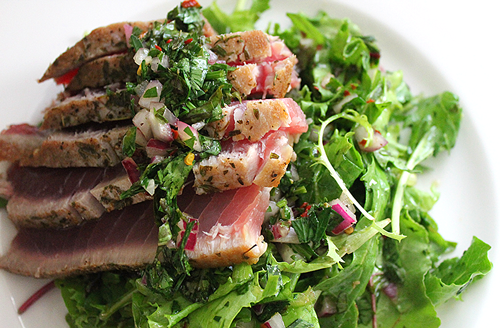 | | | |
| --- | --- | --- |
| Seared Ahi with Chimichurri Sauce | | |
Prep time: 25 mins
Cook time: 3 mins
Total time: 28 mins
Ingredients
½ cup plus 2 tablespoons extra-virgin olive oil
½ cup chopped flat-leaf parsley
½ small red onion, minced
3 tablespoons red wine vinegar
2 tablespoons chopped fresh basil
2 tablespoons chopped fresh cilantro
2 garlic cloves, minced
1 teaspoon crushed red pepper
1½ teaspoons chopped fresh thyme
Salt and freshly ground pepper
Four 6-ounce ahi tuna steaks [Two 10- to 12-ounce steaks can be easier for maintaining a rare interior. Also, 6-ounces of ahi is a lot.]
8 packed cups spring field greens mix (5 ounces)
Instructions
In a small bowl, combine ½ cup of the olive oil with the parsley, red onion, vinegar, basil, cilantro, garlic, crushed red pepper and ½ teaspoon of the thyme. Season the chimichurri sauce with salt and pepper.
Remove the ahi steaks from the fridge about 20 minutes before cooking. Season with salt, pepper and the remaining 1 teaspoon of thyme.
Heat a stove-top grill with the flat side up on high for at least 2 minutes [or 2 large skillets]. Add 2 tablespoons of the remaining olive oil to the grill [or, 1 to each skillet]; when the oil shimmers, add the steaks.
Cook over high heat until browned but rare in the center, 60- to 90-seconds per side. This goes very fast. DON'T over cook. Less is more. Remember, this is fish you can eat raw.
In a large bowl, toss the field greens with half of the chimichurri sauce and arrange it on plates. Thinly slice the ahi steaks and present the slices on the greens. Dot with small bits of sauce for effect and taste.
Pass the remaining chimichurri sauce at the table.
Enjoy.
Adapted from Eric's recipe in Food & Wine.
A couple of notes
Getting the Chimichurri right: Measurements really matter for achieving a balance of flavors. Chopping finely is a must. Second time around, I did a quick pulse or two in the mini-processor to get things small. Don't emulsify. Just blend it quickly.
Origins of Chimichurri: The Argentine gourmet Miguel Brascó claims that the word chimichurri originated when the British were captured after the British invasions of the Río de la Plata. The prisoners asked for condiment for their food mixing English, aboriginal and Spanish words. According to this story, che-mi-curry stands for "che mi salsa" (give me condiment) or "give me curry". The word then corrupted to chimichurri.