C – Leftover sushi is never great.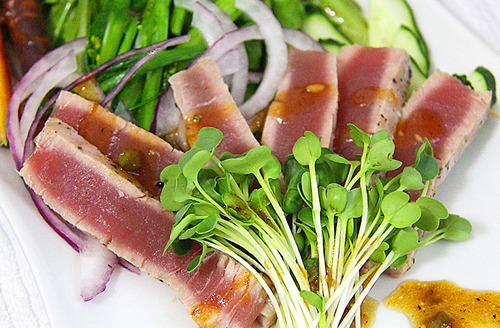 Having leftover fresh fish in the refrigerator is. I let the fish buying get out of hand a bit for sushi week. We have lots of leftover Ahi. It's a pretty rare occasion when it happens. I should have made those Ahi tuna tacos again. They would have been great.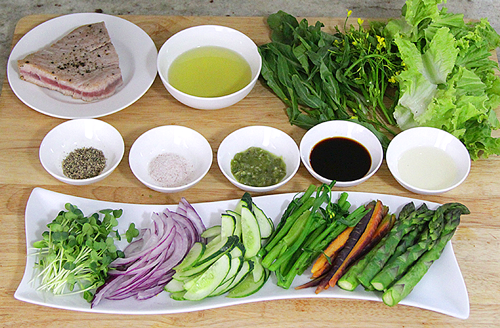 Instead, I used all the remaining sushi-grade Ahi to make a healthy salad. Perfect for a warm day like today.

Searing the Ahi was perfect. Especially, since we didn't get around to using the raw stuff the first day we bought it. The last of the asparagus, cucumber, lettuce and those radish sprouts you never know what to do with. Along with a few carrots, onions and flowering bok choy that was just laying around. Everybody in. I hate wasting food.

Of course, Jim loves that I artfully arranged everything to make it look pretty. Leftovers never need to look like you just threw them on the plate.

Besides, I can't make a salad called Seared Ahi Salad with Wasabi Vinaigrette without making it look pretty. It wouldn't be the Japanese way.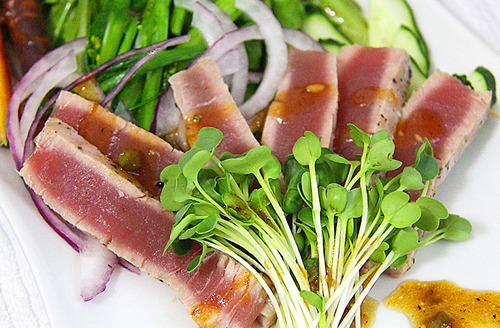 | | | |
| --- | --- | --- |
| Seared Ahi Salad with Wasabi Vinaigrette | | |
Prep time: 10 mins
Cook time: 5 mins
Total time: 15 mins
Ingredients
6 oz Ahi steak
1 Tbsp grapeseed oil
4 lettuce leaves, torn into small pieces
4 flowering bok choy, leaves and flowers separated, stalked cut into 2 inch pieces and blanched
¼ red onion, thinly sliced
2 baby carrots, cut in half lengthwise
1 pickling cucumber, sliced
4 asparagus stalks, blanched
½ tsp wasabi paste
1 Tbsp rice vinegar
1 Tbsp soy sauce
3 Tbsp grapeseed oil
Salt and pepper to taste
1 tsp white sugar
Instructions
season the Ahi lightly with salt and course ground black pepper.
On a hot grill add one tablespoon grapeseed oil. Place Ahi on grill and sear for one minute, or less, on each side. Top and bottom should be golden brown, but pink flesh will show on the sides. This happens quickly. When done, remove from grill and set aside.
Mix wasabi, soy sauce, rice vinegar, sugar, salt and pepper in a bowl. Whisk in grapeseed oil in a steady stream until emulsified.
Place 2 tablespoons of dressing into a large bowl. Add lettuce, flowering bok choy leave and flowers. Mix well.
Separate into two servings, with equal portions of each item.
Begin by placing servings of salad greens onto one side of the plate.
Place asparagus, carrots, cucumbers, red onion, bok choy stalks on top fanning out as much as possible.
Place Ahi fanned out.
Place radish sprouts at the base of the fanned out Ahi.
Drizzle dressing.
Serve.
Enjoy.
I couldn't let good, high quality and expensive wasabi go to waste either. A great dressing had to be made. Spicy, salty, sweet and sour. The perfect balance for a salad dressing.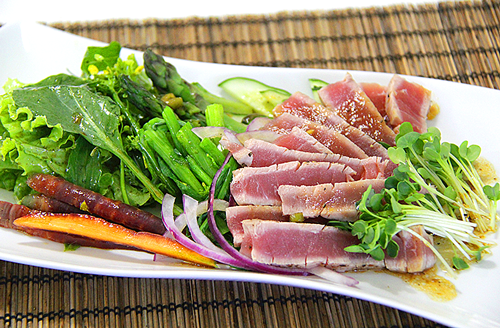 It was a great salad. I am so glad I didn't let anything go to waste. I was happy. Life is good. Especially, with this salad in my belly.