C – A hint to all the boyfriends and husbands of the world on Valentine's Day.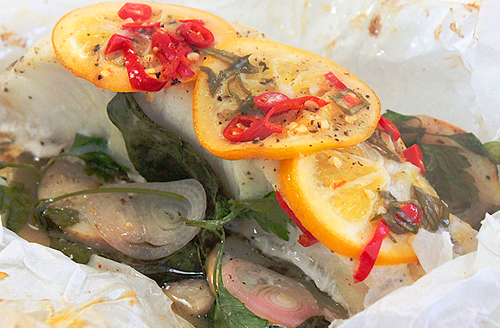 We want romance and lots of it. If you don't have a clue, here's one. Make dinner for us. Luke will help show you the way. It's really fool proof. As long as you have an oven you can make this.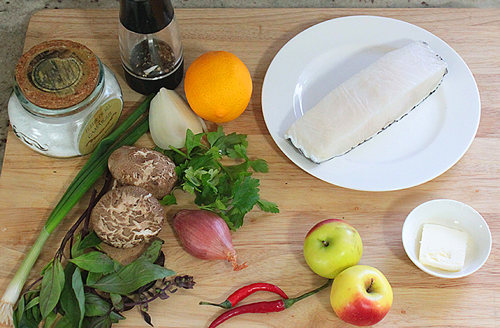 Sea Bass En Papillote or sea bass wrapped in parchment paper. It's a simple dish that will make your lady go wild on this romantic day. It's a light fish dish that doesn't have an overpowering fish smell.

Great for kissing afterward. She will think you slaved for hours making this special dinner. But, all it took was a few minutes to assemble and 35 minutes to cook.

You really can't burn the thing either, if you follow the directions. Big plus. The best part is that it comes in this pretty little package for her to open in front of you.
When she opens it, the aromatics of lemon, basil and chiles will come whiffing out. She will also see the amazing arrangement of fish and mushrooms.

This is such a great way to start a romantic night with someone you love.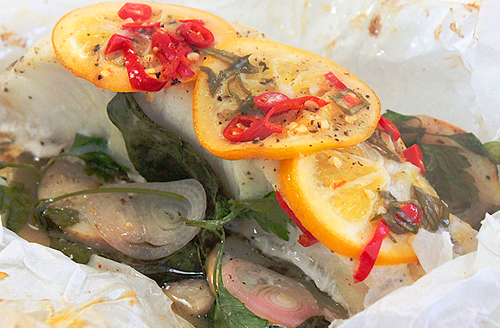 Prep time: 15 mins
Cook time: 35 mins
Total time: 50 mins
Ingredients
8oz Chilean sea bass
1 fresh Shiitake mushroom, sliced thinly
¼ white onion, sliced thinly
1 small crimson golden apple, sliced thinly
4 slices lemon, sliced thinly
1 green onion, chopped
1 shallot, sliced thinly
Salt pepper to taste
5 Thai basil leaves
1 sprig parsley
1 tsp butter
18" x 24" sheet parchment paper
Instructions
Preheat oven to 350 degrees
Rub butter on bottom of parchment paper.
Place white onions on the bottom of the paper.
Add Shiitake mushrooms on top of the onions.
Sprinkle salt and pepper over mushrooms.
Place sliced apples on top of mushrooms
Lay sea bass on top of the apples. Sprinkle salt and pepper to the sea bass.
Add butter on top of the sea bass.
Add parsley and basil on sides of the fish for aromatics.
Top sea bass with 4 slices of lemon.
Place sliced shallots on the sides along with herbs.
Top green onions and Thai chili on top of the sea bass.
Add more salt and pepper.
Fold parchment like folding a gift. Making sure there is no openings anywhere. If you need another piece of parchment to wrap it twice, that's really OK. Fold in the corners and roll up the ends tightly to make sure there are no openings.
Place on a small sheet pan in the oven and bake for about 35 minutes.
Once done. Place package on serving platter.
Serve by placing package in front your special someone. Ripe it open and smell the aromatic steam.
Serve each person on a plate or just share, eating it out of the package.
Enjoy your lovely night together!
You'll be the talk of the town the next day.
Happy Valentine's Day!