C – A Greek egg-lemon sauce chicken soup?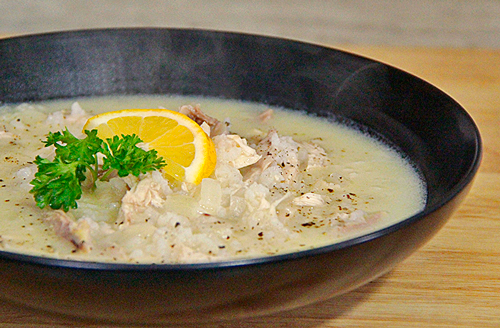 I really couldn't put my mind around this one when Jim suggested the idea. What would it even taste like? I don't think I have had a Greek soup before. Was it going to be difficult to make? Would it taste good?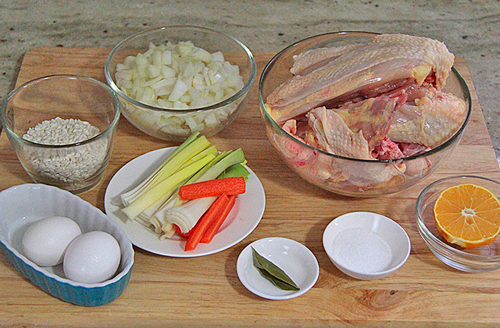 It was really good. It tasted like a good chicken soup with rice, but extremely rich and creamy.

It has a refreshing, tart kick that is great for such a thick soup.

I love the eggs in the soup. They make it creamy without adding cream to the soup. It really tastes luxurious and filling.

It wasn't too difficult to make. Boiling the chicken and making a stock with carrot and leeks was a really smart idea. It gave a great taste to the soup without having to add stock.

I loved the Arborio rice in the soup. It expanded nicely. It helped the soup thicken up as well, while being a great filler for the dish.

I have never used Arborio rice in anything other than risotto. It's nice to use it in something else.

If you are looking for a new take on a chicken rice soup, give this one a try.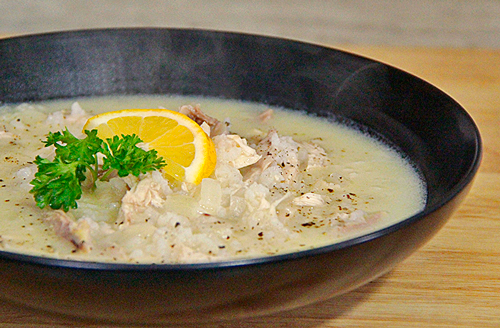 | | | |
| --- | --- | --- |
| Savory Lemon Week: Avgolemeno (Chicken Soup with Egg-Lemon Sauce) | | |
Prep time: 20 mins
Cook time: 1 hour 45 mins
Total time: 2 hours 5 mins
Ingredients
3 pound Shinsin Earth Brown chicken, cut into 8 pieces
12 cups water
Kosher salt to taste
1 leek, white and light green part only, cleaned and quartered
1 carrot, peeled and quartered
2 bay leaves
2 Tbsp grapeseed oil
1 yellow onion, diced
⅔ cup arborio rice
½ cup fresh lemon juice
2 eggs
Pepper to taste
Instructions
Bring water to a boil in a large stock pot.
Add chicken, 1 tablespoon of salt, carrot, bay leaves and leeks into the pot. Reduce to a low simmer and cook for 45 minutes to an hour, until the chicken is cooked and tender.
Remove chicken pieces from pot. Remove the bone and skin. When cool, shred the chicken.
Strain the stock. Reserve 2 cups of stock into a small sauce pan and keep warm on the stove.
Add remaining stock back into pot.
In a medium saute pan, add a tablespoon of grapeseed oil. Heat on medium high. Add onions. Cook until translucent. About 5 to 6 minutes.
Add sauteed vegetables to the pot along with the rice. Cook for 30 minutes until al dente.
Add chicken into pot and more water, if needed.
In a medium bowl add eggs and lemon. Beat well. Ladle the stock into the egg/lemon mixture slowly while whisking constantly. Make sure not to add stock too quickly or the eggs will curdle.
Add egg mixture into the pot and mix well. Let soup thicken. Turn off heat.
Add more salt and pepper, if need.
Serve immediately.
Enjoy!
Is this what Greek soups taste like?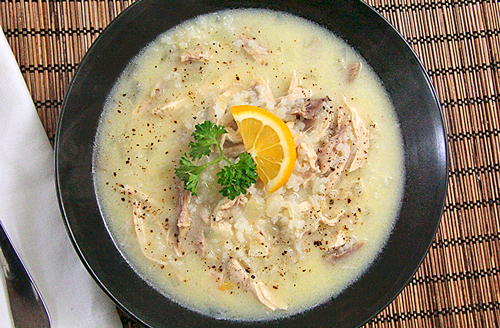 If so, I need to figure out more Greek soups to make!
Adapted from: http://www.foodnetwork.com/recipes/cat-cora/avgolemono-chicken-soup-with-egg-lemon-sauce-recipe.html