C — Jim bought mixed greens and there was a little surprise in it.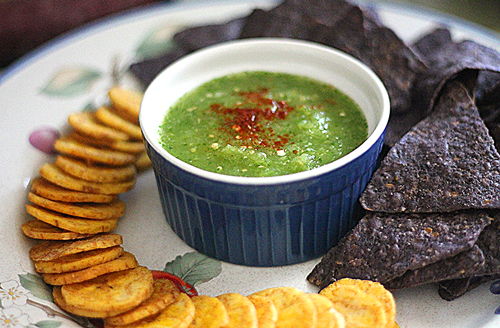 A tomatillo somehow snuck in … somehow. It became a really expensive tomatillo at $5.00 a pound. Regular price for tomatillos is $1.00 a pound. I wasn't too happy. I thought I would make the best of it by using it as a garnish or a fried green tomatillo. Instead, Jim got mad that he bought it and just threw it away. I got mad because he just threw away a really expensive tomatillo. So, Jim decided to make it up to me by getting me more tomatillos … but only 3.
Ugh. Now, I am mad that I actually have more tomatillos, wasted a really expensive tomatillo, have to create something with the new ones and have to buy more to make a complete recipe. Ugh! It's such a love fest here in the office today.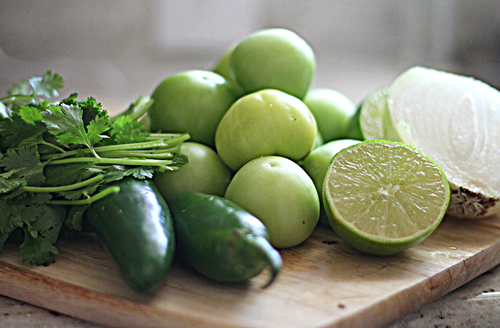 So it's salsa verde today. With the smallest number of tomatillos in history, I guess it will be just these three little guys. Just kidding. I bought more.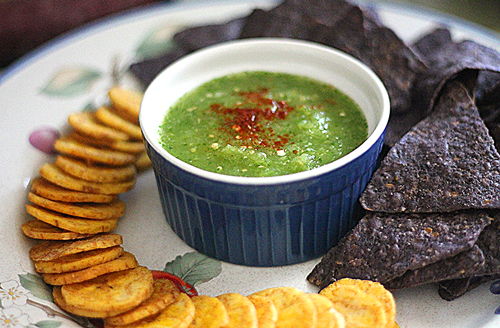 Prep time: 10 mins
Cook time: 5 mins
Total time: 15 mins
Ingredients
1½ lb tomatillos
½ cup chopped white onion
½ cup cilantro leaves
1 tbsp fresh lime juice
¼ tsp sugar
2 jalapenos peppers chopped
Salt to taste
¼ tsp cumin
Instructions
Boil tomatillos for 5 minutes. Remove with slotted spoon.
Place in a food processor white onions, cilantro leaves, jalapenos peppers and tomatillos. Finely chop.
Add lime, sugar, salt and cumin.
Enjoy.
This recipe is good but not great. I am still not quite sure what I need to make it over the top, but it served its purpose as a good side dish/condiment. I didn't take out the seeds from jalapeno, so it has quite a kick to it.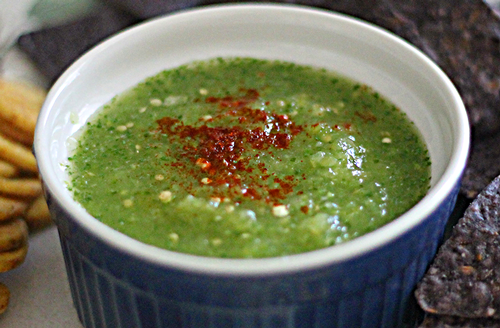 Adapted from: http://www.simplyrecipes.com/recipes/tomatillo_salsa_verde/