J – Long ago, there was a restaurant that served …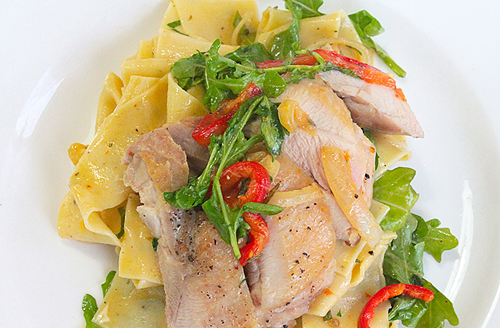 You know the story. You had a special dish at that restaurant and absolutely loved it. You kept going back and ordering it, again and again … when they had it on the menu. Now, the restaurant is either gone, or has "improved" it's menu. Well, how could they? In my opinion, it didn't need improving.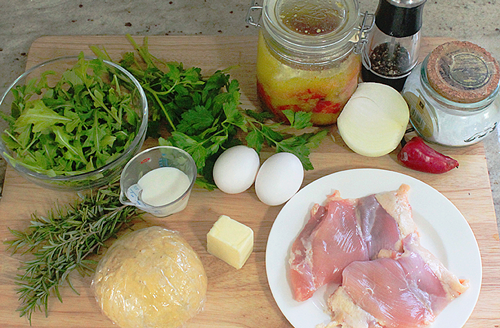 This dish is from that story. A local restaurant – to be unnamed – served a version of it. I couldn't get enough … the rest is history. So, when we were making handmade pasta, I requested paparadelle specifically so we could recreate this delicious dish … of course, with some of Luke's additions.

How cool it is to make your own pasta, use rosemary and parsley and lemons (borrowed from the neighbors) from the yard, and use roasted red peppers you made a few days ago? All in one dish! This is food-blog thing is getting to be even more fun and tasty. Now, what else can we do? Stay tuned.

Ok, back to the recipe at hand.

After making the pasta (How to Make Pasta), it didn't take all that long to prep a few veggies, pan-grill some chicken thighs, whip up a bit of egg sauce and put it all together with baby arugula.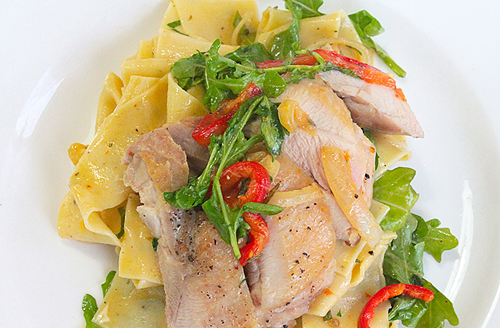 | | | |
| --- | --- | --- |
| Rosemary Chicken with Handmade Paparadelle | | |
Prep time: 20 mins
Cook time: 16 mins
Total time: 36 mins
Ingredients
1 Tbsp grapeseed oil
2 boneless, skinless chicken thighs
Salt pepper to taste
2 sprigs of fresh rosemary
1 Tbsp butter
1 Fresno chili, julienned
1 piece of roasted red bell pepper, julienned
½ white onion, julienned
1 Tbsp parsley, minced
1 Tbsp rosemary, minced
2 egg yolks
⅛ cup cream
1 cup baby arugula
½ tsp lemon zest
Instructions
Heat well-salted water for pasta
Salt and pepper the chicken thighs
In a saute pan, heat oil to medium high heat. Once oil is smoking add chicken. Cook for 4 minutes on each side. Once chicken is nice and browned, add rosemary sprigs and turn heat to low.
Add butter to the pan.
While waiting for chicken to cook mix egg and cream together.
Cook fresh pasta about 4 minutes, until just al dente. Do not over cook.
Remove chicken from pan and set as side to rest. Discard rosemary sprigs
In the same pan with the rosemary infuse chicken fat, add white onions cook until softened. About 2 minutes.
Add salt and pepper.
Add Fresno chili and roasted red bell pepper.
Add herbs, mix well and heat until warm.
Place hot pasta in a large bowl. Add half the egg and cream mixture into bowl. Mix well. Add more egg and cream mixture to the pasta until the pasta is almost swimming in the sauce.
Add lemon zest. Mix well.
Add veggies from the saute pan
Add arugula and toss well.
Slice chicken.
Serve pasta-veggie mix on a platter. Top with chicken.
Enjoy!
Really good! The dish lasted maybe 10 minutes after we finished shooting. It takes a healthy place way above that unnamed restaurant, if only because of the baby arugula.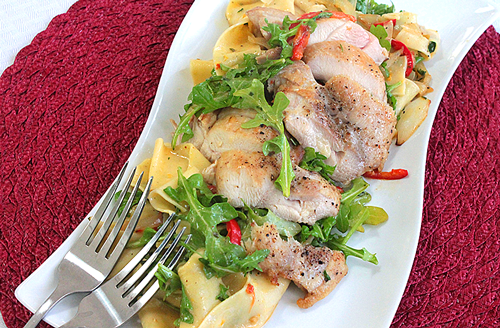 Thanks, Luke, for bringing back such a wonderful dish.