C – It's recipe spring cleaning week!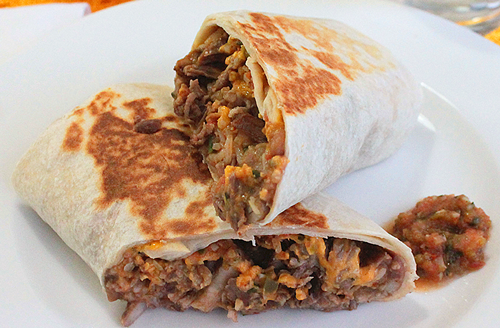 All those recipes people have been requesting … or we just plain forgot … are here this week. First up, something we couldn't fit in from Mexican Cuisine week. Burritos. This is my favorite go-to Mexican meal. Burritos. I will look for burritos before anything else every time I go to a Mexican restaurant. I love that it's portable and really large. Its one of those affordable meals that has everything in it.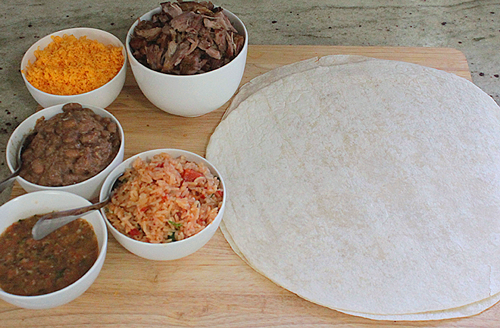 Luke wanted to make tacos for us for Mexican week. I said we had made quite a few of those, but burritos we haven't. Luke didn't want to make them, just because they were too easy. I thought having restaurant-style burritos would be great. Extra large tortilla shells filled with a large amount of meat, beans, rice and salsa. Nothing could get better than that. So, I made them instead of Luke, using all the things he prepared for us during Mexican Cuisine Week.
I hadn't had one of these giant burritos in months and I couldn't wait. The last one I had was made with too much rice and beans, and not enough meat. Also, it was filled with too much sour cream, guacamole and lettuce. I think that will be the last time I order a super burrito. It was super mushy and that was it. Regular is the way to go for me.

My favorite burritos are the ones filled with lots of pork carnitas, a balance of pinto beans, Mexican-restaurant-style rice and a bit of spicy salsa. Every bite needs to have a bit of pork, beans, rice and salsa. Yes, I am very picky when it comes to my burritos.

There is only one burrito place in Sacramento that I have enjoyed my burritos. I will come back time and time again. I used to drive 30 minutes to get there. Now, it's a five minute drive. It's made me quite happy. It's a place where the burritos are perfectly portioned, so I get a bit of every ingredient in each bite.

This burrito is similar to the ones at my favorite Sacramento eatery. A big burrito … great tasting, well balanced with great textures.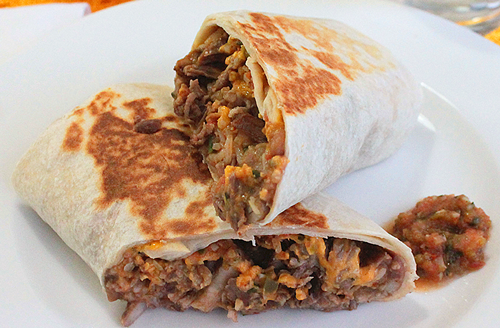 | | | |
| --- | --- | --- |
| Restaurant-Style Burritos | | |
Prep time: 5 mins
Total time: 5 mins
Ingredients
1 extra large flour tortilla
½ cup pork carnitas, or any other type of meat
¼ cup restaurant-style Mexican rice
¼ cup pinto beans
¼ cup cheese
4 Tbsp salsa
Instructions
On a large tortilla, place rice on the side that is closest to you. Have the rice an inch off of each side.
Place beans on top.
Place meat on top.
Place cheese on top.
Place salsa on top.
Fold both sides up so the filling is tucked in.
Fold up the end that is closest to you over the filling.
Roll up to finish the burrito.
Place in the microwave for 1 minute.
In a skillet on medium heat, place burrito on and grill until light brown and crispy. (This is for the home cook that doesn't have a steamer ready to get the burrito really warm.)
Serve immediately.
Enjoy!
I guess I won't be waiting in the long line to get a burrito today. It's all here and it has filled me up quite nicely.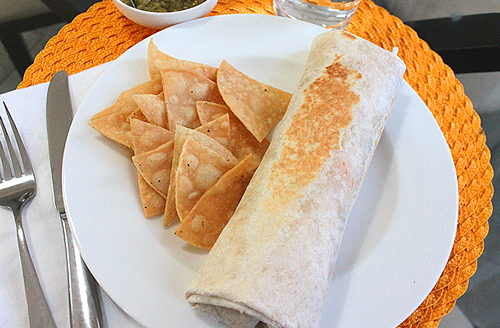 Thanks, Luke, for making all these great Mexican dishes for us.