J – Duck fat is the ultimate schmaltz.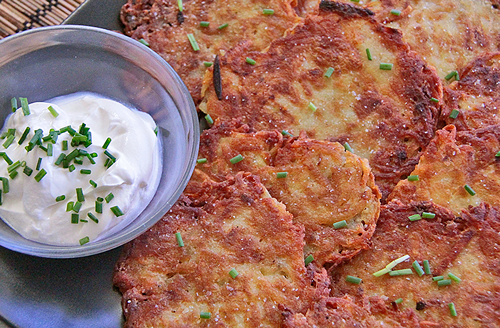 Of course, a couple of my girlfriends from previous lives … and their mothers … will be laughing hysterically. Not because duck fat is so non-traditional… which it is … but, because it is so me. I was always messing with tradition.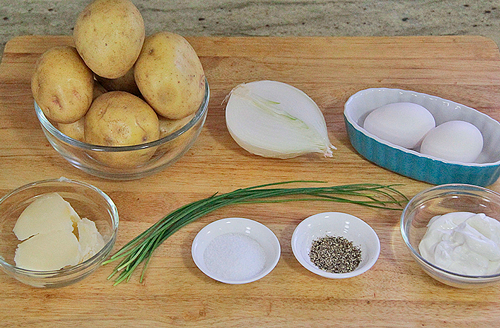 But, that's another story …

This time duck fat is SO right.

Latkes are basically a once-a-year dish. So, why not have them taste as delicious as they can. Frying any style of potato in duck fat takes it to a whole new level.

On a duck-fat side note, it is reusable two or three times depending on what you cook in it.

Duck fat also freezes well. All the sediment from the previous cooking goes to the bottom, where it is easily removed next time you use it.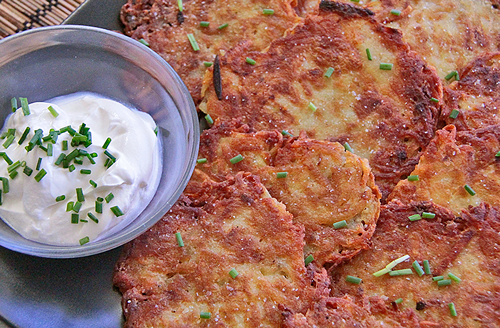 | | | |
| --- | --- | --- |
| Potato Week 2016: Duck Fat Latkes | | |
Prep time: 15 mins
Cook time: 12 mins
Total time: 27 mins
Ingredients
2 pounds Yukon Gold potatoes, peeled
½ white onion, peeled
2 eggs
Salt and pepper to taste
duck fat for frying
¼ cup sour cream for serving
1 Tbsp chives, chopped for garnish
Instructions
With the shredder attachment on, process the peeled potatoes and then the onions through the food processor. You can also use a box grater in the largest holes to grate.
Squeeze as much liquid as you can out of the potatoes and onion using a cheese cloth.
Place in a bowl and add salt and pepper to taste.
Mix in eggs.
Heat a few tablespoons of duck fat in a heavy pan or cast iron skillet on medium heat.
For each latke, place a heaping tablespoon of the potato mixture into the pan. Flatten with a spoon into a thin layer. Cook for 4 to 5 minutes on each side until golden brown and crispy.
Remove from pan and place on a paper towel to drain.
Serve immediately with sour cream and chives. Or place on a wire rack in the oven and crisp up at 350 degrees.
Enjoy!
The only "technique" for this dish is to squeeze out as much liquid as possible before mixing. Makes a big difference.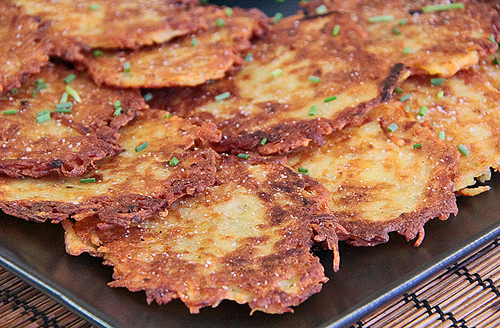 These are very rich latkes. So good!.