J – This is not chicken bondage …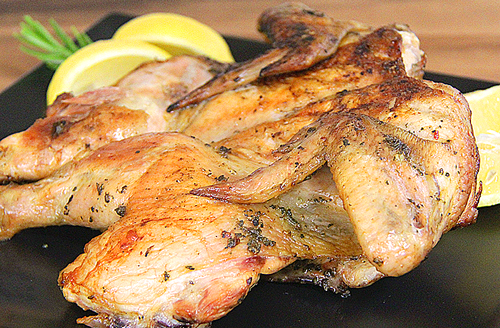 So, everyone can relax. But, it is a controversial dish. My purist foodie friends would argue "Why can't you just grill the thing with some fresh herbs?" You could … and miss the flavor intensity and fast-cooking benefits of Pollo al Mattone. Technique wins sometime.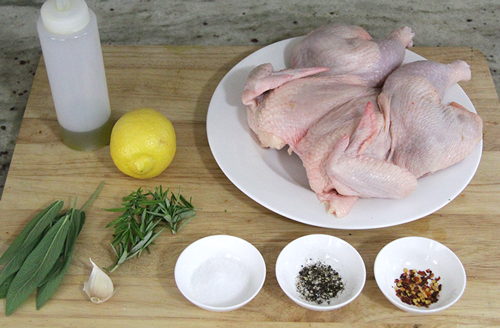 BTW: This recipe takes minimal time … less than roasting a whole bird.

The grill is barely broken in. I wanted something fast and easy. I was flexing my grill muscles, so to speak.

Eye rolls and disbelief were Christina's first response … until she understood the logic of this technique. The cooking-time benefit, alone, was very appealing.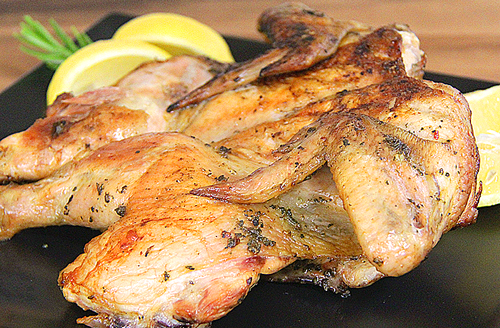 | | | |
| --- | --- | --- |
| Pollo al Mattone: Chicken Under a Brick | | |
Prep time: 15 mins
Cook time: 40 mins
Total time: 55 mins
Ingredients
1 poulet chicken, backbone removed.
1 tsp fresh sage, finely chopped
1 tsp fresh rosemary, finely chopped
1 garlic clove, minced
Zest of one lemon
¼ tsp red pepper flakes
2 Tbsp canola oil
Salt and pepper to taste
Instructions
Heat grill for indirect heat. Chicken will take about 45 mins.
After removing backbone, butterfly chicken and press firmly to dislocate breastbone for better flatness.
Mix herbs with oil in a bowl and coat chicken. Set aside while grill is heating. 30 minutes is fine.
When grill is hot and coals are set for indirect cooking, place chicken skin-side-down on grill. Place foil-covered brick or heavy skillet on top.
Cover grill and cook for about 20 minutes. Check temperature. While 150 degrees is the goal, the bird should not be there yet.
Turn bird over and replace brick or skillet. Cover grill. Keep grill temperature about 400 degrees.
When internal chicken temperature reaches 150 degrees, remove bird and let rest.
Portion chicken and serve.
Enjoy!
The flavor result was the winner. Crispy, delicious chicken in no time..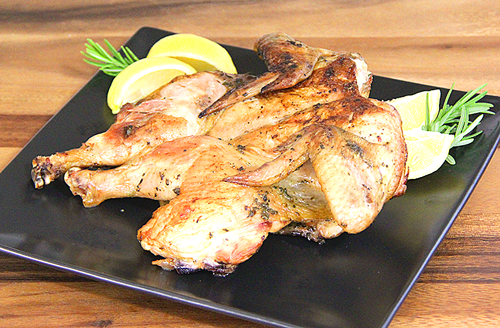 Can't remember where I learned this recipe. Don't care. It's great!