J – Roasted chicken for 12, or more, can be a challenge …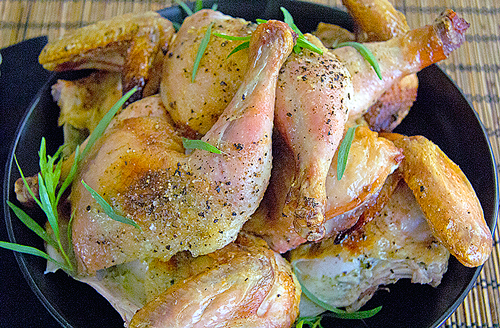 until now. This method lets you roast six petit poulet at one time in your oven. Enough for 12 petit, half-chicken servings. Even more for the light eaters. No fuss. No muss. Easy clean up, too.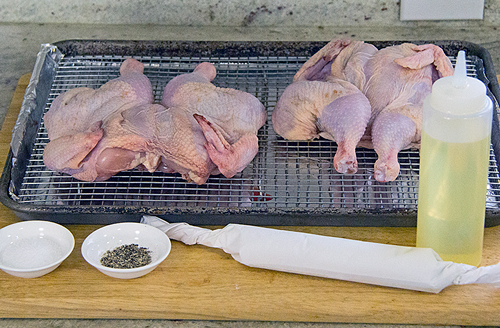 The prep is not bad, either.

I have cooked/grilled many "massive" chicken dinners … too many large containers, too many greasy sheet pans. Enough!

Our poultry vendor offers petit poulet at a great price. And, they are super fresh.

So, for a weekend grill I grab three to four bags, two poulet to a bag, and I'm set.

Using the oven also opens up the grill for a bunch of stuff … asparagus, corn, squash. Of course, burgers if you want.

Pretty much instant party.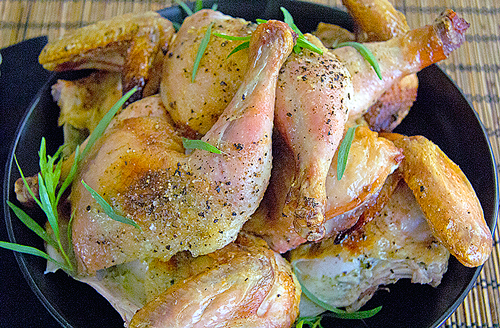 | | | |
| --- | --- | --- |
| Plated Meal Wednesday: Spatchcock Petite Poulet for a Summer Party | | |
Prep time: 15 mins
Cook time: 45 mins
Total time: 1 hour
Ingredients
2 petite poulet (2¼ to 2½ pounds each), spatchcock
½ stick (about 4 tablespoons) of tarragon lemon shallot compound butter (recipe link below)
4 Tbsp canola oil
Salt and pepper
Instructions
Preheat oven to 425 degrees.
Line a ½ sheet pan with heavy duty aluminum foil for easy clean up. Place a baking rack on top.
Place the chickens on the rack skin side up. Carefully loosen the skin from the meat and place a tablespoon of compound butter under the skin of each leg quarter and each breast.
Drizzle oil on both sides of the chicken and generously sprinkle salt and pepper on both sides.
Place on the top rack of the oven.
Cook for 30 minutes. check the temperature. Temperature should reach 145 on the thickest parts of the chicken.
Turn up the temperature to 450 for 10 to 15 minutes or until the skin is golden and crispy.
Remove from oven and let rest for 10 to 20 minutes before cutting. Internal temp should rise to about 160.
Divide the chicken into segments. Or halves. Or serve whole.
Serve.
Enjoy!
Tarragon Lemon Shallot Compound Butter recipe
The only slightly messy part is the skin-butter-stuffing routine. Once you get the hang of it, you are done pretty quickly. See the photos for details. Do in advance, also.
Taste test … super moist. Can't get enough. Make now.