Update and Redux: C – Regular risotto is already amazing … but, add some asparagus and leeks and it becomes an amazing-level-up dish.
C – It can be hard for some people to stir risotto constantly.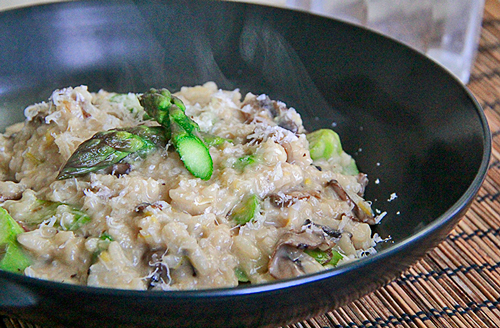 I love it. For me, it's one of my meditations. Don't bother me when I am making risotto. I am in my own world. In a zone even. Don't bother asking me what I am thinking or where my mind is. It's somewhere … spaced out and in bliss making risotto.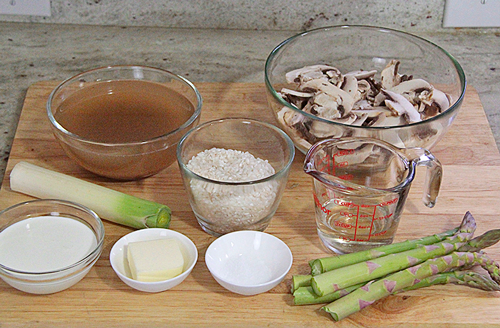 There's lots of love when I make risotto. Especially, when it's a special risotto like this one.

You really start building flavors with the mushrooms, leeks and asparagus. The creamy risotto is paired with crispy tender pieces of asparagus with every bite. It's wonderful.

It's one of my favorite ways of eating risotto. For some strange reason, I feel less guilty eating risotto when there are mushrooms and asparagus in it. It feels like there are fewer carbs in the dish.

Of course, there's still lot of carbs … just let me believe there's a lot less. I am already in my bliss state from making the risotto. I want to stay in bliss while eating it.

The first bite is my favorite. The rich creamy texture fills my mouth. The delicious sweet flavor of the leeks lingers. The mushrooms add a nice savoriness to the risotto, and pairs well with the Parmesan taste.

I love how there is an added crispy texture of the asparagus that is refreshing and lightens up the dish.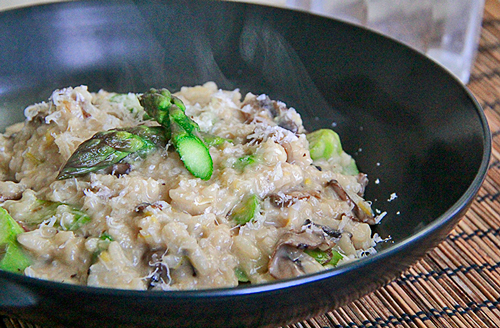 | | | |
| --- | --- | --- |
| Asparagus Week: Asparagus, Leek and Mushroom Risotto | | |
Prep time: 15 mins
Cook time: 45 mins
Total time: 1 hour
Ingredients
3 Tbsp grapeseed oil, divided
1 pound crimini mushrooms, sliced thinly
1 leek, white and light green part only, well washed and chopped
1 cup Arborio rice
¼ cup dry white wine
6 cups chicken or vegetable stock
¼ cup heavy cream
½ cup Parmesan cheese, grated
Salt and pepper to taste
1 pound asparagus, sliced ¼ inch thick on a bias
Instructions
In a small sauce pan, place chicken stock and keep warm on low heat.
In a dutch oven or heave bottom pot, place 1 tablespoon of oil and heat on medium high.
Add mushrooms, salt and pepper. Saute until golden brown. About 5 to 7 minutes. Remove from pan and set aside.
In the same pot, add another tablespoon of oil and add leeks. Cook until soft. About 5 to 7 minutes.
Add rice. Stir constantly and cook until translucent. About 3 minutes.
Add wine and cook until liquid evaporates.
Add stock one to two ladles at a time. Constantly stirring until liquid is absorbed. Repeat until all liquid is gone. Once liquid is gone check by tasting a grain to see if it is fully cooked. If it's not fully cooked, continue to add more stock one to two ladles at a time.
Once rice is cooked, pour in cream, Parmesan cheese, salt and pepper to taste. Mix well.
Return mushrooms to the risotto. Mix well. Keep warm.
In a separate saute pan, add a tablespoon of oil. Add asparagus and cook for about 2 to 3 minutes or until they are tender but still crispy. Add salt and pepper to taste.
Add asparagus to the risotto. Mix well.
Serve.
Enjoy!
Can you tell that I like this risotto? If I could eat it more often … without getting fat … I would.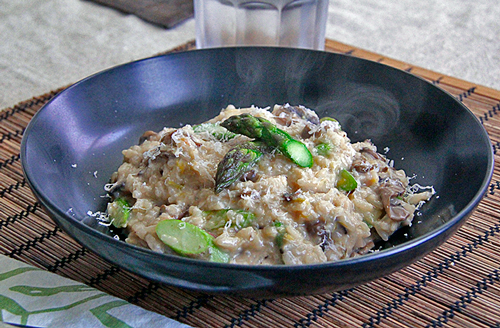 This one of my favorite things to make with asparagus, mushrooms and leeks.