Update and Redux: J – Before Luke showed us how to make this pizza, I had never had fresh pizza for breakfast. Only, the stone cold kind after a very late night back in the day. I was not a fan … then. I could not believe how good this tasted! I'm a complete convert. Be sure to take Christina's recommendation about night-before prepping.
C – After I started making pizza, I've become addicted.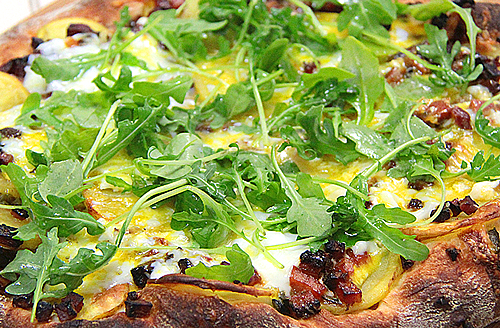 I have been craving pizza every week when I get to the Be Mindful. Be Human. kitchen. I already loved pizza. But, there's something about making my own that is so fulfilling and delicious. I think it's because I can put anything I want on it. Not just the recommended items on a pizza menu.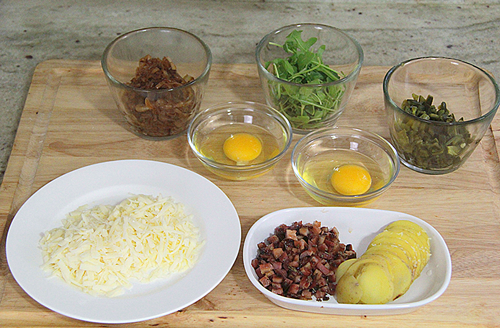 Like this breakfast pizza. Luke made this for a place he worked as the chef. I had to try it. What I didn't know was how long it was going to take me. At a restaurant things get prepared in advance, so it doesn't take long.

As a home cook, there are lots of components that I had to do. Next time, I will try to make some things the night before. It won't feel so daunting to make this pizza.

Things like roasting the potato and the peppers, caramelizing the onions, shredding the cheese and cooking the rosemary-brown-sugar bacon. Those can be done the night before. Then, all I would have to do is prep the dough, heat the oven and assemble the pizza.

I am a morning person. But, making everything from scratch in the morning can make even the best morning person crabby. It took me an hour longer than I wanted it to take. Not great if you're on a schedule and you want to serve people. Just prep ahead and life will be easier.

Oh, boy! It was well worth it. This pizza was amazing. This defines what pizza-for-breakfast should be. It's not the cold pepperoni pizza you had the night before. It's a pizza that has all the things you would have in a great American breakfast. This pizza has eggs, bacon and potatoes, with a nice crisp piece of toast.

I loved the taste and texture. Spicy roasted peppers, sweet caramelized onions, creamy potatoes, flavorful and salty Gruyere and Fontina cheese, tiny pieces of rosemary-brown-sugar bacon. topped off with sunny side eggs and fresh crispy arugula. All this on a light, crispy crust. I loved everything about it. And, the effort made it taste even better.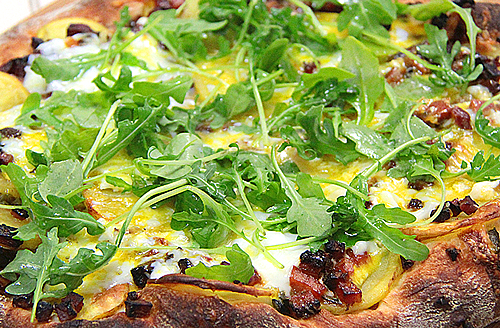 Prep time: 1 hour
Cook time: 12 mins
Total time: 1 hour 12 mins
Ingredients
½ pizza dough recipe (link below)
1 cup caramelized onions
1 jalapeno roasted, peeled, seeded and stem removed, chopped
1 poblano pepper roasted, peeled, seeded and stem removed, chopped
¼ cup Fontina cheese, shredded
¼ cup Gruyere cheese, shredded
1 medium Yukon gold potato, roasted, thinly sliced
2 slices thick bacon
1 Tbsp brown sugar
1 sprig rosemary leaves, chopped
2 eggs, cracked into separate small bowls
½ cup arugula
1 Tsp olive oil
Pinch of salt
Instructions
Preheat oven to 350 degrees.
Place bacon on a wire rack with a parchment-lined baking sheet underneath. Sprinkle brown sugar and rosemary on top. Bake for 20 minutes or until just cooked. Don't cook the bacon until crispy. Just enough so bacon is just cooked. Remove from oven let cool slightly. Chop into small pieces.
Place a pizza stone into the oven. Preheat oven to 500 degrees for at least one hour before baking pizza.
Remove pizza dough from refrigerator an hour before using and place on an oiled baking pan, covered in oiled plastic wrap.
After an hour, roll out pizza dough to about 10 inches.
Spread caramelized onions evenly on top of dough.
Spread peppers evenly on top of onions.
Spread cheese evenly on top of peppers and onions.
Place a single layer of potatoes on top.
Sprinkle bacon on top.
Place in the oven and cook for 6 minutes.
After 6 minutes, turn the pizza halfway around so it can cook evenly.
After 2 more minutes, open oven and gently place eggs on top of pizza near the center. Cook until egg whites are done. About 3 minutes.
Remove from oven and break the sunny side up eggs. Spread the yolk across the entire pizza.
Mix arugula with olive oil and salt. Place on top of the pizza.
Slice the pizza.
Serve immediately.
Enjoy!
Pizza Dough recipe
I loved that I was full … but not too full … after this pizza. The crust is so nice and light. Not heavy like a heavy piece of toast would be.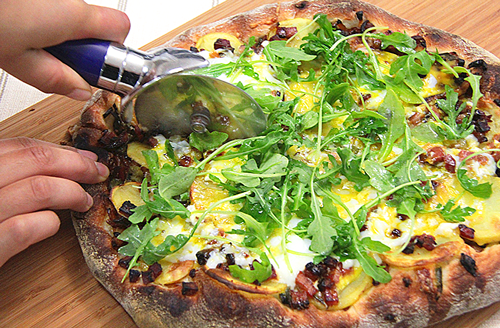 Lesson learned. Prep everything the night before making this pizza. It will make your life much easier and the pizza will taste even better. Enjoy!