J — "What do you want to have with it?" Not sure.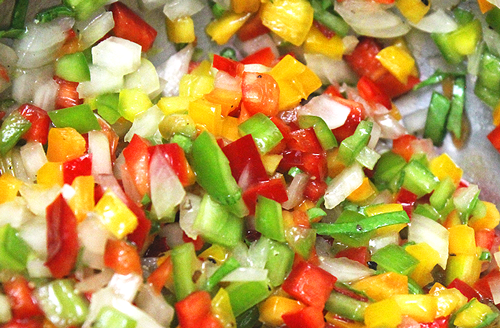 "What's in the box?" "Peppers and …" The dialogue goes like that for about 10 seconds. Then, we're cooking. Not much more is said. On this morning, Luke was breaking down a fresh-caught salmon and cooking a dish, yet-to-be-determined, for lunch. But, we needed a few things to go with it. Since Christina had just made a bunch of polenta the day before at my request, we were off on a southwestern-flavor tangent.
Luke brought in a box of veggies from Azolla Farm in Pleasant Grove, CA. His friend runs the place. At Be Mindful. Be Human. we will be emphasizing local, farm-to-table cooking, so this was perfect. It was Christina's and my first taste of Azolla Farm produce. It looked quite fresh, of course.
We settled on a sweet-pepper salsa. Simple, but with a slight zing. The salsa was going on grilled salmon, polenta and grilled pattypan squash rounds.
I just happened to have a few limes. Never know when you'll need a lime or two. So, a small dicing of three sweet peppers [red, yellow and green] and a small cipollini onion, add some fresh lime juice, chopped Thai basil and a few red pepper flakes, plus salt and pepper to taste. Then, we just let the mixture "cook" in the lime juice for an hour or so.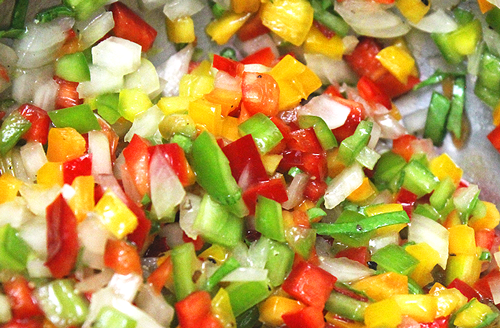 Recipe type:
Sides, Sauces
Prep time: 15 mins
Cook time: 60 mins
Total time: 1 hour 15 mins
Ingredients
3 long sweet peppers, one each red, yellow, green, diced small
1 small cipollini onion, diced small
1 tsp. Thai basil, chopped finely
1 pinch red pepper flakes
Juice of 1 lime
Salt and pepper to taste
Instructions
Combine peppers, onion, Thai basil and red pepper flakes in a medium bowl
Add lime juice, mix well
Salt and pepper to taste, mix again
Let stand at room temperature for about 1 hour
Stir and serve
Enjoy!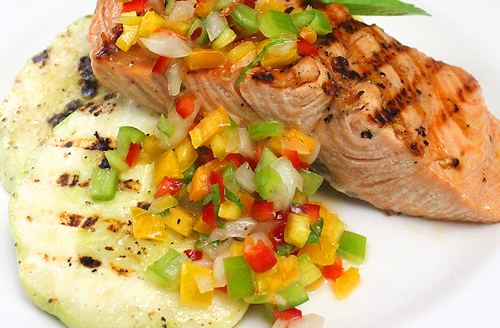 Colorful! What do we call it? How about Pico de Pepper?