C – I told Luke I just couldn't wait a whole month to eat pickles.
So he decided to make pickled cucumber spears for me.
"They aren't going to be as crunchy, but they will be just as tasty," he said.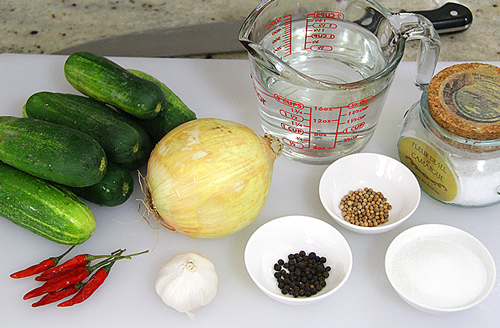 I did care about the crunch factor. But, I also wanted pickles and needed my fix. Yes, lets make the spears. It was as easy as the whole dill pickles and a similar recipe.

Cutting pickling cucumbers into smaller pieces made these pickles a lot different than the whole variety. Since the cucumbers were cut smaller, they really absorbed the pickling brine faster and better.

They were really flavorful pickles. I was a little disappointed that the pickles weren't as crunchy. But, Luke did warn me.

I didn't enjoy eating these just by themselves as much, since they weren't as crunchy. I did love them with a pastrami sandwich.
Prep time: 30 mins
Total time: 30 mins
Ingredients
8 pickling cucumbers or enough to fit the jar, quartered lengthwise
1 Tbsp whole coriander
1 Tbsp peppercorn
6 Thai chili peppers
¼ cup sugar
½ white onion, sliced
3 garlic cloves, peeled
4 Tbsp salt
24 oz white vinegar
12 oz water
½ bunch dill, plus 1 sprig in the jar
Instructions
Place quartered cucumbers into a medium bowl. Add 2 tablespoons salt and water to cover the cucumbers the in bowl. Mix well. Let set for 10 minutes.
In a medium sauce pan, place water and vinegar and bring to a boil. Reduce to medium.
Add coriander, dill, peppercorns, salt and sugar. Cook until salt and sugar are dissolved.
Remove dill after two minutes. Turn off heat and let cool to room temperature.
Place garlic cloves into jar.
Add sliced onions to jar.
Add Thai chilies to jar.
Add pickle spears to completely fill the jar.
Place liquid mixture into jar. Place jar in refrigerator and let sit for 2 weeks.
Shake once a day to ensure seasonings are distributed evenly. DO NOT OPEN UNTIL READY.
Open after two weeks to taste.
Serve with sandwiches or eat as a quick snack.
Enjoy!
The balance of salty, spicy and sour tastes really paired well with the huge amount of salty meat in the sandwich.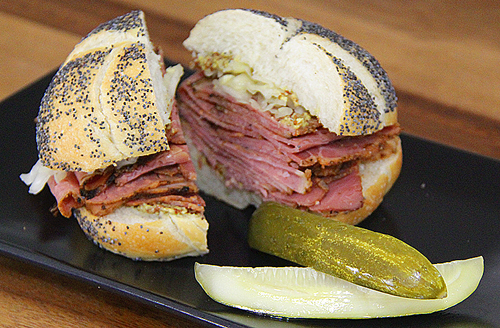 Thanks Luke for making these. I just couldn't wait any longer. Two weeks was a long time … but, not as long as a whole month!