C – It's Pickle Week!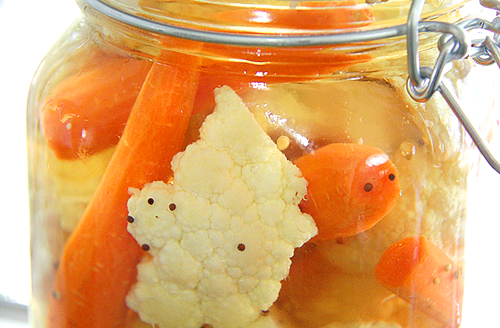 It's peak season for the abundance of fresh vegetables. So, we thought we would share with you a few pickle recipes. I love pickles! I didn't know Luke loved them as much as I did. When we mentioned the idea of pickle week a while back, Luke was all over it. He kept on asking when we were going to do it. Well it's now.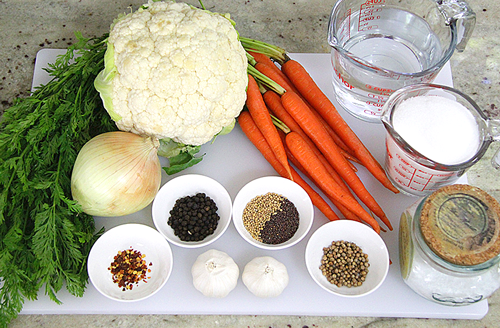 I didn't know how easy it was to make pickles. I also didn't know you could pickle almost anything. We hope we don't bore you this week with all the pickles. It's one thing that I can't seem to be tired of … yet.

This cauliflower and carrot pickle recipe was really easy to make and even more addicting to eat. I usually don't like cauliflower. It's hard for me to find a dish that I like with cauliflower. It usually doesn't have much of a taste to it. And, it can be overcooked quickly. I only like cauliflower steamed slightly, so it still holds a crunch to it.
I was afraid that these pickles would end up too soft in texture. I was wrong. They had the perfect texture. Just like when I slightly steam them. Luke used a refrigerated pickling technique that allows the vegetables to remain crisp. The carrot texture was my favorite. Now, I wish Luke could have added more carrots to the jar. They were great. Long sticks that really absorbed the pickling brine. I loved the sweet, salty and sour taste to them. I am so glad they were delicious, and not something that just looked pretty in the jar.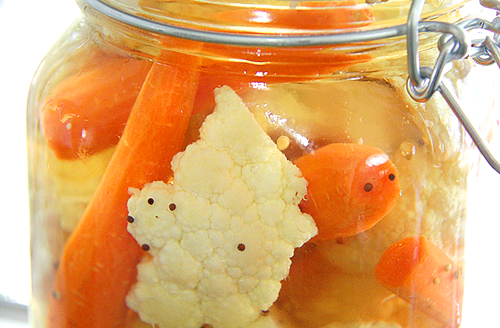 | | | |
| --- | --- | --- |
| Pickle Week: Cauliflower and Carrot Pickles | | |
Prep time: 15 mins
Total time: 15 mins
Ingredients
½ head of cauliflower, cut into small pieces
12 carrots, peeled, remove head and tips, cut to fit into jar
6 cloves garlic, pealed
2 Tbsp mustard seeds
4 Tbsp white sugar
2 cups white vinegar
2 cups water
4 Tbsp salt
1 Tbsp coriander
2 Tbsp black peppercorns
½ tsp red pepper flakes
Instructions
Add 6 cloves of garlic into the bottom of the jar.
Add carrots and cauliflower to fill the entire jar.
Add mustard seeds into jar.
Place water and vinegar into a saucepan and bring to a boil. Reduce to medium heat.
Add sugar, salt, coriander, peppercorns and red pepper flakes. Heat until salt and sugar are dissolved.
Turn off heat and cool to room temperature.
Place mixture into jar.
Place jar in refrigerator and let sit for 2 weeks. Shake once a day to ensure seasonings are distributed evenly.
DO NOT OPEN UNTIL READY. Open after two weeks to taste.
Serve with sandwiches or eat as a quick snack.
Enjoy!
Pickles are a great snack, of course. They are also perfect with sandwiches! For the cauliflower and carrot pickles, we paired with wonderful Black Forest ham and cave-aged Gruyere cheese on a whole wheat ciabatta roll. Yummy!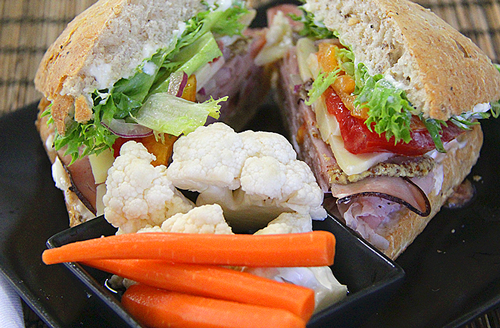 Thanks Luke for making these pickles. They were a great snack.