Update and Redux: J – When we decided to revisit the dish for Pepper Week, I remembered just how much I like it. Chris introduced us, kind of in a last-minute idea, when we needed another pepper dish. It's a good idea! As a dip. On eggs. On fried green tomatoes. In tacos. Sweet and hot. Yum.
C — Today, Luke brought along another chef, Chris. He's worked with Luke for a few years. Jim's really excited.
Chris is going to make a sweet chili pepper sauce. Jim's been talking about this sweet chili pepper sauce for weeks. He hasn't stopped talking about it since he had it for brunch a few weeks ago with smoked pork and black-pepper biscuits.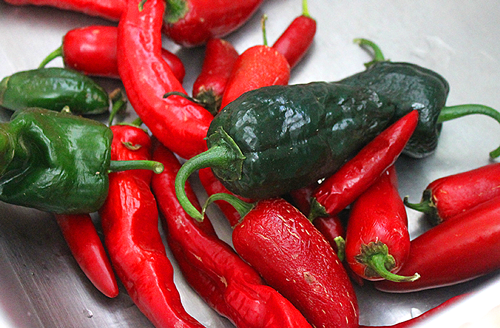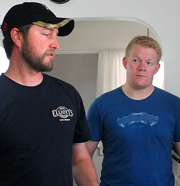 I'm glad the experts are making this. It looks HOT. I mean burn your mouth hot. Luke and Chris pour out a huge pile of chili peppers onto the counter. All red and crazy looking.
Then, Luke does something even crazier. He slices off a piece, eats it and hands another to Chris. That's pretty hard core. That's what real chefs do. I am such an advocate of tasting things. Why not extremely hot chili peppers? Thank goodness they didn't offer any to me. My mouth would have had a burning sensation the entire shoot.

Chris was in charge of the sweet chili pepper sauce. Just a few ingredients and some time over the stove. Blended it up and we were ready to serve. Sweet chili pepper sauce for six months!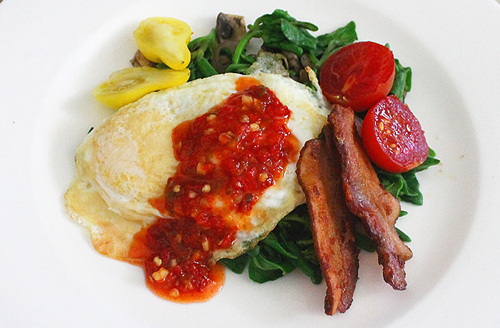 It was good. I could see why Jim was so excited to have them make it. I have a feeling we are going to put it on everything. It has a surprisingly sweet but spicy taste to it. Then, there's the heat that lingers at the end. It's not too hot, but leaves a lasting impression. The oregano and ginger mix so well with the hot chilies. It really gives it a good balance.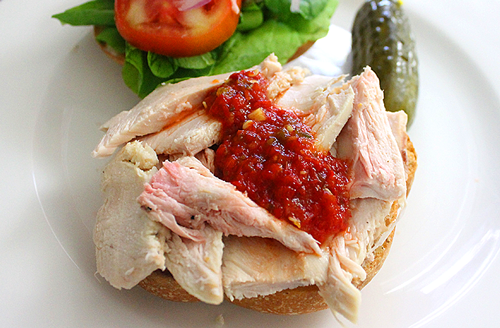 Thanks Chris for making this great sauce. We'll be eating it with everything. Promise.
Prep time: 15 mins
Cook time: 30 mins
Total time: 45 mins
Ingredients
1 jalapeno chili pepper, green is preferred, stem removed, rough chopped including seeds
4 to 5 red Fresno chili peppers, stems removed, rough chopped including seeds
1 Tbsp. fresh ginger, peeled and chopped
3 cups water
½ cup sugar
2 to 3 sprigs fresh oregano, remove stems
1 tsp. salt
Instructions
Simmer all ingredients for about 30 minutes
Blend roughly, do not puree
Cool and serve
Enjoy!