J – If you love hot peppers, you must to eat this dish.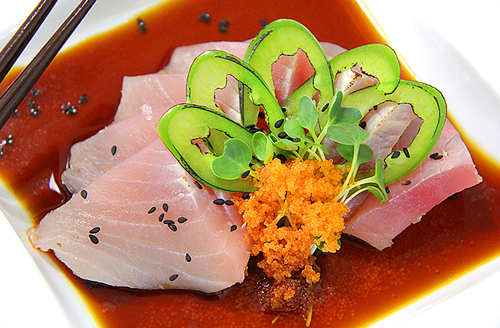 Pepper Fin is not for the faint of heart. That said, it IS delicious. Such an amazing combination of ingredients, flavors and textures. Sweet, savory, silky smooth, creamy, crunchy pop, hot pepper burn … in your mouth … all at once.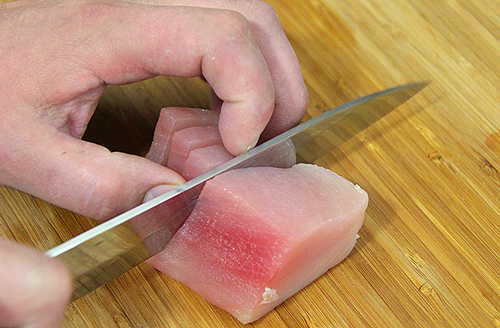 Luke couldn't wait to make this dish. All three of us are pepper fanatics.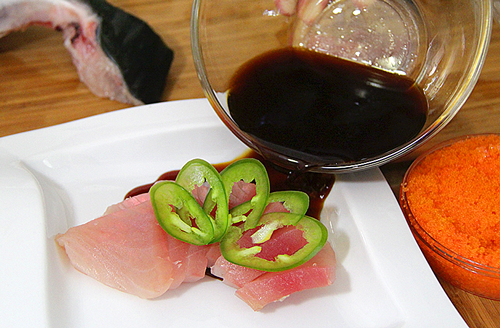 This dish is actually pretty tame for Luke.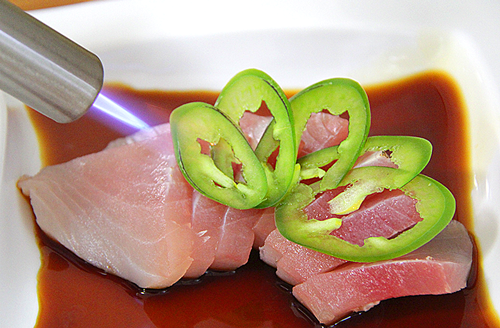 Plated, it looks as good as it tastes.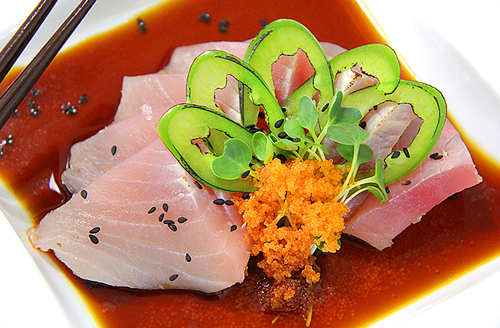 Prep time: 8 mins
Total time: 8 mins
Ingredients
¼ pound Albacore (the freshest you can find) sliced straight across, cut 7 pieces
1 jalapeno chili pepper, slice ultra thin
Enough ponzu to cover the plate
8 radish sprouts
A pinch of black sesame seeds
½ teaspoon tabiko
Instructions
On a serving plate fan out Albacore.
Add ponzu to the bottom of the plate.
Top with a few slices of jalapeno peppers.
With a crème brulee torch, sear the jalapeno peppers until lightly toasted.
Place radish sprouts on top of the jalapeno, sprinkle black sesame seeds on top of arrangement and add tabiko over top.
Serve.
Enjoy!
As always, get the absolutely freshest Ahi you can find. If it comes in a plastic package, or has been frozen, don't buy it. Find a good fish monger. It should have a fresh, clean smell. Not fishy! Keep it cold on the way home and use it the same day.
Our Japanese cuisine adventure with raw fish continues. Yum!