C – Peach lemonade is my fiance's favorite drink.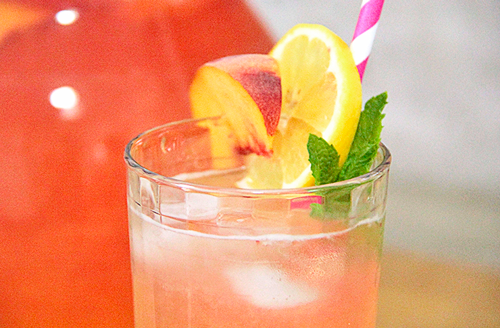 Every year, we stock pile bottles and bottles of peach lemonade, so he can drink it year round. The peach lemonade brand he likes is seasonal. It's not a year round thing.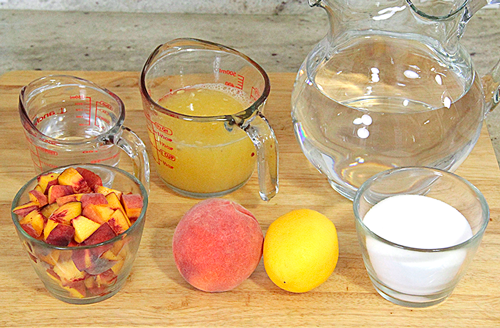 But, I am not a big fan of the lemonade, since I like to make things from scratch.

I need to stop this stock piling and show him what real peach lemonade tastes like.

This lemonade is great. It's not too sweet. Super peachy and refreshing. It's like I am drinking a light peach.

I also love the pink color of this lemonade. After a few hours of steeping the peaches in the lemonade it becomes even prettier. I love this lemonade. I think my fiance will love it too.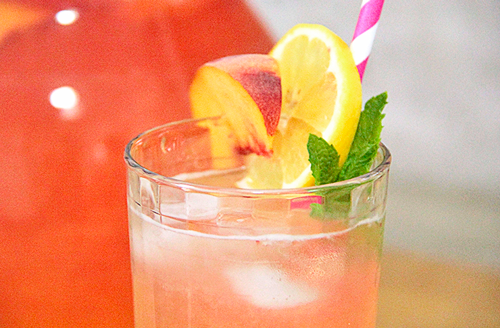 | | | |
| --- | --- | --- |
| Peach Week: Peach Lemonade | | |
Prep time: 15 mins
Cook time: 10 mins
Total time: 25 mins
Ingredients
2 peaches, chopped into small pieces
1 cup granulated sugar
1 cup water for the syrup
2 cups lemon juice
8 cups water
1 lemon, sliced for garnish
1 peach, sliced in to 12 pieces
Ice for serving
Instructions
Place 1 cup of water, sugar ad peaches into a small sauce pan. Bring to a simmer and reduce to about half. Let cool to room temperature.
Strain the peach simple syrup mixture.
In a pitcher add remaining water, lemon juice, all of the simple syrup mixture and peach slices. Mix well.
Place ice into a cup.
Pour lemonade over the ice.
Serve.
Enjoy!
I guess I need to stock pile peaches in the freezer, if I want to stop the bottled peach lemonade supply.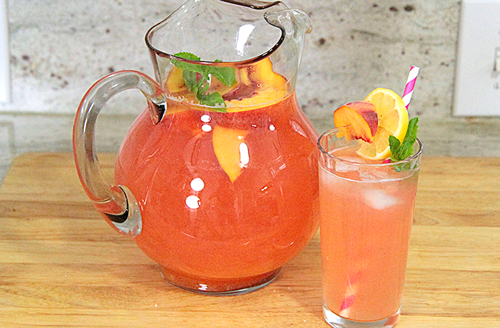 Hmmm … I don't think I thought this through well enough.