C – There's a high demand for smoothies in this world.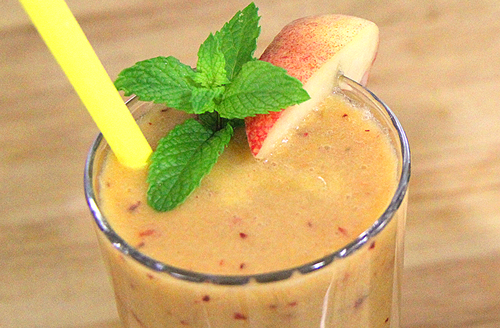 … in the Be Mindful. Be Human. kitchen and everywhere else I go. My boyfriend will only ask for smoothies for breakfast when I am around. No waffles, bacon or eggs … just smoothies. I am becoming famous for my smoothies. Funny, because it's the simplest thing I make. Especially, this peach ginger smoothie. There are only five ingredients: peach, ginger, banana, ice and apple juice. Simple and delicious.
It sure beats spending $5.00 at a smoothie or coffee shop. Making it at home is a huge plus, too. I love that it tastes much better. I've watched them make smoothies at the shops. They don't just put fruit, juice and ice in most of them. There is a lot of gross stuff that will make you fat. Sugar, cream and preservatives. I guess that is why I am so proud of mine. I am so glad people enjoy them so much.

I have been making smoothies for the last 10 years or so … since I got my first personal blender. I love my personal blender. I have gotten attached to it. It's traveled with me through five moves and still works. Jim wanted to toss it when we got a normal blender. But, I had such an attachment, I just couldn't part with it. It's not broken. Why throw it away? Jim suggested I use the big blender for smoothies. But, I didn't think it was all that practical. It's just too big for one or two smoothies. I like my small one because it makes the perfect amount every single time.

However, earlier this week something bad happened. My little blender turned on me. An entire serving of smoothie exploded all over the kitchen. The day after the cleaning lady spent three hours cleaning the place. I wasn't too happy. One bad part about my old blender was the lid. It didn't shut properly. The plastic had melted from too many times through the dishwasher. I had finally given up on the old girl and needed a new one. One with a safety lock and a lid that would close properly.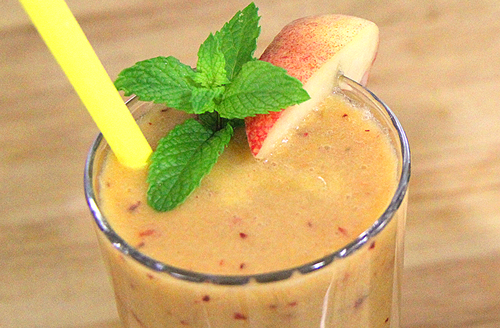 Prep time: 5 mins
Total time: 5 mins
Ingredients
2 ripe peaches, halved and pitted
1 ripe banana, peeled and cut in half
1 tsp ginger, grated
1 cup apple juice, unfiltered if possible
3 cubes of ice
Instructions
Place everything into blender.
Blend until smooth.
Serve.
Enjoy!
I really am going to miss that blender. It got me through some tough mornings.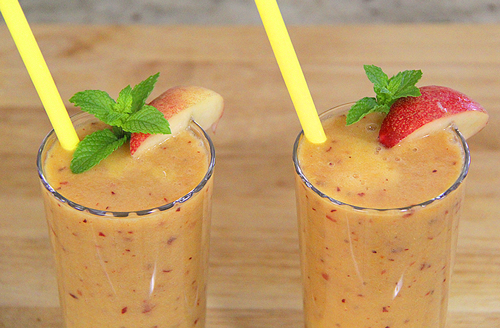 Good bye old friend, I am going to miss you.