C – Have you ever had a secret ingredient …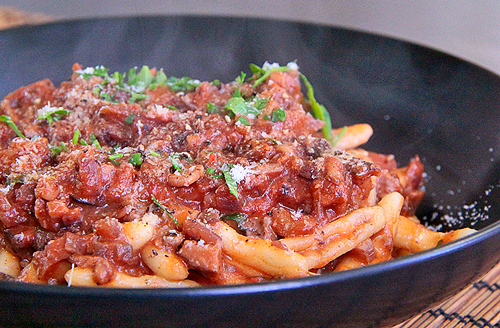 that you don't want to tell anyone about? Or, a secret recipe that you just don't want to give up because people might think less of you because one ingredient. This recipe is that case. Back in college, I had the most amazing enchiladas. My friends mother made it. It had 21 ingredients.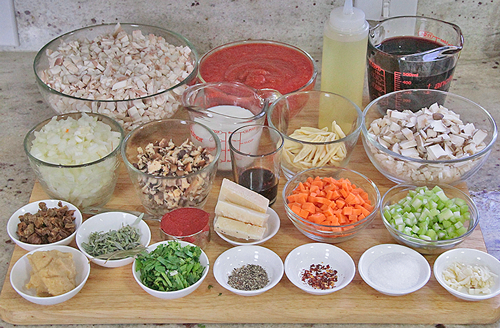 I honestly couldn't pull out any of the ingredients. It was a magical sauce like no other.

My friend couldn't tell me much about the sauce. She said there was peanut butter in it and some chilies. That was all she could remember. I was devastated. I couldn't get the recipe, but I can still taste that sauce every time I think about it. Even 10 years later.

When I researched making a mushroom bolognese sauce, I discovered lots of different versions. Some vegan some vegetarian. I combined a few recipes to make my own. It turned out amazing. But, because I mixed a few recipes together, there is one ingredient that you wouldn't usually find in a bolognese recipe. White miso paste.

White miso paste has a great umami element. It's salty and sweet and adds great flavor. Just adding a little into this dish makes it pop with flavor. After discovering how amazing adding miso to this sauce made it, I honestly didn't want to tell anyone about it.

It was too good. I questioned if I should put it into the ingredient list. Of course, I had to. It just wouldn't be the same if I didn't. Ironically, I am calling out the ingredient in this article.

This recipe is something even meat lovers would like. It's so flavorful and filling. I actually like it better than the expensive one Luke made a few years ago.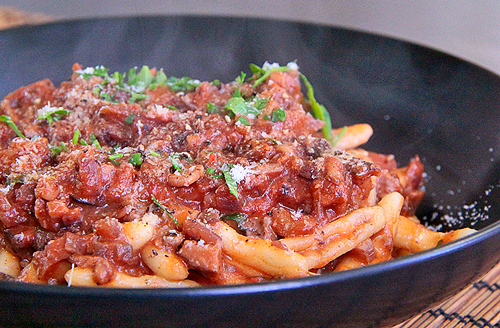 | | | |
| --- | --- | --- |
| Pasta Week 2016: Mushroom Bolognese | | |
Recipe type:
Mains, Sauces
Prep time: 25 mins
Cook time: 1 hour 40 mins
Total time: 2 hours 5 mins
Ingredients
½ cup canola or grapeseed oil
Salt and pepper to taste
1 medium onion, chopped
1 large carrot, chopped
2 large celery, chopped
2 Tbsp fresh sage, finely chopped
¼ cup parsley leaves, finely chopped
2 cloves garlic, finely chopped
2 cups red wine
3 bay leaves
2 King Oyster mushrooms, chopped
1 pound button mushrooms, chopped
1 ounce dried Shiitake mushrooms, rehydrated, stems discarded and chopped
¼ ounce dried Porchini mushrooms, rehydrated and chopped, soaking liquid reserved
3 Tbsp white miso paste
1 28-ounce can crushed tomatoes
2 Tbsp soy sauce
¾ cup milk
1 Parmesan rind (optional, if you have some leftover)
1 cup Parmesan, grated, plus more for topping
1 pound short tubular pasta like Cavatelli, Penne or Rigatoni, or a long wide pasta like Pappardelle
Instructions
In a large skillet over medium-high heat, heat 2 tablespoons of oil.
Add the onions, carrots, celery into pan, along with a pinch of salt and pepper. Cook until softened. About 10 minutes.
Add 2 tablespoons of parsley, the sage, bay leaves and garlic. Mix well and cook for about a minute.
Add red wine and cook until the liquid has reduced to half. About 5 minutes. Remove mixture from pan and set aside. Wipe the skillet dry.
Add about 3 to 4 tablespoons of oil into the skillet and heat over medium-high heat. Add the button and King Oyster mushrooms into the pan along with a pinch of salt and pepper. Saute until liquid has completely evaporated and mushrooms are well browned. About 20 minutes stirring occasionally so the mushrooms don't stick to the bottom of the pan.
Add the Shiitake and Porchini mushrooms into pan and mix well.
Add tomato paste and miso paste into the pan and stir to combine.
Add the vegetables/wine mixture back into the skillet along with soy sauce, milk and Parmesan rind (if using). Mix well and reduce heat to the lowest setting possible. Let simmer for 1 hour. Stir occasionally until sauce is thick and rich.
Season with salt and pepper to taste. Add the remaining Parmesan and parsley. Mix well. Keep warm.
To serve, cook pasta according to package directions in salted water. Drain, reserving ½ cup of cooking liquid. Return pasta to pot.
Mix pasta, cooking liquid and enough mushroom sauce to coat the pasta well. Cook over high heat, stirring, until sauce is rich and thick and coats every piece of pasta.
Transfer to a serving bowl or, for each serving in individual bowls, serve pasta mixture and add more sauce overtop..
Add more Parmesan cheese and parsley for garnish.
Serve.
Enjoy!
This one won't give you much of a food coma after eating it … unless you eat a lot of pasta. The Parmesan and white miso paste really make this recipe pop. I love that I added this secret ingredient in this bolognese.
I love keeping some ingredients secret. It just makes some dishes special. I am taking a chance and sharing this one with you. Hope you like it.