Update and Redux: J – Ok, now that you've seen a few Tony Bourdain episodes on French food … and are hooked on Chef's Table, it's time to up your cooking game. Right? This is a recipe and technique that will change your life as a cook. It's not just that confit is a cool French technique. Doing this will give you a much deeper understanding of how great food is made. It's a bit of work, but totally worth it.
C – "You want to make what?!" I asked.
"Duck confit. It will be great. I want to be more technical and show more interesting techniques on the blog," Luke said with delight. I was excited. But, I didn't know what this duck confit adventure would lead us to.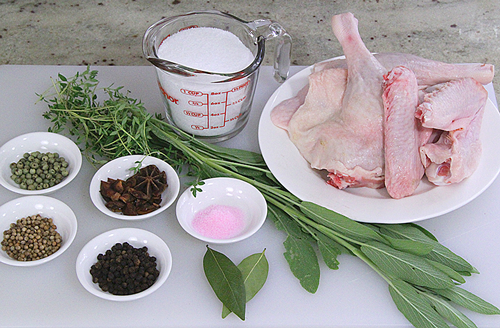 TROUBLE! That's what it was leading us to. A ten pound bucket of duck fat ordered online, eight fresh ducks with head and feet on. Duck Week was hatched with a bang.

It's a few weeks before duck hunting season begins. We thought we should prepare those duck-hunting enthusiasts out there with some ideas of what to do with duck. Boy, are you in for a treat.

We really did not take expense into consideration when we did duck week. We are WAY over budget this week. But, Luke promises to put everything we bought to good use.

First off, duck confit. It was a long process. No wonder it's so expensive to buy at the store, or order at a restaurant. The hours spent making this would cost a company an arm and a leg, if you didn't make a lot. It's worth it, though! We ended up with about $250 worth of duck confit for under $90.

There are several steps:
Season and let sit in the refrigerator to marinate for four days.
Remove from the refrigerator and remove spices.
Cover with duck fat and cook in an oven for three hours on a low temperature until tender.
Remove from the oven and let cool in the duck fat.
Once cooled, place in the refrigerator in the duck fat overnight.
Carefully remove the duck from the fat.
Let sit on a rack so the fat will set.
When ready to eat, pan sear legs to make them crispy.
It took almost a week to do. We really enjoyed it. But, we took a toll on our refrigerator. It was full of duck for many days.

This tasted just like confit should taste. Nice, tender, flaky piece of meat that are full of flavor. If you cook duck legs like you cook chicken legs, they will be tough and inedible. Making something like duck confit, you get the best out of your duck.
| | | |
| --- | --- | --- |
| Duck Week: How To Make Duck Confit | | |
Recipe type:
Techniques, Mains
Prep time: 96 hours
Cook time: 4 hours
Total time: 100 hours
Serves:
16 legs and wings
Ingredients
16 fresh duck legs and wings. Use whole ducks. Break them down and save the breasts and trimmings.
¼ tsp pink salt (curing salt)
½ cup salt
2 bay leaves
2 long stems sage, stems removed
4 star anise, broken into pieces
1 Tbsp black peppercorns
1 Tbsp green peppercorns
1 Tbsp coriander seeds
½ bunch fresh thyme
10 pounds of duck fat, melted
Instructions
Mix salt and curing salt together.
Lightly sprinkle salt on every piece of duck meat and place into a large bowl.
Add bay leaves, sage leaves, star anise, peppercorns, coriander seeds and thyme sprigs. Mix well.
Arrange legs so they stand up in a deep pan. They should fit tightly and close together. Place wings on top of the legs.
Tightly cover with plastic wrap and place in refrigerator for 4 days.
After 4 days, remove duck from pan. Remove all herbs and discard.
Clean the large pan. Place legs in pan standing them up again. This time don't crowd pan. Use a second deep pan to fit the rest of the legs and wings.
Cover contents of both pans with duck fat. Make sure the meat is completely covered. Don't worry if the top bones don't cover. That's fine.
Cover pan with heavy duty aluminum foil. Place in preheated oven of 285 degrees. Cook for 3 to 4 hours. Duck will be done when the leg of the duck is easy to move.
Remove from oven and let cool to room temperature. This takes awhile.
Cover both pans with plastic wrap and place in refrigerator over night.
Remove pans in the morning and warm slightly on the stove to soften duck fat.
When fat softens enough to free the duck legs and wings, remove them gently. Wipe off excess fat with your hands.
Place duck pieces on a rack in a sheet pan at room temperature to allow fat to set.
Cover pans with plastic wrap and and refrigerate overnight.
Remove from refrigerator and wrap each piece for freezing.
When ready to eat, pan sear legs to heat and crisp up the skin.
Serve.
Enjoy!
To confit is a French technique that really shows off what a duck should taste like. I really enjoyed it. However, you need to make a lot to make it worth doing. It does freeze nicely, though.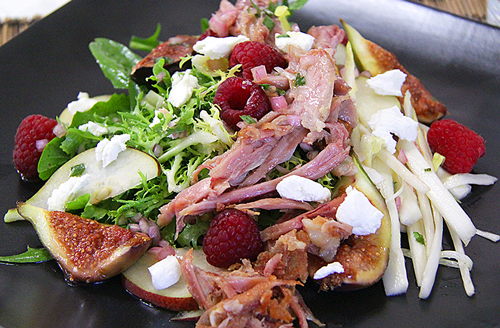 We made some really tasty dishes from this duck confit. But, once in awhile, I think certain recipes are meant for the professionals to do.