Update and Redux: C – When I see a rillette on a French restaurant menu, I want to try it. But I am always scared I will waste my money because ours is so good. This recipe is amazing, addicting and changed my life for appetizers and dips.
C – Let's use chicken confit in everything!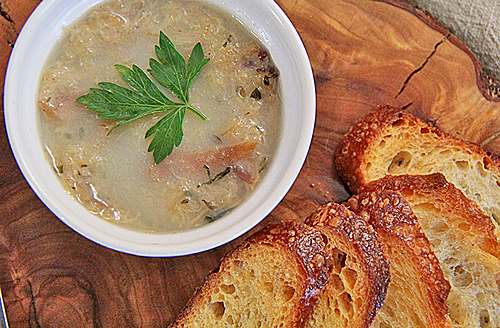 We have a running joke at Be Mindful. Be Human. Let's add some duck or chicken confit to it. I get kind of annoyed because it isn't really a joke. We have lots of duck and chicken confit stuff on our blog. But, if we didn't use it, we would just have a freezer full of the stuff waiting to be eaten.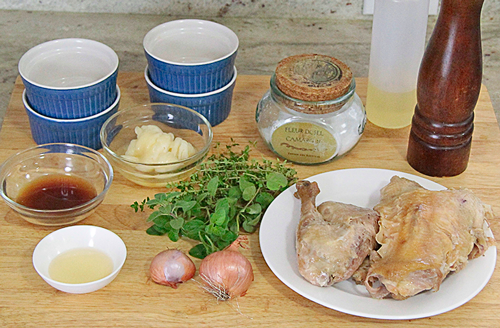 So, I guess it's good to use some up. Well, we are down to our last half brown chicken confit (sounds of violins playing). We have to make something good. Luke suggested making rillette. I am not sure what rillette is, but I am all for it.

It's a French chicken confit spread with a lot of herbs, jus, chicken fat and shallots. It's usually served with toasted bread. It's surprisingly easy and really delicious. It's also very rich. About 30 percent of the dish is fat.

No wonder it's served as an appetizer. You would have a few health problems, if you ate an entire batch of this.

Although, it is really good. Something about creamy, delicious, shredded confit with herbs and flavorful jus and duck fat mixed in. It is spectacular. I loved it on thinly sliced toasted bread.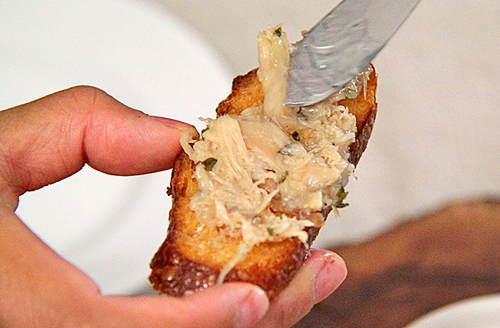 Amazing. It's like pate without the liver. Delicious.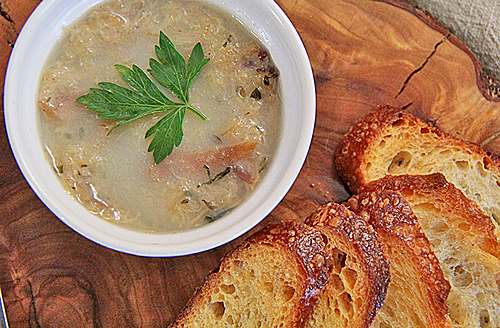 | | | |
| --- | --- | --- |
| Chicken Week: Brown Chicken Confit Rillette | | |
Recipe type:
Sides, Techniques
Prep time: 20 mins
Total time: 20 mins
Ingredients
1 Tbsp canola oil
1 shallot, minced finely
2 Tbsp chicken jus (see link below for recipe)
1 cup duck fat
½ whole brown chicken confit (see link below for recipe), shredded
1 Tbsp sherry
Salt and pepper taste
1 Tbsp oregano, chiffionade
1 Tbsp thyme, chiffionade
Instructions
Place duck fat into a sauce pan and let melt. Keep warm.
Add oil to a saute pan and about a tablespoon of the duck fat.
Add shallots, and herbs. Cook until soft. About 1 minute.
Add sherry. Mix well.
Add jus.
Add the chicken. Mix well.
Add ¼ cup of duck fat at a time. Mix well.
Add a small amount of water to the mix. About 1 tablespoon.
The mix should be moist and not dry. Add another ¼ cup of duck fat, until it starts to look creamy and moist.
Once moist, divide into four 3-inch ramekins.
Pat down and smooth the top.
Pour more duck fat over top of the chicken mixture.
Let fat cool and begin to set before placing ramekins into refrigerator, each one covered tightly in plastic wrap.
Serve at room temperature with crostinis.
Enjoy!
Brown Chicken Confit recipe
Chicken Jus recipe
We didn't have chicken fat, so we used duck fat that we had plenty of. Jim … being a purest … wanted to use chicken fat. But, we just couldn't find any. The chickens we buy don't have much fat on them. Duck fat did just fine. Still really delicious and wonderful.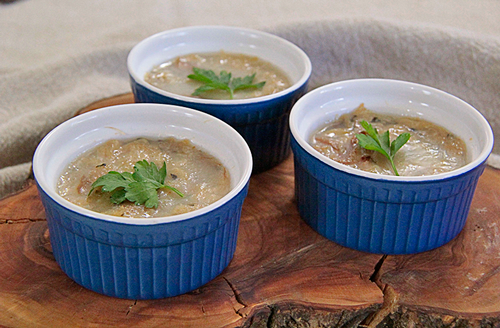 Word of warning on this recipe. Eat it in moderation. Even though it's so good that you might not want to stop eating it.